When faced with a vegetable that you've never cooked before, you can always try making it a proxy for a something that you have. Especially if that vegetable is as familiar as a potato, and the preparation is as adaptable as a gratin. Nowadays, we tend to think of this dish as a creamy, cheesy casserole of sliced potatoes. But you can cook anything in the oven with a sprinkling of breadcrumbs on top and call it a "gratin," in French tradition. I'm not sure if the French have done this with burdock root—a root vegetable that's a delicacy in Japan, where it is known as gobo. But here in New York, where I received a stash of burdock roots from (the appropriately named) Local Roots CSA, it made all the sense in the world.

This wasn't my first rodeo with gobo. You might see burdock root as an ingredient in tea or alternative vitamin supplements, but it's a common plant that grows abundantly in many parts of the world. Even in Prospect Park, Brooklyn (it was one of the plants I foraged there on a tour with Wildman Steve Brill way back). Over the last several years, many small farms have begun to harvest their own burdock root to bring to markets, such as the Greenmarkets, where you might find them in a bin alongside other freshly-dug roots. I have, and I got to know a traditional Japanese way to prepare them, kinpira. This simple method has them simmered until tender in a soy sauce-based broth and served slivered as matchsticks, as a room-temperature side.
Burdock roots, or gobo, kind of look kind of like twigs and have an earthy taste as well, which is also sweet and slightly nutty; I think they taste a bit similar to Jerusalem artichokes, or sunchokes.
You can have gobo any whichway once they're cooked until tender—but it can take a while, since they are very fibrous roots. So for this recipe, I peeled and thinly sliced the roots before boiling them, to reduce the amount of time it would take for them to boil until tender. (You wouldn't want to do this with potatoes when making potato gratin.)
Meanwhile, it was all about the roux. A simple bechamel sauce that called for two tablespoons butter, two tablespoons flour, two cups of milk, stirring and bubbling. From here, you can add extra spices and herbs, or grated cheese if you like—but I didn't want to cover up the taste of the gobo too much. I wasn't really sure how it would go with dairy to begin with.
But a creamy, rich sauce to bake underneath a crown of breadcrumbs doesn't seem like a bad idea for anything, and I think it's under-utilized for vegetables. The white sauce coddled the twigs—sorry, gobo—as they became even more tender, and their nutty flavor still shone through. It's kind of amazing to think that something that was once so overlooked in our diet, yet plentiful in the wild—burdock root—can become a buzzy seasonal ingredient in such little time. I'm not sure if gobo is quite there yet in the US. But as long as winter is long and roots are in the ground, it'll be here, waiting for its moment to shine.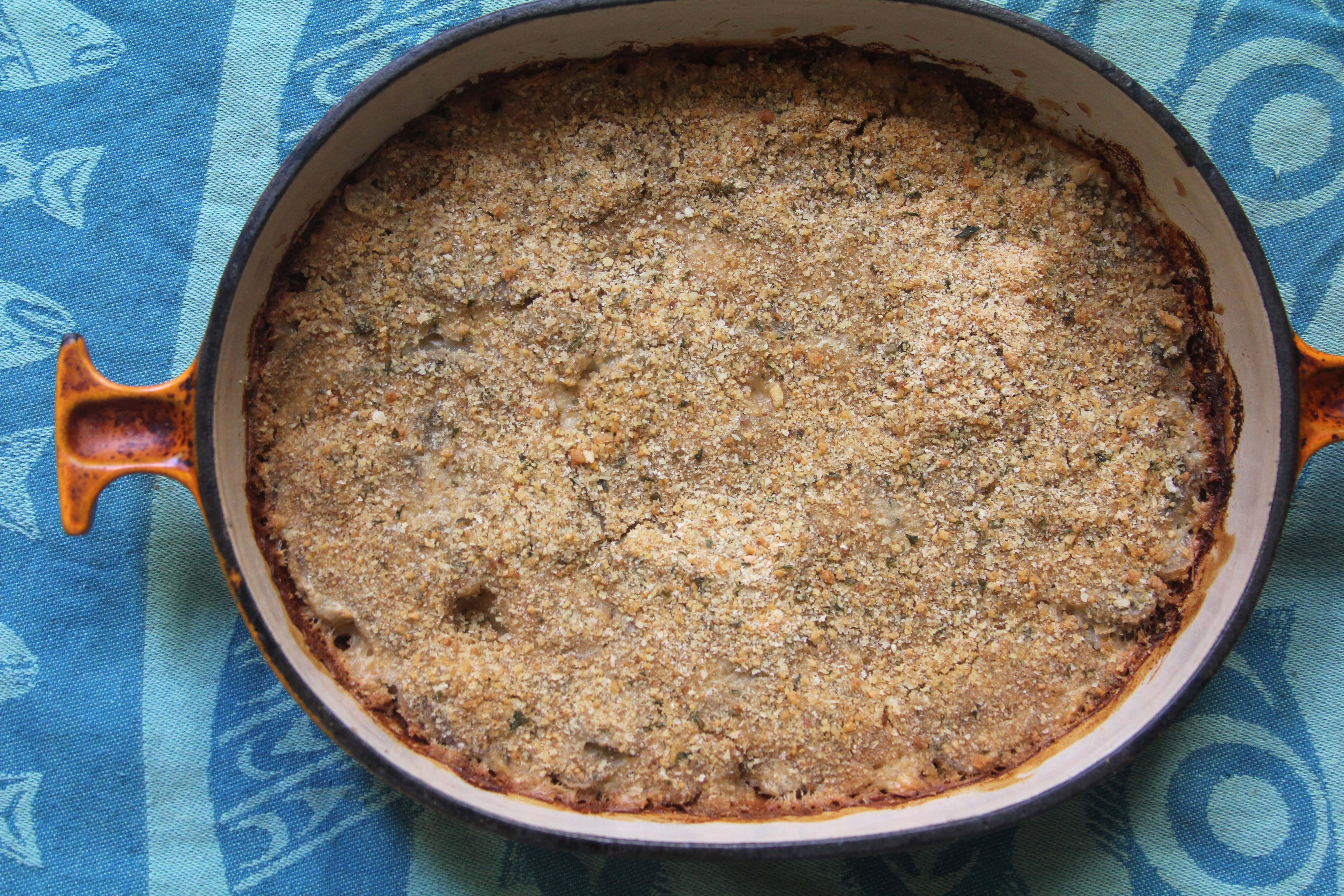 Gobo Gratin 
(makes about 4 servings)
1 lb burdock root
2 tablespoons butter
2 tablespoons flour
2 cups whole milk (or half-and-half)
1/2 teaspoon flour (more to taste)
1/4 teaspoon freshly ground black pepper
pinch of cayenne pepper (optional)
pinch of dried herbes de provence (optional)
1/2 cup fresh breadcrumbs, mixed with salt, pepper and other seasonings to taste
Thoroughly peel the burdock roots and trim the ends so you only have long, white stalks. Slice them as thinly and as uniformly as you can across their lengths, into small rounds.
Bring a pot of water to boil and add a couple pinches of salt. Once boiling, add the sliced burdock roots and cook, stirring occasionally, for 2-3 minutes, or until just tender. Drain.
In a small saucepan, melt the butter over low heat and stir in the flour to incorporate into a smooth paste. Continue cooking over low heat, stirring frequently, for another 2-3 minutes. In a separate pot meanwhile, heat up the milk or half-and-half until it's very warm but not boiling. Before it begins to boil, remove it from heat. Then, pour it into the flour and butter mixture while stirring rapidly. Continue stirring to blend it all in and allow it to thicken. Once the sauce is thick, bubbling and uniform in texture, add the salt, pepper, and optional spices. Remove from heat, and stir in the cooked and drained burdock root slices thoroughly to incorporate. Taste for seasoning, adding any more salt, pepper, or spices to your taste. You could also add a bit more milk or half-and-half if your mixture seems too thick.
Preheat oven to 375 degrees. Transfer the mixture to a small baking dish—an oval gratin dish is the perfect one for this usage, but if you don't have one, a small square one is great, or a round pie dish works just as well, too. Top it evenly with the breadcrumbs. Bake for about 30 minutes or until the crust has become a little golden and the dish is bubbling or oozing a bit. Let cool a minute or two before serving.
Cost Calculator
(for 4 side-dish servings)
1 lb burdock roots: $4.00
2 tablespoons butter: $0.50
2 tablespoons flour: $0.20
2 cups milk: $1.00
1/2 cup breadcrumbs: $0.25
salt, pepper, spices: $0.10
Total: $5.55
Health Factor







Five brownie points: Consider this your burdock root vitamin supplement. The stuff contains a host of vitamins and minerals, and lots of fiber. You'll get it in a mild bath of dairy fat, along with some crisp breadcrumbs, but it's mostly burdock root that you're eating here.
Green Factor










Eight maple leaves: This is an accessible recipe for any kind of winter root or vegetable that comes in your CSA box, so try it out with any. Hardy roots are some of the only veggies available in the thick of winter from local farms, so it's about time we enjoyed them prepared every whichway. And all kinds of them, including burdock root.