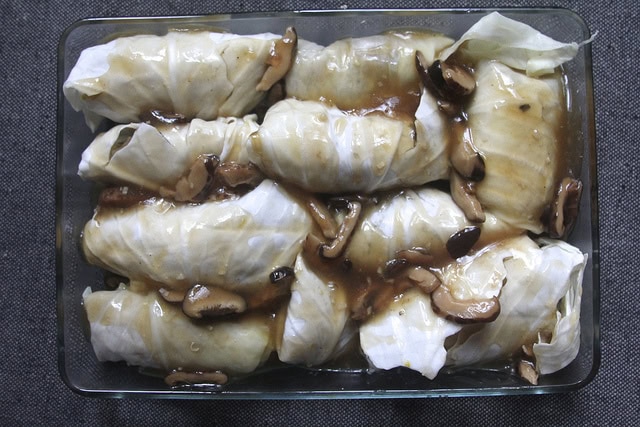 Food tucked inside individual portion-sized packages—it's a formula that has served many favorite dishes of mine. From dumplings to tamales, these dishes are often clever ways to stretch or use up scraps and leftovers. Because yesterday's stale starches and bits of proteins are much more charming dressed up in a wrapper. This dish is a cross between the minced mushroom and meat-laden Chinese sticky rice that I grew up with and stuffed cabbage, a homestyle European dish that I would later come to love. After making the sticky rice alone over the holidays, I just had to try it out with cabbage leaves for a wrapper next.

Sticky, chewy, savory rice studded with flavorful morsels like mushrooms—if you haven't had this wonderful concoction before, I will warn you that it can be addictive. Growing up going to dim sum on the weekends with my family, this sticky rice, unfurled from inside a steaming lotus leaf, was a favorite. It often had ground pork and chunks of Chinese sausage, but that rice alone, sticky as it was, was good to the last grain. Picking the last gummy grains off that spent sheet of lotus leaf was a penchant. The problem was, finding sheets of lotus leaves, which impart an herbal flavor when wrapped around the cooked rice and steamed together, can be a challenge. Even in a city like New York City, it would require a trip to an Asian market. But especially in winter, cabbage is one of the most readily available leafy greens around. And unlike the lotus leaves, you can eat it, adding more vegetable heft to the overall dish.
You can follow this recipe up to the point where the sticky rice mixture is stuffed into the cabbage, and enjoy it as a savory starch. In Taiwan, this flavorful rice dish is called you fan ("oil rice") and is often molded in a bowl and upturned onto a plate, where it can be garnished with sauces and fresh herbs. (I included a recipe for it in The Food of Taiwan.) Here, I've flavored the rice with just some pantry and freezer essentials, including dried and reconstituted shiitake mushrooms, dried baby shrimp, a bit of chopped bacon, and chopped leeks, which I had on hand.
Using dried shiitake mushrooms gives you two products: the mushrooms themselves and the flavorful water they've been soaked in. This water can be used up to cook the rice with—but this time, I saved a little bit of it to create a mushroomy sauce to coat the cabbage rolls in, too.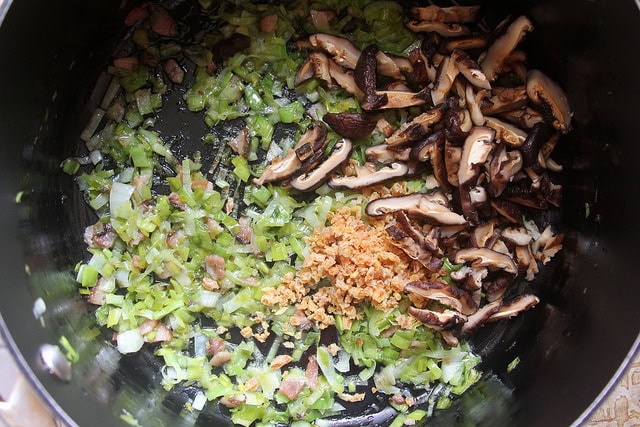 So rather than using up leftovers, I made a humble yet flavorful sticky rice based on these and other umami-rich ingredients. I cooked down a large amount of fresh leeks along with some finely diced bacon before stirring in the soaked, drained, and chopped dried shrimp and mushrooms. Often, fried shallots are used here instead of the considerably larger, greener allium—they, like the dried ingredients, pack a lot of flavor. But my CSA provided me so many leeks—along with cabbage—so I went with the flow of what was available and in season.
Then it's rice, water, seasonings like salt, white pepper and soy sauce, and the pot is closed until the water's absorbed, rice steamed through. The sticky rice portion of this recipe is complete.
But say you have some leftovers the next day, and want to dress it up? Next up: cabbage rolls. I'll admit that I could have boiled this head of cabbage a little longer so that its leaves were more pliable. That's what's commonly done when making stuffed cabbage. But I managed to tear off enough barely pliable-enough leaves of cabbage to make rolls with, and saved the rest of the cabbage head for another use later. The next step is also optional: creating a sauce with some extra mushrooms and their juice.
Eastern European stuffed cabbage rolls often get a slightly sweet-and-sour tomato sauce poured over them in a casserole dish before baking, adding some tangy contrast. I didn't want to just leave my rolls naked while they baked in the oven. Though they probably didn't need much juice—the cabbage leaves release liquids as they cook down—I made a quick, garlicky, mushroom sauce thickened with a bit of cornstarch to drizzle over the rolls before popping into the oven.
The resulting casserole was juicy, mushroomy, and brown, and it was pretty impossible to tell what was inside the rolls until you cut into them. So when I brought it to an early winter potluck party hosted by friends, people had no idea they would encounter Chinese sticky rice, which was a fun surprise. Another time, I'll have to pull an even better trick on people and stuff this sticky rice inside corn husks, a la tamales.
Stuffed Cabbage with Sticky Rice
(makes 6-8 servings)
for the sticky rice:
8 dried shiitake mushrooms
2 tablespoons neutral cooking oil, such as vegetable
1-2 oz bacon, finely diced
1 leek, white and light green parts only, chopped
1 tablespoon dried baby shrimp, soaked in water for about 15 minutes, drained, and minced
1 cup glutinous rice, sometimes called "sweet rice," found at Asian markets
2 teaspoons soy sauce
generous pinch of salt and white pepper each
for the stuffed cabbage and mushroom sauce:
1 whole head green cabbage
2 tablespoons neutral cooking oil, such as vegetable
2 cloves garlic, minced
4-6 fresh shiitake mushrooms, thinly sliced
1/4 cup shaoxing rice wine (or substitute with more water)
1 cup water from soaking the dried mushrooms
1 teaspoon soy sauce
salt and pepper to taste
1 teaspoon cornstarch
Soak the shiitake mushrooms in 4 cups of cold water. Let sit for at least 20 minutes, or until the mushrooms are softened throughout. Squeeze out the softened mushrooms, trim off any tough stems and thinly slice. Reserve the soaking water.
Heat the oil and cook the bacon in a large, heavy-bottomed pot with a lid (such as a Dutch oven) for about 1 minute on medium-high heat. Add the leeks and cook until sizzling; reduce heat to low and continue to cook, stirring occasionally, until the leeks are well-softened, about 8 minutes. Add the sliced mushrooms and minced dried shrimp. Cook another 3-4 minutes, stirring occasionally. Add the rice and 3 cups of the mushroom soaking water. Increase heat to bring to a boil. Stir in the soy sauce, salt and pepper. Reduce heat to a constant, yet low, boil and cover the pot. Let cook for 20 minutes before checking; if the water has been absorbed and rice is fully cooked, remove from heat. If dry, add a bit more water and cover to continue cooking longer. Once fully cooked and water has all been absorbed, remove from heat to let cool for a bit.
Meanwhile, bring a large pot big enough to submerge the whole head of cabbage to a boil. Carefully place the head of cabbage inside. Let cook, boiling for 3-5 minutes. Remove carefully with tongs. Once cool enough to touch, carefully peel off about 8 whole outer leaves. Trim the thick ribs off each piece with a knife.
To make the mushroom sauce, heat the oil over high heat in a small pan or pot. Add the garlic, mushrooms and a pinch of salt. Let cook without moving until the mushrooms are slightly browned. Stir to loosen and allow them to shrink in size, being careful not to burn the garlic. Add the rice wine (or just a splash of water) and let boil for 1 minute. Add the 3 cups of reserved mushroom cooking liquid. Bring to a boil then reduce heat to a simmer. Let cook, stirring occasionally, for 3-5 minutes to allow the mushrooms to fully soften. Add a bit of soy sauce, salt and pepper and taste for seasoning. You can also add more water if the liquid has cooked down too much. To thicken the mixture, stir the teaspoon of cornstarch in a separate bowl with about 1/4 cup cold water. Pour mixture into the pan with the mushroom sauce, and stir as it comes to a boil and thickens. Remove sauce from heat.
Preheat oven to 350 degrees. Lay a cabbage leaf flat on a cutting board and place a clump of about 2 tablespoons of the sticky rice toward the bottom. Roll up the leaf, folding in the sides like you would a burrito. Repeat with the remaining leaves, and arrange neatly inside a casserole dish. Spread the mushroom sauce across the top. Cover the dish with foil, and bake for 40 minutes. Let cool uncovered several minutes before serving.
Cost Calculator
(for 6-8 servings)
1 head cabbage (from CSA): $3.00
1 leek (from CSA): $1.00
6 dried shiitake mushrooms: $1.00
1 cup sticky rice: $0.50
2 teaspoons dried baby shrimp: $0.50
1 oz bacon: $1.00
6 fresh shiitake mushrooms: $1.50
2 cloves garlic: $0.20
4 tablespoons vegetable oil: $0.25
soy sauce, salt, pepper: $0.25
1/4 cup shaoxing rice wine: $0.25
Total: $9.45
Health Factor






Four maple leaves: The great thing about using cabbage as an edible wrapper is that it's an incredibly nutritious edible wrapper. With lots of Vitamin C and fiber, green cabbage is packed with antioxidants and phytonutrients to help keep you healthy throughout the winter. Despite the name "oil rice," the sticky rice isn't too greasy, with just a bit of bacon to stretch its flavor throughout.
Green Factor









Eight maple leaves: This dish would fall into the category of "almost vegetarian" or "flexitarian," because it can be easily made vegetarian. Just leave out the dried shrimp and bacon, and maybe bulk up the amount of dried mushrooms and onions, and there you go. It's also a great way to use everyday pantry staples and dried ingredients, like rice, along with one seasonal vegetable like cabbage.