Whenever I travel somewhere, I like to geek out on its food and then, immediately upon returning home, try to relive some of those flavors in my own kitchen, while they're fresh in my memory. Often, this culminates in a dinner party on the theme of the place I had last visited. I recently traveled to Jamaica for my friend Karol's 40th birthday, where we spent a languid 4-day weekend with a handful of friends. I didn't expect it to be enough time to absorb much of the island's food culture—but it was far too good not to. But then, each fall, I like to throw a salmon-themed dinner party, to celebrate the annual sockeye salmon catch from Iliamna Fish Co. in Bristol Bay, Alaska, which I've been a proud salmon-CSA member of for years. I somehow didn't get around to throwing my salmon party this past fall. So I decided to mix up the themes, with a dinner party in honor of salmon and Jamaica.

I'm not sure what inspired Karol to choose Jamaica for her birthday getaway. But its food was a highlight: we all love seafood, tropical fruit, jerk-seasoned anything, and the spicy stews of Jamaican cuisine (goat curry! oxtails!). And, of course, beef patties. I fell in love with these growing up, and have made them many times, including a vegetarian version with roasted squash, peppers and zucchini. During our trip, we ate so much fish — grilled or fried whole, with brown sauce, with escovitch vegetables, with buttery cabbage and rice and pigeon peas. There was one day when we accidentally each ate two whole fish per person, and that wasn't even counting saltfish fritters for snacks or a smoked marlin and cream cheese spread for breakfast.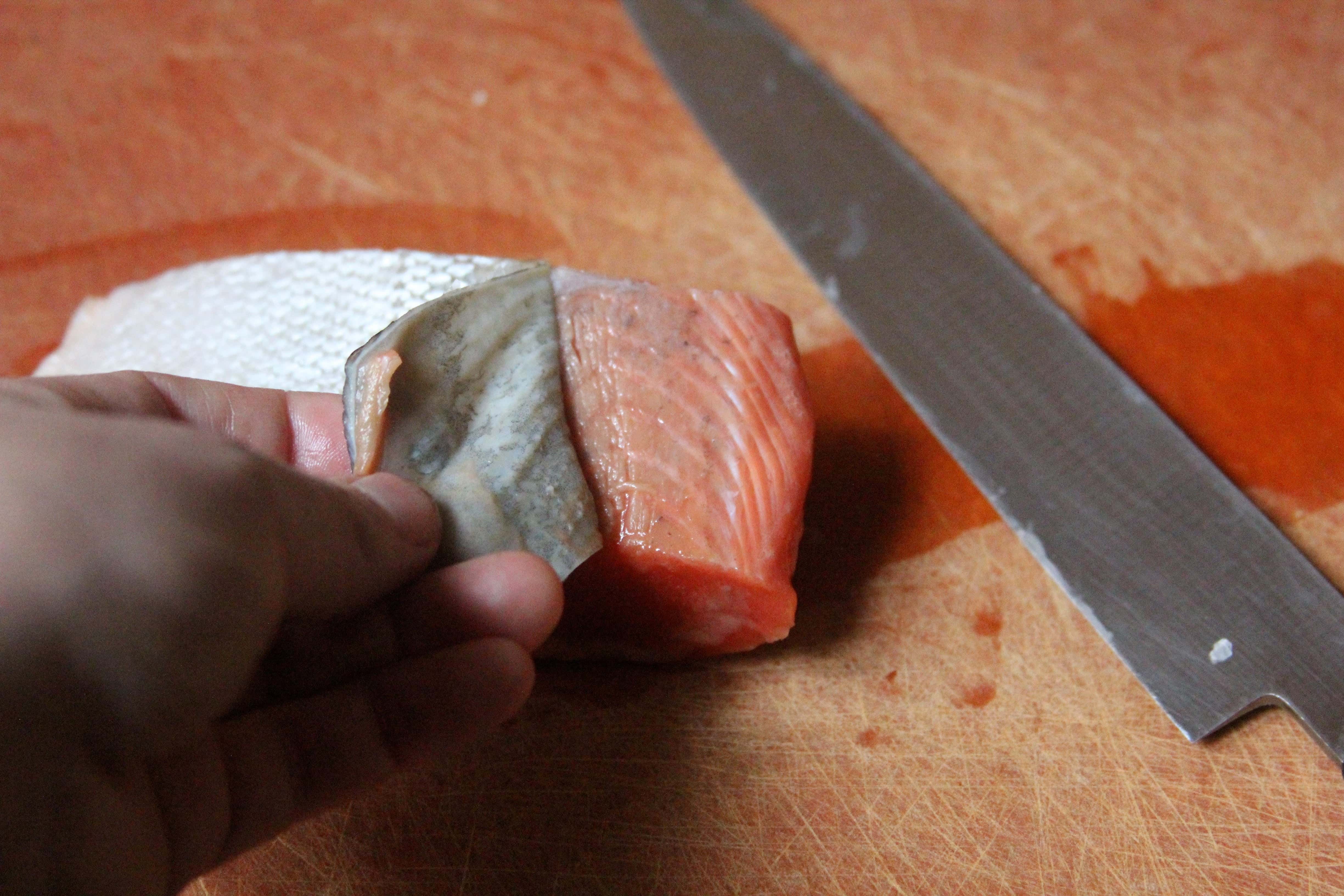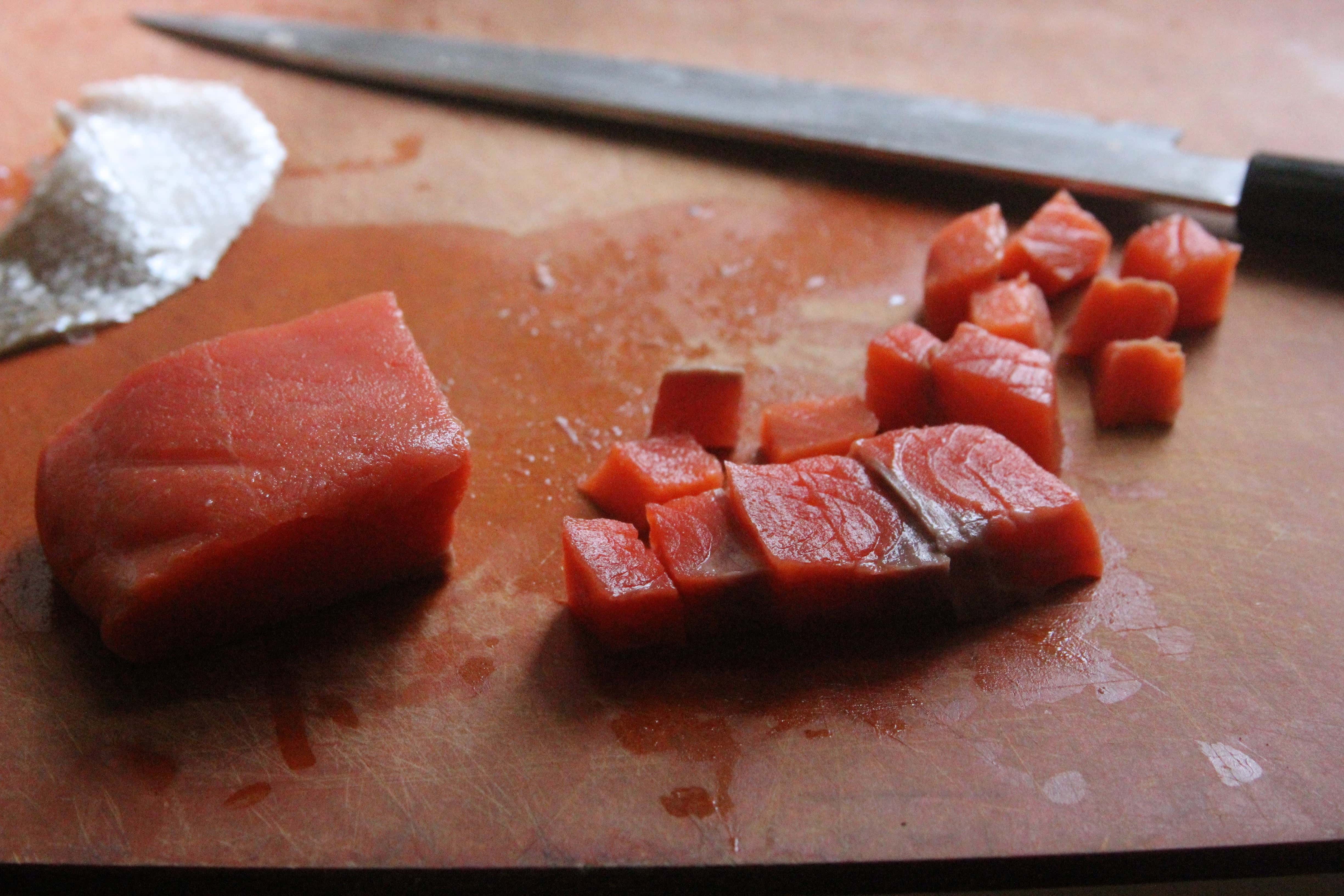 We visited Treasure Beach, a sleepy, less-traveled destination far from the large resorts of Montego Bay. It took two and a half hours' drive from the airport but we loved its laid-back vibe. We rented a house available from Jake's Treasure Beach Hotel, which had a couple of cooks who prepared meals, and we took a cooking class with Chef Randy at the hotel. Then we took a memorable day cruise with Captain Joseph Brown, where we watched he and his family prepare a multi-course lunch on a beach, then snorkeled, played dominoes and beach soccer with Captain Joseph's kids, and drank a bunch of rum punches.
One thing I learned from all the cooks I got to interact with, however, is that Jamaicans don't eat raw fish.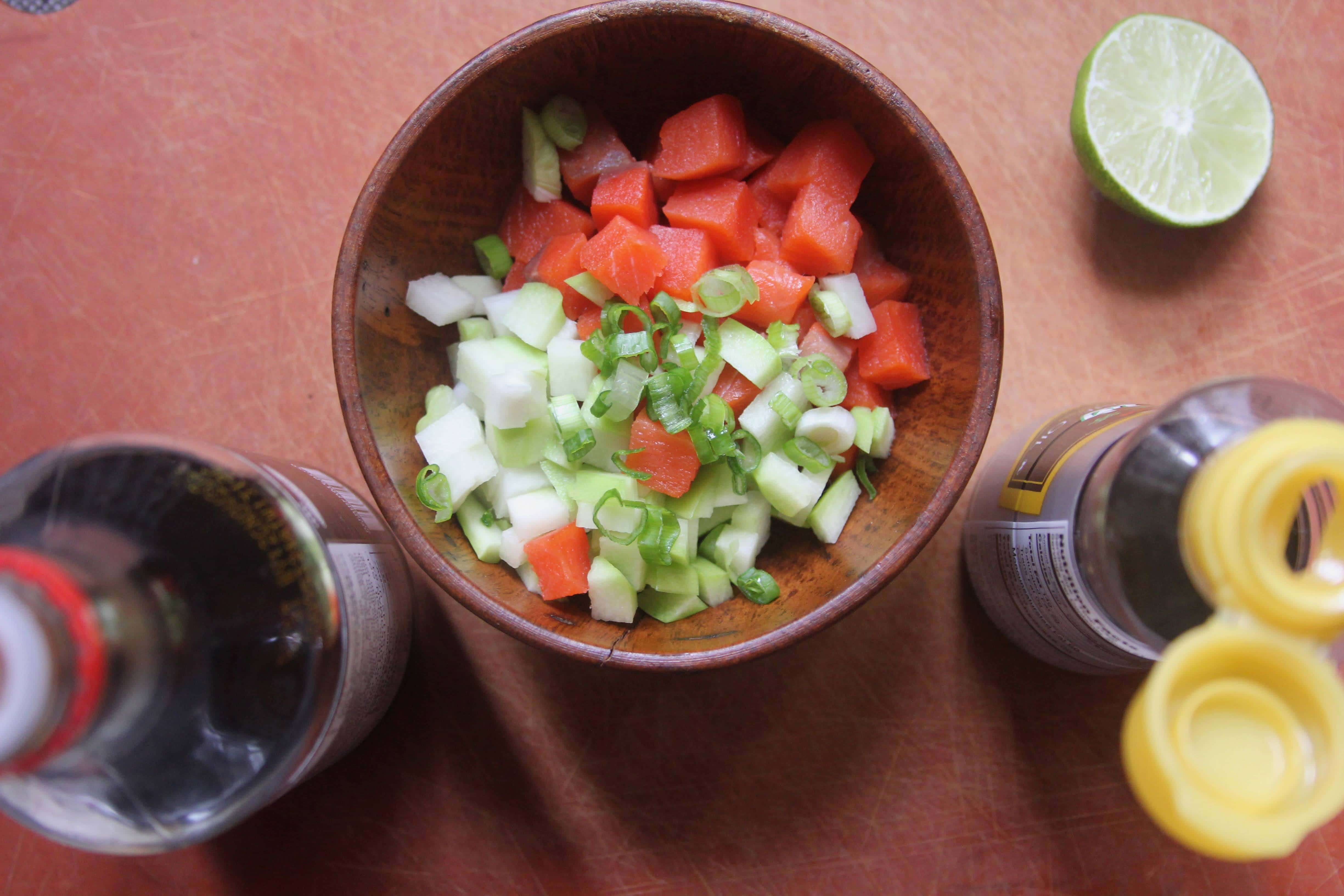 But I took the liberty of including one dish in my salmon dinner party menu that did have raw fish: this poke. It made a refreshing first course in a menu that included fried saltfish fritters, sauteed callaloo (a hearty leafy green), and a great big pot of salmon rundown, a coconut-y seafood stew. The highlight of the evening may have been a whole, 2-foot-long salmon fillet, slathered with jerk seasoning and fresh thyme, encased inside a turmeric-stained pastry crust and baked whole. It was a sheet pan-sized Jamaican salmon pattie, which we cut up to share amongst the eight guests, family-style. It worked surprisingly well—a sort of salmon en croute. And it was much less taxing than making individual salmon patties.
This raw salmon starter was the only dish that really strayed far from Jamaican recipes. But I wanted to use some of the great produce that's enjoyed on the island, and thanks to the thriving West Indies community in the neighborhood of Brooklyn I live in, I have access to so much of it at my local produce markets. I grabbed a chayote (also known as cho-cho in Jamaica), a versatile vegetable enjoyed throughout the Caribbean and Latin America. I thought that the crisp texture of raw chayote would be the perfect sub for something like cucumber or Asian pear, to add bursts of texture to a simple salad of raw salmon cubes. Then I decided to take it in a sort of Asian direction, with minimal splashes of soy sauce and sesame oil to make this raw fish salad more or less like poke, the Hawaiian specialty. Glistening with the oil and accented with dots of sesame seeds and chopped scallion, it would have been a great poke bowl with some rice. But I wanted to serve bite-size hors d'oeuvres with it.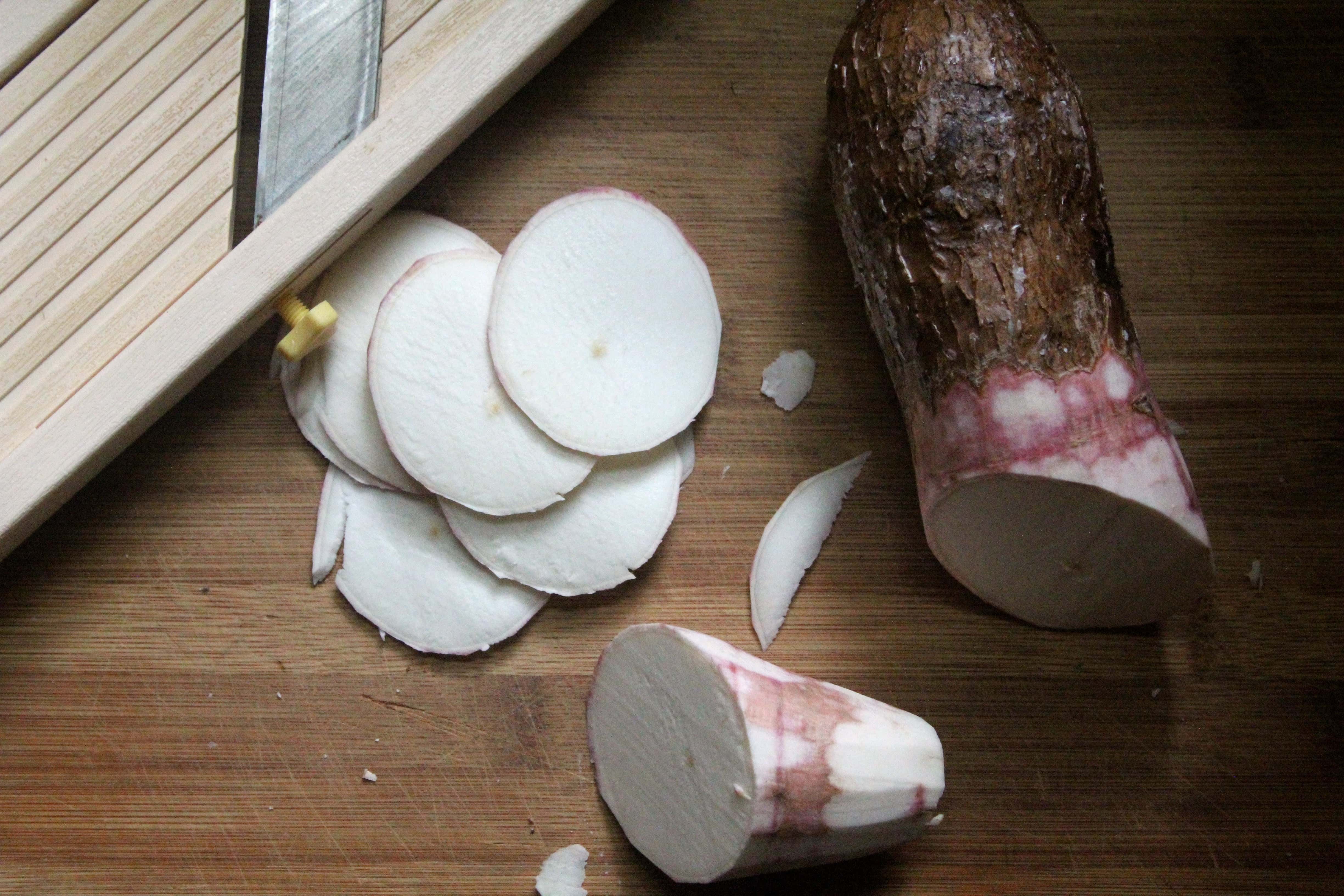 I debated just buying a bag of plantain chips so that I could spoon a dollop of the poke mixture on top of each chip and call it a day. But I had already bought a cassava root at the market. So I decided to make chips out of fat slabs of those instead. I've had a lot of fun cooking with it in place of potatoes in the past — it makes a great potato and onion tart, some friends and I learned one night — so I thought that they might fry well into chips. I had to use a mandoline to cut them into pretty thick slices to get them to stay apart. But after they were fried, the chips were so sturdy that they made great cups for holding the poke.
The next day, there was some leftover salmon and chayote in the fridge and I had to make this poke all over again, just to have it again on rice for a light lunch. So feel free to make this without the trouble of deep-frying cassava chips anytime. And if you can't find chayote, go ahead and replace it with cucumber — but I highly recommend seeking it out. I sauteed the rest of the chayote I had leftover like it was zucchini the next day, too, and it was a delightful side. I even chopped some into cubes and dropped them into some leftover mapo tofu next, and let them soften as the mapo tofu reheated. It was a great way to use it up! So if you do seek out the chayote or cassava root, there are many, many uses for them. I highly recommend Provisions: The Roots of Caribbean Cooking by Michelle and Suzanne Rousseau, a great cookbook that explores many of them, and much more vegetarian recipes from the Caribbean. (I had the pleasure of chatting with the co-authors on Heritage Radio Network a while back when it came out.)
Salmon and Chayote Poke with Cassava Chips
(makes 8-12 appetizer-size servings)
1 lb sushi-grade salmon (ask your fishmonger if the salmon can be used raw)
1 chayote (aka cho-cho)
about 2 teaspoons soy sauce
about 1 teaspoon toasted sesame oil
2 scallions, chopped
about 2 teaspoons fresh-squeezed lime juice (or more to taste)
1 foot-long piece of cassava root
2-3 cups neutral oil for frying
salt
toasted sesame seeds (optional), for garnish
If your salmon has skin, place on a cutting board skin side-up. Lift a corner of the skin with your fingers and run a very sharp knife in between the skin and the flesh, making repetitive light strokes, to carefully help the skin release from the flesh without cutting into it. Do this slowly and steadily, pulling the skin taut with your other hand as you continue making strokes with the knife, until the whole piece is skinned. Feel the salmon all over for pin bones, and remove them with tweezers. Finely dice the salmon with a very sharp knife.
Cut the chayote in half lengthwise. Use a spoon to scoop out the seed and a circle of flesh surrounding it on each half. Finely dice the rest of the chayote.
To make the cassava chips, heat the neutral frying oil in a small pot (alternately, you can preheat oil in a deep-fryer). Peel the cassava root to remove all the brown skin. Carefully slice to about 1/8-inch thick rounds with the help of a mandoline. Once the oil is very hot, carefully drop in a cassava root round, cooking in batches of about 2-4 rounds at a time, so as not to overcrowd the pot. Remove once the chips are golden-brown at the edges and place immediately on paper towels to drain. Continue with the rest of the cassava. Sprinkle the chips with salt.
In a large bowl, combine the diced salmon, chayote and scallions. Just before you're ready to serve, toss it with the soy sauce, sesame oil and lime juice. Adjust to taste, adding more of anything as desired. Scoop a spoonful of the mixture onto a cassava chip, and repeat with the remaining mixture and cassava chips. Sprinkle each with the optional sesame seeds, and serve immediately.
Cost Calculator
(for 8-12 appetizer-sized servings)
1 lb sushi-grade salmon (from a salmon CSA share of $200 / 12 lbs): $16.67
1 chayote: $1.50
2 scallions: $0.25
1/2 lime: $0.25
1 lb cassava root: $2.00
3 cups neutral frying oil: $2.00
soy sauce, sesame oil, salt, optional sesame seeds: $0.40
Total: $23.07
Health Factor








Six brownie points: For a tasty appetizer, you could do a lot worse. This is plentiful in nutritional benefits, from the omega-3 fatty acids in the fish to the fiber in the chayote and cassava root. Chayote is rich in antioxidants and folate, amongst other nutrients. Salmon is one of those fatty fish that will really give you a much-needed boost of omega-3, while providing protein and B vitamins. But as a carnivorous fish that's high on the food chain, it will have accumulated extra toxins during its lifetime, as opposed to smaller fish, an effect called biomagnification. So it's best to enjoy in moderation.
Green Factor







Five maple leaves: So the big variable here is how and where your salmon was caught. Wild salmon from Bristol Bay, Alaska, for instance, has a tightly controlled fishery that greatly limits the catch, so only a handful of commercial outfits grandfathered into the industry, like Iliamna Fish Co, can fish there. Seafood Watch has rated the US Pacific Northwest wild-caught salmon a Best Choice for salmon, but there are a few other sources of that, too. However, this fish as well as the chayote and the yucca, as sustainably as they may have been grown, are not local to my East Coast food shed. Then again, neither is fresh lettuce or tomatoes right now in the dead of winter. But if we're going to have a big carbon footprint thanks to the travel required for fresh foods, I figure we might as well enjoy exotic specialties like these, too.