I have long wanted to make gefilte fish from scratch. This is not a refrain I have heard too many people repeat. Something else I have not heard too often (or ever?) is, "I really want to eat gefilte fish sometime!" Maybe because of this, I just have never gotten around to homemade gefilte fish before. I am so glad to have finally done so, prompted by a great recipe from a Russian-American co-worker.

Does anyone else have a wish list of world dishes that they would just love to spend a leisurely weekend making, flitting from one small, specialty market to another to procure just the right ingredients during the day, and then putting on some Billie Holliday records and popping open a bottle of wine to start cooking it in the evening? That would be my ideal life. But too many would-be leisurely weekends are consumed with other things. My 2020 resolution is to try to win some back.
Why did I want to make gefilte fish in the first place? It was one of those "wow" foods that I tried once as a really young child and never had it again. This was a version that was made from scratch by my childhood friend's mom, Mrs. Stein, back in New Jersey, where I grew up. I was invited to Passover dinner at their house once or twice, and when the gefilte fish was brought out, the Stein kids squirmed and convulsed, refusing to eat it, much to their mother's chagrin. But to me, the soft, delicately seasoned mounds of ground fish and crushed matzoh bound with egg were not too dissimilar from the various fish balls I enjoyed in my mom's everyday soups — they weren't quite as bouncy as the frozen, Chinese fish balls that she would simply thaw from a package. But they were refreshingly lighter-tasting and fluffier. I was the only kid at supper who finished the whole bowl, and asked for seconds.
Not too many Americans make gefilte fish from scratch, so I was lucky with that rare encounter with good, fresh, homemade gefilte fish as my introduction to the dish. Unfortunately, it's all too common to hear Jewish Americans kvetch over gefilte fish because they've only had the jarred, preserved kind. Which is obviously not as good! I suppose if your kids aren't even going to eat your fresh, homemade gefilte fish then why bother making it? This is more or less the same rationale that followed me throughout thirty-some years, before making this batch on the eve of Hannukah 2019: If nobody's clamoring for it, then why bother?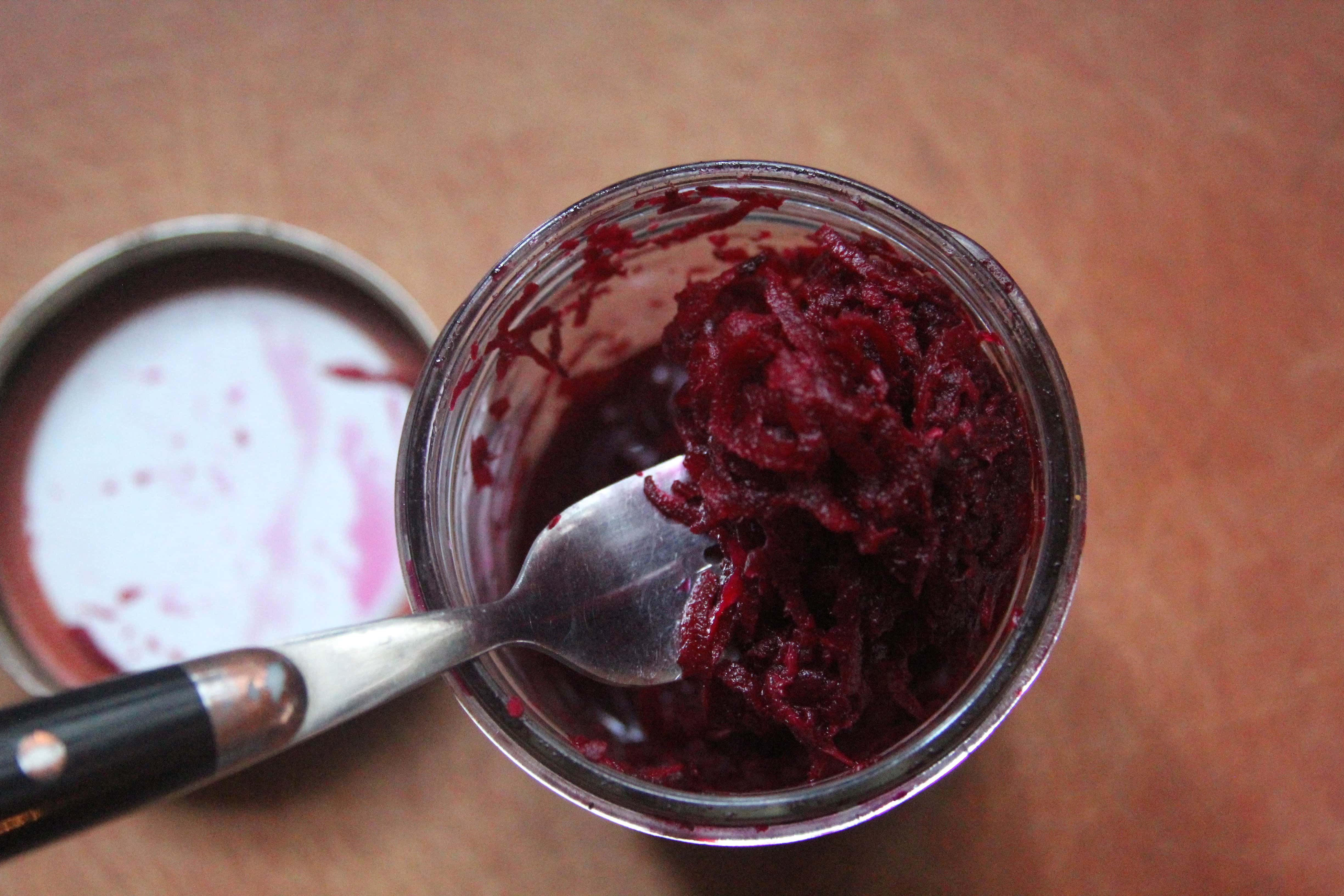 Well, I bothered. This winter, I found myself feeling bad for commonly maligned fish dishes, like lutefisk, and got bitten by a determination to eat them. Just because. Then over water-cooler chat, I obtained a recipe for gefilte fish from my co-worker, Gregg, who was once a chef and is very particular about this dish. The recipe was replete with garnishes like chrein (also known as chrain), a horseradish and shredded-beet condiment often served with the finished cakes, and thoughtful consideration of locally-caught substitutions for European fish species. Now, I really had to do it.
I understand that you can like a food but not like to cook it — not want to be engulfed by its smells, sights and textures of the unfinished thing. But I rather embrace all those sensations, from the smells that engulf the kitchen to the touch of raw fish against my fingers. Fill your biggest pot you own with onions, celery, carrot, herbs and various fish heads and bodies? That's my idea of fun. Cookbook author Joan Nathan wrote of catering to the opposite persuasion in her recipe for gefilte fish in 2016, published in the The New York Times: "Recently, I have noticed that my children, all in their 30s now, want tradition, but they also want natural, sustainable and flavorful. Most important, they don't want the smell of fish stock in the kitchen," she wrote. So her recipe ditches the traditional, jellied fish stock in favor of veggie broth to poach the little dumplings of fish-based filling.
I guess I'm glad I don't have children, because I adored making this stock. (My furry child, Douglas the dog, seems to like it, too.) Letting a pot simmer slowly on the stove, steaming up your kitchen and perfuming your whole home, is part of the experience of enjoying a soup or stew — and I loved slurping up spoonfuls of this fish stock in the end. I added all the herbs and aromatics that were called for in Gregg's recipe, and made sure to get some fish heads and carcasses from a fatty type of fish, in this case salmon (it was also just what my local shop had on hand, as fish parts for stock). Hence, I didn't buy whole fish with their heads, because I could get these parts separately and I didn't feel like filleting the fish myself. The recipe called for a combination of white-fleshed fish, such as whiting, and a small amount of a fattier fish, such as mullet. I found some local porgy fillets for the pale-fleshed variety and my fish store, Mermaid's Garden, happened to have large sardines as their only oily species. So I asked them to fillet one of those, too.
As soon as I pressed the lever on the food processor, filled with these fillets, the chopped onion, parsnips and celery I knew that I should have trimmed the skins off the first first. The greyish skins not only made for dark chunks in the mixture, but those skins don't chop as easily as the flesh. Next time (and there will be a next time; I plan to make this for my extended family as an appetizer on Christmas, too). But that was the only hitch in my first attempt at this recipe, and it didn't affect the taste, just the texture a bit. Next time, I'll make a much smoother, fluffier gefilte fish perhaps with some skinless cod fillets. I can't wait, actually.
So whether you have good memories, bad memories or zero memories whatsoever with gefilte fish, hope you enjoy this second-hand recipe, which I made a few small adjustments to here as I was halving the recipe. Typically, the little football-shaped gefilte fish are served brothless, with some of those simmered carrots and the beet-horseradish chrein as an optional garnish. But I found the broth so tasty that I enjoyed it with a little broth to spoon up along with the gefilte fish in a shallow bowl. The rest of this batch came with me to my friends' annual holiday party, where they were enjoyed alongside a baked ham, latkes and a whole smorgasbord of other stuff that people brought. Some people were afraid to eat this gefilte fish, perhaps scarred by holidays past. But many people put their hesitations aside and gave it a try — and loved it just as much as I do.
Gefilte Fish and Chrein
(makes about 30 small balls or quenelles)
for the stock:
1-2 lbs fish heads and bodies (ask your local fishmonger if they have any fresh; otherwise, you may need to just buy whole fish from the shop, and ask them to fillet it, or do it yourself and reserve the bodies and heads)
1 onion, quartered
1 stalk celery, roughly chopped
1 parsnip, roughly chopped
1 carrot, roughly chopped
1 leek, roughly chopped
bouquet garni of fresh herbs such as: thyme, bay leaves, tarragon, parsley
2 extra carrots, peeled and sliced to 1/2-inch rounds (for poaching in the strained stock and serving with the gefilte fish)
for the gefilte fish:
1 medium-small parsnip, finely chopped
1 celery stalk, finely chopped
1 medium-small onion, finely chopped
1 lb white-fleshed fish variety, such as cod or whiting, preferably skinless (you can use a variety)
1/4 lb oilier type of fish, such as mackerel or bluefish (for a bit more flavor and unctuousness, or you can use another white variety if you prefer)
2 eggs, beaten
1/2 cup matzoh meal
2 teaspoons salt
1/2 teaspoon white pepper powder
1 tablespoon sugar (optional)
small amount of chopped parsley, picked thyme leaves or celery leaves, for a bit of color
for the chrein:
1 large beet, peeled and shredded with a box grater
1 tablespoon horseradish (can be fresh or jarred), or more to taste
1/4 teaspoon salt
1/3 cup white vinegar (I used rice vinegar, since that's all I had, and it was fine)
1/3 cup water
1 tablespoon sugar
To make the chrein, combine all the ingredients and let sit for at least 4 hours. This can keep refrigerated in a jar for up to a couple weeks.
To make the stock, combine all the ingredients (besides the extra 2 sliced carrots) in a large pot. Fill with cold water just to cover. Bring to a boil uncovered. Once it has been boiling for 5 minutes, reduce heat to a low simmer. Skim the foamy scum from the surface. Cover and let simmer for 2 hours. Then strain all the solids. Return the stock to a clean pot. Add the sliced carrot rounds and simmer for 15 minutes before dropping in the gefilte fish.
To make the gefilte fish, place the chopped parsnip, onion and celery in a food processor and pulse several times. Cut your fish into smaller chunks, about 1-2 inches large. Place in the food processor and add the salt, pepper, optional sugar and the herbs. Pulse several times, stopping to scrape down the sides every couple times so that the fish is evenly dispersed. As per Gregg, you want to "pulse until the fish is fully minced but the mixture is not completely homogenous."
Scrape the fish mixture into a bowl and add the beaten eggs and the matzoh meal. Gently mix together, preferably using your hands (don't overwork the mixture but fold together until just thoroughly combined or evenly dispersed). To taste the mixture, bring the strained stock up to a boil and drop in a small spoonful of the fish mixture. Let boil 5 minutes, remove and taste. Add extra salt or pepper if desired.
Line a flat cutting board or baking sheet with waxed or parchment paper. Using two large soup spoons, form the fish mixture into neat little football-shaped scoops, or quenelles (here's a video on how to do that). (The mixture is a bit too sticky to roll between your palms into balls, but you can give them any shape you want.) Place them on the waxed paper as you make them.
Bring the strained stock with the carrot rounds to a boil. Carefully drop the quenelles of fish mixture into the water. Let poach for 8-10 minutes, or until they're all bobbing to the top (you may need to work in batches). Then, the quenelles and carrot rounds can be lifted out with a strainer and chilled separately from the stock, which will gel once fully cooled. The gefilte fish and carrots can be served with the chrein. (This works well for a group appetizer before dinner, but I also like a nontraditional way of serving it, which is piping hot, with the broth in a bowl. So do whichever service style suits you.) The gefilte fish and the stock can also be chilled overnight together before serving.