The holiday season has arrived, and that means a lot of dumpling-making from November through February to my family and friends. Although no time of the year is spared of this tradition, we really bring it on the nights before Thanksgiving and Christmas: at least two types of fillings, stacks of round wrappers, and often, square, yellow wonton wrappers for boiled wontons and their filling are brought out onto the table and everyone gets busy folding. The inevitable chatter over how to do this best ensues.

I tried my hand at making dumplings not from my Chinese heritage this fall, too. In the past few years, I have fallen in love with many other types of dumplings, like Georgian khinkali (which look sort of like xiaolongbao, or soup dumplings) and Russian pelmeni (which look sort of like tortellini). There is no better or worse type of dumpling, and there is no such thing as a bad dumpling, in my opinion. But truth be told, there are more and less difficult types of dumplings to fold at home. Especially if your fingers are used to doing them one way, and keep wanting to revert to that muscle memory.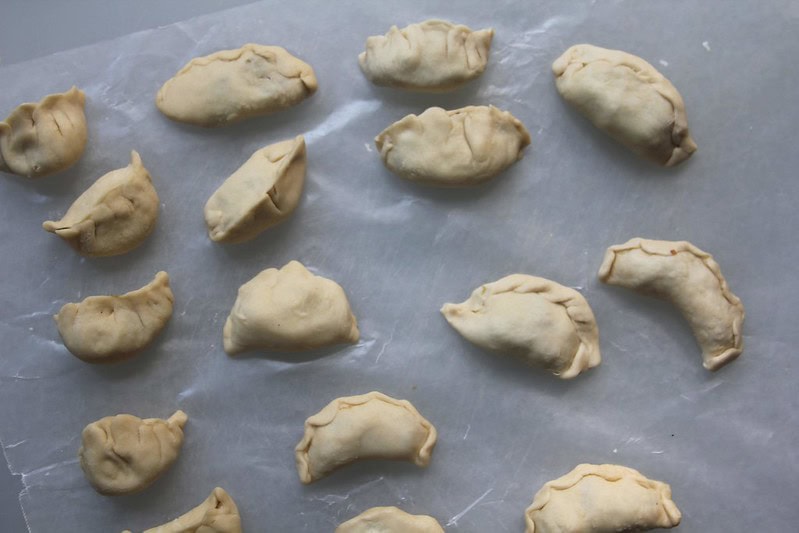 That's why some of these dumplings, which were inspired by Ukrainian varenyky, look more like little potstickers than others. I am still figuring it out. But they share the same dumpling DNA in that they were a lot of fun to make, especially as an activity with others, where you can endlessly discuss how to fold them best. And they're even more fun to eat. That said, these dumplings were made in honor of Elina Svitolina, a Ukrainian women's tennis player, as part of a bet I lost.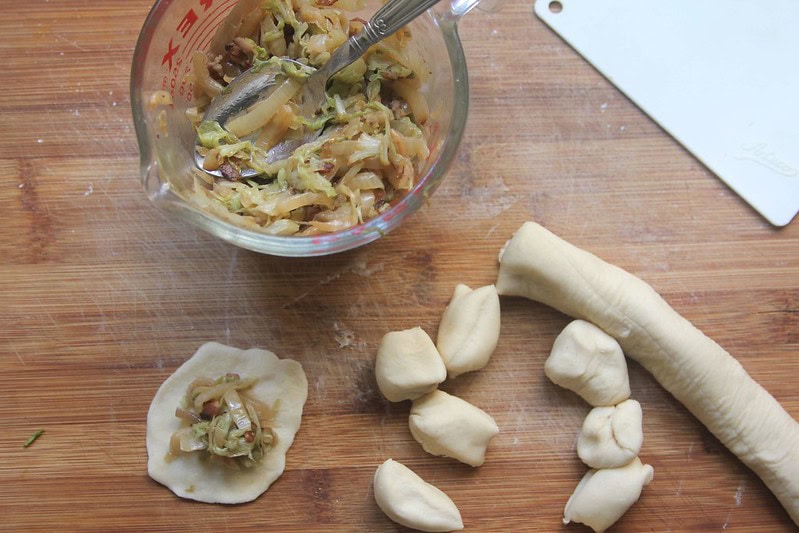 For the past couple years, my husband and I have engaged in a friendly competition of trying to predict the winners of each Grand Slam tennis tournament, once the draw is released. Whoever's predictions were more accurate based on how all the players did over the course of the tournament wins a lavish meal prepared by the other. For the last Slam, the US Open, I added a twist: each player represents one ingredient, or type of dish. You can probably see where this is going, but my husband jotted down varenyky to represent Svitolina while coming up with a food for each player, and she made it farther than I guessed — she, into the semi-finals, and these dumplings, into the six-course meal that I cooked afterward.
These dumplings were so satisfying, they could have made a whole meal on their own. I went with a filling that I'd seen often on menus of Ukrainian and Russian restaurants: cabbage. And because I wasn't serving these to anyone vegetarian, I added some bacon to cabbage filling mixture (meaty varenyky fillings are great, too, and it was hard for me to decide on just one filling). We served them with sour cream, as I'd seen done in restaurants and other peoples' homes; stirred into a steaming bowl of just-boiled dumplings, the sour cream becomes a rich sauce.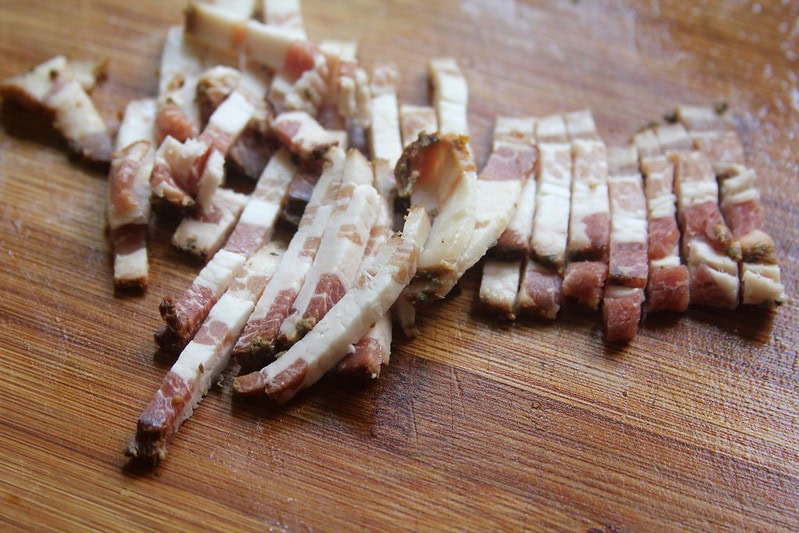 Elina Svitolina has had one hell of a year. She finished the season with a career-high ranking of number 3 in the world. And while I haven't reached quite that level of achievement, this year has really exhausted me, too. I started off by helping launch a new podcast that I'm hosting, Self Evident, a passion project that explores the lives of Asian Americans today. I won a James Beard Award — for writing about another passion occasionally shared on this blog, chicken salad. Then I got married(!) over the summer, to my beau who is so good at folding dumplings it scares me. And I've got a new cookbook in the works, coming out in fall 2020.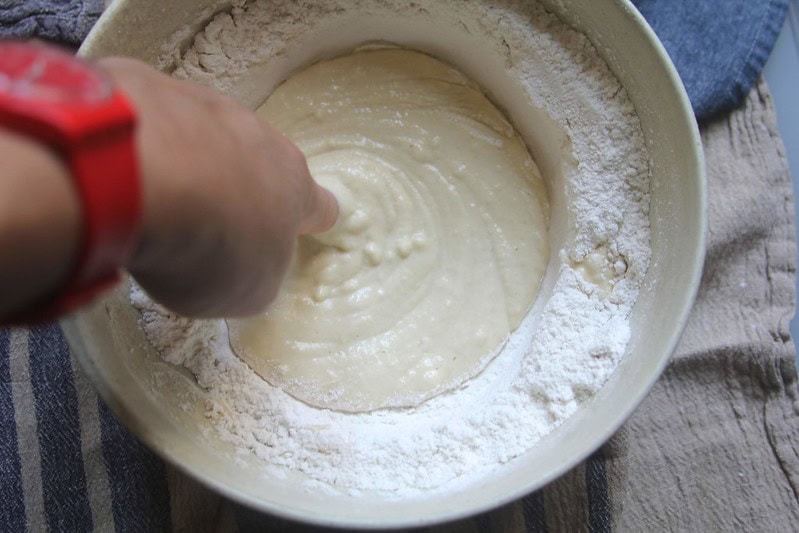 I'm glad to be finally sharing this recipe now, but it's been a long time waiting in the wings. That's a consequence of all the attention I've directed elsewhere. Blogging has become less frequent as other forms of communication and food writing take up my time. So I'll be posting less frequently here, as I ramp up the posts elsewhere: on Twitter, Facebook, Instagram, and food publications like TASTE, Eater, Food & Wine and more. I recently wrote my first story for The New York Times and hope to do much more. (The reason I'm writing elsewhere so much is to get paid for it, and I'd much rather do that at a reputable publication than try to monetize this blog by writing sponsored content for brands, something I've never done.)
It's such a cliche and I hate to use it, but it's really been one wild ride of a year. Here's to making new traditions, even if that means having to pare back on others.
Ukrainian Dumplings (Varenyky) with Cabbage and Bacon
(makes about 4-6 servings)
1 cup all-purpose flour
1 egg
about 1/4 cup water
1 small head of green cabbage, shredded (yielding about 6 packed cups once shredded)
1 shallot, or 1 small yellow onion, thinly sliced
4 strips thick-cut bacon or around 4 oz slab bacon, finely chopped
salt and pepper to taste
neutral cooking oil, such as vegetable
sour cream for serving (optional)
To make the dough, place the flour in a large bowl and form a well in the center. Break an egg into the well, and begin beating the egg, allowing the sides of the flour to fall into the egg mixture gradually. Continue mixing until until dough just comes together, adding a little water as needed. Turn onto a lightly floured surface and knead dough for 5-6 minutes, until its surface feels smooth. Let rest for at least 10-15 minutes, covered with plastic wrap.
The filling mixture will take a lot of time so you could do this first instead, too: Heat a large, heavy-bottomed chef's pan or Dutch oven with about a tablespoon of oil. Add the bacon and cook, stirring often, over medium-high heat, until lightly crisped. Remove from the pan, but reserve the fat in the pan.
Add the cabbage and onion to the pan and a few hefty pinches of salt. Let cook over medium-high heat, stirring often, to wilt completely. Return the bacon pieces to the pan. Reduce heat and cook, stirring occasionally, for 20 minutes or preferably 30-40 minutes, until the cabbage is golden-browned in parts (it's OK if some got stuck to the pan while you weren't stirring and forgot about it as long as it didn't burn) and very dry; there should be no liquid still in the pan and the whole mass should have shrank down to just around 2 cups. Season with salt and pepper to taste, and transfer to a bowl to cool.
Once the filling mixture is cool enough to handle, make the dumplings: Take a small piece of the rested dough that's about the size of a teaspoon and flatten it on a lightly floured surface. Using a rolling pin or any flat, sturdy cylindrical object (I recommend an empty beer bottle), roll it out into a sort-of round-shaped piece about 3-4 inches in diameter. Add a tablespoon-sized scoop of the filling mixture in the center of the round. Crimp along the edges to seal up the half-circle, folded dumpling (if you read the rest of this post, I'm clearly no expert on varenyky folding, so have your best go at it and have fun with it like I did).
Bring a large pot of lightly salted water to a boil. Drop in the dumplings, working in batches if necessary to prevent overcrowding. Let boil over a medium-low roil (don't boil it too rapidly or else the delicate dumplings might come undone) until each dumpling rises to the surface, and its skin is opaque. Strain, and serve in a bowl with the sour cream to mix in.
Cost Calculator
(for 4-6 servings)
1 egg (at $6/dozen): $0.50
1 cup flour: $0.25
1 small head cabbage: $2.00
1 shallot: $0.50
4 oz bacon (at $12/lb): $3.00
1 pint sour cream: $4.00
Total: $10.25
Health Factor








Six maple leaves: Using a relatively small amount of preserved, smoked meat like bacon to help season a much larger amount of vegetables, like cabbage is a great way to get everyone to eat more greens. Not that I need much convincing to cook more cabbage: It looks pale in comparison to, say, Romaine lettuce, but cabbage is packed with Vitamin C and other antioxidants as well as fiber and so much more.
Green Factor









Seven maple leaves: While it's not a vegetarian meal (although it could be, just removing the bacon), this recipe stays close to home with ingredients foraged from a local farmers market, easily accessible even in the dead of winter. You could swap in whatever it brings you each time of the year.