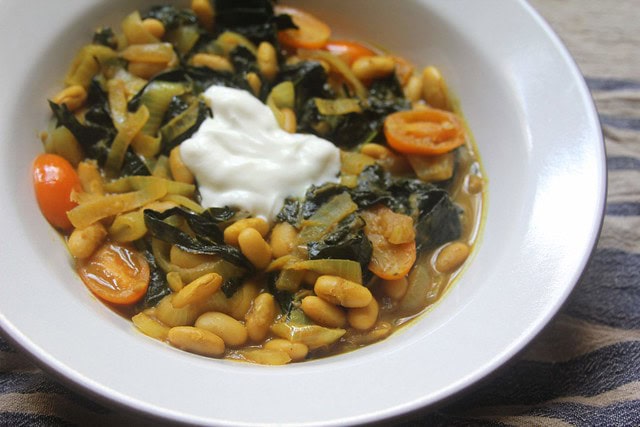 Beans, greens and grains: Remember this formula, and you will be fed for a lifetime in a very healthy, inexpensive and earth-friendly way. And it'll never get old. You simply cannot exhaust the shapes, sizes and varieties of beans, grains and green vegetables alone (but have fun geeking out over heirloom beans and trying!). And there's no limit to how you can prepare these—from black beans and rice to daal to minestrone, to new creations that are somewhere in between these various classics of many cultures.

So today's version came to me by way of Chitra Agrawal, who recently launched a new line of Indian simmer sauces with her brand of condiments, Brooklyn Delhi. Over the years, I've really enjoyed her achaars, an Indian condiment that's versatile as a topping or a base for sauces. The new simmer sauces really simplify the process of making any finished dish, as they've got all the ground spices as well as fresh garlic and onion, and often coconut milk. So you just need fresh ingredients to simmer it with.
My CSA brought me some blue-green Dinosaur kale last week—not something that I'd typically add to a stew or braise. But after a few days in the fridge, many of the outer leaves in the bunch were looking limp. And a half-pint of sungold tomatoes, getting squishy, were looking for a home. With these scraps, I was leaning towards a simple white bean and kale soup.
But I wasn't in the mood for something so simple by the next day, after I had soaked some white beans overnight. I was looking for something to punch things up with when it occurred to me that I had recently gotten the trio of Brooklyn Delhi simmer sauces. As mentioned, they're really straightforward sauces that incorporate spices, aromatics, and coconut milk and/or tomato paste—you can follow a recipe for, say, tikki masala and swap in the beans and greens for whatever protein they call for if you have the time. But I went for the Golden Coconut Curry from Brooklyn Delhi, which has strong notes of ginger, turmeric and lemon. According to Chitra, it's inspired by her time in Goa, a South Indian coastal state, as well as a love of Thai food.
On another day, I might have been compelled to stir in a can of crushed tomatoes or a tub of stock from the freezer. I might have invited the company of proteins, such as sausage, and given it a slow-go on the stove. But a jar of golden coconut curry worked its charms instantly on these beans and greens. And I'm sure it would for any of the vegetables in my CSA share as well.
To serve, I plopped this golden mess atop some leftover bulgur and added a dollop of tangy plain yogurt—it was bliss. Make extra servings of this to warm up another time; it doesn't take long to make from scratch, but having such healthy, sensible leftovers in the fridge is a good fallback. For some reason, whenever I have lots of leftovers of something in the fridge, it's always the craziest, greasiest thing.
Curried White Beans with Kale and Cherry Tomatoes
(makes about 4 servings)
2 tablespoons extra-virgin olive oil
1 small onion, sliced thinly
2 cloves garlic, minced
6-8 large leaves kale, stripped from thick ribs and coarsely chopped
1/2 cup dried white beans such as cannellini, soaked overnight and cooked until tender (or substitute with 16 oz. can, rinsed)
1/2 jar Brooklyn Delhi Golden Coconut Curry simmer sauce (or substitute with your own spices and coconut milk)
1/2 cup water
1/2 pint (about a dozen) cherry or sungold tomatoes, halved
salt and pepper to taste
plain yogurt for serving (optional)
2 cups cooked whole grains for serving with, such as rice, quinoa, farro, etc
In a large saucepan with a lid or a medium pot or Dutch oven, heat the olive oil over a low flame. Add the onion and a sprinkle of salt. Stir occasionally until the onions are translucent, 6-8 minutes. Add the garlic and increase the heat to medium-high. Add the kale along with another pinch of salt. Stir frequently for 1-2 minutes until the leaves have wilted. Add the beans, and stir in the simmer sauce and water.
Increase heat to bring to a boil, then reduce heat to a simmer. Cover and let simmer 10 minutes. Stir in the halved tomatoes. Add extra water if you would like to give it more sauciness. Cook for another 2-3 minutes until the tomatoes are just softened but not totally falling apart. Serve with the whole grains and the optional yogurt for topping.
Cost Calculator
(for about 4 servings)
2 Tb olive oil: $0.40
1 onion: $0.25
2 cloves garlic: $0.10
1/2 bunch kale: $2.00
1/2 cup dried white beans: $0.50
1/2 jar Brooklyn Delhi simmer sauce (at $6.99/jar at Whole Foods): $3.50
1/2 pint sungold tomatoes: $1.50
2 cups cooked bulgur: $1.00
few dollops plain yogurt: $1.00
Total: $10.22
Health Factor




Two brownie points: I can't think of much that's bad about this. Only that there isn't more—more vegetables, such as carrots, perhaps for some Vitamin A. Definitely a good reason to make more of it, with whatever vegetables and other ingredients you have on hand. With beans, you'll get protein and the whole grains to serve with it, fiber. If you add the optional yogurt, you'll get some probiotics to help your digestion. And of course, the greens for a plethora of vitamins and minerals like Vitamin K.
Green Factor









Seven maple leaves: When you go with the beans, greens and grains formula, you're sticking to plants, so it's low on the food chain and easy on the environment. You can also use this formula to easily improvise with leftovers and bits and scraps of about-to-rot veg in your fridge, as I've done, to help reduce your kitchen waste.