Who remembers their introduction to coleslaw as a sodden, colorless, nearly congealed mess inside a pleated white paper cup? Now, who would like to forget that memory in its entirety? Me, too! Let's hop aboard this pleasure plane and ride into a purple haze of forgetfulness, why don't we? And, do something I'd never dreamed of recommending before about a week ago: don't let your coleslaw sit long before serving it.

Because what you'll end up with — as when following this recipe — is crisp, crisp, crisp, juicy stuff with tang and a tiny shockwave of heat. Just a refreshing alternative to creamier coleslaws. I partially stole the formula from one of my co-chefs at last week's BBQ, who made a giant tub of a vinegar and yellow mustard-based slaw with brown sugar and a hint of turmeric. Because it was only mixed within an hour before being served to the masses, and because only a scant amount of mayonnaise was used, the shreds of cabbage held their bite against wilting, while soaking in enough of the strong flavors. Previously, I'd taken mayonnaise and letting the tossed mixture sit in the fridge for a good few hours to be the hallmarks of coleslaw-making. Turns out that's only one way to do it. And when the ingredients are so good for you — not to mention so plentiful all year 'round, and so cheap! — why not do it all sorts of ways as well?
wasabi powder dissolves in honey and cider vinegar
Cabbage is rich in iron, calcium, potassium and Vitamin C, so leave it to New York Times health guru blogger Tara Parker-Pope to name it #2 on her list of 11 Best Foods You Aren't Eating. Only I'm eating it. Shredded and tossed in a slaw, or sliced and sauteed in a noodle stir-fry. Hot or cold, I've given it an Asian twist every time, without really meaning to, and so I found it peculiarly synonymous that Parker-Pope should instruct you to serve it as an "Asian-style slaw" or else a "crunchy topping for burgers and sandwiches" in her article. What exactly did she mean by the first suggestion? (Something like my cilantro and sesame napa cabbage slaw? Or the mango and red onion-laced fish taco topping?) After all, there aren't many East Asian cuisines that prefer their leafy greens completely raw instead of cooked or at least pickled. But I'm not going to discourage. Obviously, coleslaw has proven a great romping ground for whatever Asian "style" one pleases. So instead of yellow mustard, I reached for the spicy Japanese horseradish powder otherwise known as wasabi for this. And some honey, just to mix things up a bit.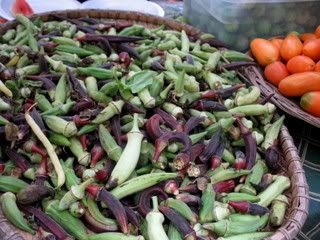 purple and green okra for sale in a farmer's bin
My mom called me this weekend to share her wonder at discovering purple green beans at her local farmers' market. In fact, many vegetables commonly thought to be green and only green, end of story, have a purple counterpart. Broccoli does, which is in the same family as cabbage. So does okra, which are more similar to green beans. So do carrots. Inured by the sight of these colorful variations, and their not-so-astonishing differences in taste (for the most part), I naturally pooh-poohed her farmers' market find. But the interesting thing about purple-ness is that it often betrays denser concentrations of vitamins, like antioxidants. Take the case of red cabbage (which we all know is punk-rock purple): it has more fiber, Vitamin C, and just about everything that the green version is rich in, and it's actually a faint bit sweeter. Compared head to head, I'll even say it just tastes better.
my kitchen, overflowing with shredded cabbage
Did I mention how much bang for your buck a head of cabbage produces? After purchasing what I thought to be two modestly sized heads — one white, and one red — and slicing up half of each, I had more shredded cabbage than a hungry Russian mafia could stuff in a sweet and sour soup. Certainly more than my friend's sizable barbecue could finish on Saturday. I may have sacrificed the integrity of the event's southern-style barbecue theme with this wasabi-spiked contribution. However, I'd like to think I made up for it by bringing along two pecan pies for dessert. I make a mean pecan pie. But that's for next time.
potato salad, deviled eggs, and the finished slaw
pecan pies, ready for the oven
Wasabi Honey Coleslaw
(makes about 4 quarts, or 8-10 side servings)
1/2 medium-small head red cabbage, finely sliced or shredded
1/2 medium-small head green cabbage, finely sliced or shredded
2 medium carrots, shredded
4 scallions, both green and white parts, finely sliced
3/4 cup apple cider vinegar
1 tablespoon Japanese wasabi powder
1 teaspoon yellow mustard
1 tablespoon mayonnaise
3 tablespoons honey
pinch of salt and black pepper to taste
Combine the cabbage and carrots in a large bowl, or two. Whisk the rest of the ingredients in a medium bowl. Pour over cabbage mixture and toss lightly until distributed throughout. Serve immediately, or chill covered for up to a few hours.
Cost Calculator
(for 8-10 servings)
1/2 head red cabbage (at $1/lb): $1.50
1/2 head green cabbage (at $0.49/lb): $0.75
2 carrots (at $2/bag): $0.66
4 scallions: $0.50
3/4 cup cider vinegar: $0.40
1 tablespoon wasabi powder (at $3.50/small jar): $0.80
3 tablespoons honey (at $3.50/jar): $0.95
1 teaspoon mustard, 1 tablespoon mayonnaise, salt and pepper: $0.30
Total: $5.86
Health Factor

One brownie point: Basically already discussed. But in addition to all the low-carb, low-calorie cabbages, the carrots add a nice splash of Vitamin A, and as you can see there's almost no fat in the recipe. Hooray for us.
Green Factor
Five maple leaves: Another golden opportunity to shop really locally, but just missed. I was running around like a crazy person on Saturday, baking scones for a charity bake sale and then getting holed up in my apartment when a downpour suddenly crashed on Brooklyn with the force of a heavyweight person shooting down a waterpark slide. So I missed the chance to get out to the Greenmarket. I got the vegetables for this at my local supermarket instead, and used up a longtime relic of my cupboard, a bear-shaped plastic bottle of honey. So next time I'm in need of honey I know of a table or two at the Greenmarket where I can find some. As for the imported jar of wasabi, I think the local upstate farmers have not yet broken into this market.