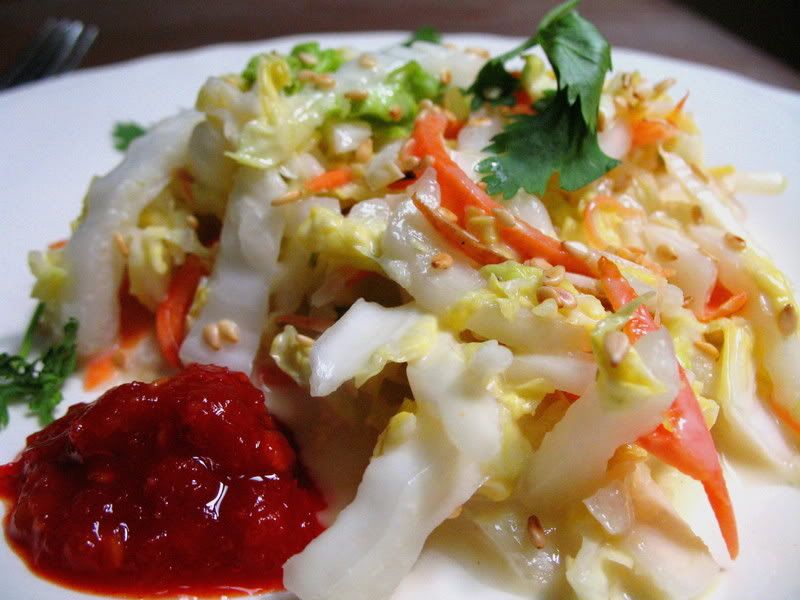 the closest I've gotten to Napa
The excitement I had yesterday afternoon. I had just taken some napa cabbage slaw leftovers from Sunday's picnic out of tupperware from the fridge to snack on, gone back for some tangy sriracha sauce just to kick it up because leftovers, as good as its predecessor may have been, are never quite as exciting as they were when you were first exploring its flavors, and returned to my desk — when lo and behold! An email materializes onto my screen. If I could have seen it like regular piece of snail mail, the postmark would have proved it was from Portland, Oregon, and it would probably have a business logo or stamp on company stationery indicating that it was from a one Mark Douglas from Culinate (who?) — Mark Douglas, from Culinate — and it was announcing that I had been nominated for the GrillMe Contest in which one food blogger (and one reader) wins a trip to Napa Valley to attend a grilling class taught by two masters of the grill, Andrew Schloss and David Joachim! I couldn't think of anything more thrilling in the world. Then again, my palate was dancing from a strong mouthful of sriracha.

This recollection probably gives you no idea how I feel about the prospect of winning this grilling trip in Napa Valley — let alone the severe and dire yearning I have for winning this grilling trip to Napa Valley. Tooth and nail. It's not just that I love grilling and it kills me to look at pictures in magazines that prominently display those beautiful cross-hatchings of char on a slice of zucchini or lollipop of a lamb chop because, like most New Yorkers, I don't have a grill, let alone a patch of concrete outdoors to call my own, and it's not just that I want to taste every wine along the way, or that I wasn't planning a vacation this year since I didn't think I could afford one — it's all those reasons and a burning itch to post a grilling recipe on this blog. And just maybe some tales of a jaded, New York girl's version of Sideways. Are you ready for it?
Please take a moment and participate in the contest that the fine folks at Culinate (one of the most unpretentious, intelligent and fun food websites) have devised — and as you vote for Not Eating Out in New York, you'll have entered yourself in the readers-only contest. We'll have a blast.
Now here's that slaw.

Vote for Me to Go to Napa Valley Napa Cabbage Slaw
(makes 6-8 side-dish servings)
About 1/2 lb (1 small head) napa cabbage
1 medium carrot, sliced
1/2 cup light mayonnaise
2 Tb lime juice
1 Tb sugar
1/4 tsp white pepper
1/4 tsp dry mustard
1 tsp sesame oil
1/2 bunch of cilantro and 1-2 tsp toasted sesame seeds for garnish
dollop of hot sauce to taste (optional)
Finely chop or shred washed and dried cabbage. Finely shred carrot. Mix mayonnaise, lime juice, sugar, white pepper, dry mustard and sesame oil together in a large bowl until sugar is dissolved. Fold in cabbage and carrots and stir to coat thoroughly. Serve immediately, or store in refrigerator and chill until serving. Garnish with cilantro, sesame seeds and hot sauce to taste.
Cost Calculator
(for 6-8 side-dish servings)
About 1/2 lb (1 small head) napa cabbage: $0.79
1 medium carrot (at $1.99/lb): $0.25
1/2 cup mayonnaise: $0.20
2 Tb lime juice (about 1 lime): $0.20
1 tsp sesame oil: $0.10
sugar, dry mustard, white pepper: $0.10
about half a bunch of cilantro: $0.60
2 tsp toasted sesame seeds: $0.25
Total: $2.54
Health Factor



Three brownie points: Quite healthy. The sweetness kicks in first, then the citrusy acid and (depending on how spicy you like it) vinegary red hot chili kick. It's all followed by a little bit of earthy, toasted sesame seed finish, sort of like that last bite of a burger bun — adding a little extra protein kick to your leafy, fibrous greens, C's and A's.