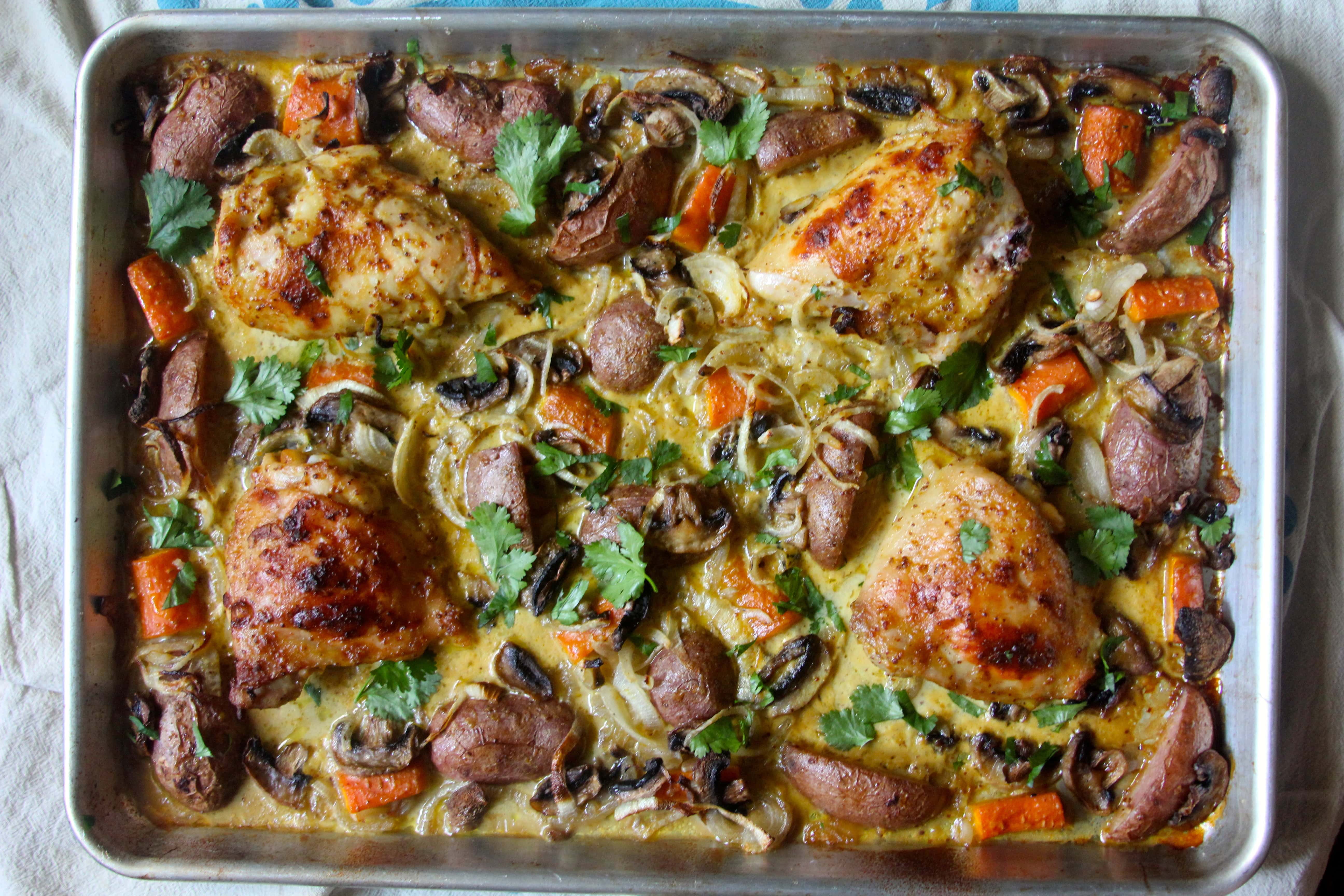 For every cooking obsession, there should be a cookbook that speaks to it, and it alone. These are often called single-subject cookbooks, a genre that I adore. They can be pocket-sized or gargantuan, cheap or expensive, dusty-old or shiny-new and I'll find it hard not to keep flipping the pages, nodding, appreciating its tight focus and unique perspective on the food topic in question. From exploring the historical underpinnings of an iconic dish like Pho (as masterfully told by Andrea Nguyen, author of several cookbooks on Vietnamese cuisine) to learning the finer points of The Art of Cooking Omelettes (as beautifully articulated by one Madame Romaine de Lyon, an author I discovered writing this story), single-subject cookbooks often give you more of the good stuff—which in my book is context to the recipes that they contain.
So today, I'm publishing a book of recipes that I hope speaks to sheet pan chicken roasting, with my stamp on it. It's called Sheet Pan Chicken, and it's a project that I worked on with the editors of the food magazine TASTE and a handful of cookbook authors who contributed a recipe to it.

Let's back up: Last year, TASTE published a cookbook on Lasagna, by Anna Hezel, one of the editors at the publication. This book served a beloved home cooking niche very well: A deeply instructive and inclusive love letter to lasagna lore and its many iterations (and it was a thrill to contribute a recipe for my Italian sub-inspired lasagna in it). Then, the editors of TASTE asked me if I'd like to write their next cookbook, on sheet pan chicken. I was too thrilled to take it on. Chicken and roasting are two longtime cooking obsessions of mine. And, there's nothing that gets me more excited to brainstorm and develop recipes than having some sort of theme or limitations to work within.
Having participated in a few cook-offs over the years, I know that this is the kind of thing that gets many cooks' creativity flowing as well. So I humbly asked a number of cookbook authors that I'm enamored with if they would like to contribute a sheet pan chicken recipe for this book. They did not disappoint. I'm so grateful that these contributors—who all ended up being women—lent their signature to this book with their own takes on sheet pan chicken. Each of them has written cookbooks that I love—with the exception of Yewande, who is working on her first book right now! In several cases, I got to speak with them about it on my Heritage Radio Network show, Eat Your Words. Here are their recipes and where you can find them in the pages of Sheet Pan Chicken:
Melissa Clark: Harissa Chicken, page 44
Jenn de la Vega: Spatchcock Chicken with Ginger, Garlic, and Green Papaya, page 51
Von Diaz: Puerto-Rican-Vietnamese Adobo Chicken with Roasted Pineapple, page 98
Pati Jinich: Oaxacan Chicken with Oregano and Garlic, page 84
Yewande Komolafe: Roast Chicken with Crushed Fennel and Citrusy Red Palm Oil Dressing, page 50
Preeti Mistry: Turmeric Chicken with Curry Leaf Masala Roasted Vegetables, page 94
Leela Punyaratabandhu: Thai Yellow Curry Chicken Thighs with Cucumber Relish, page 83
Louisa Shafia: Saffron-Marinated Chicken with Cherry Tomatoes and Scallions, page 91
I also gave shout-outs to a few cookbook authors whose work inspired some of the recipes that I developed in the book. These go to Andrea Nguyen, whose ground pork-stuffed tomatoes in Vietnamese Food Any Day inspired my own take with ground chicken, on page 72. And to Darra Goldstein, whose recipe for roast chicken bazhe in The Georgian Feast inspired my recipe for Georgian Garlic Chicken with Asparagus and Creamy Walnut Sauce on page 45. And Sara Jenkins, who provided a wonderful recipe for veal saltimbocca in Olives & Oranges that I reference in my recipe for Chicken Saltimbocca, Sheet Pan-Style on page 99. I can't stress enough how incredible each of these authors' cookbooks are, so hope you check them out through the links on their names and titles above.
Several years ago, I set out to write an English-language cookbook on The Food of Taiwan because I felt it was a subject that was very much lacking in American media. I think that cookbooks that delve into a specific cuisine are kindred spirits with single-subject cookbooks, though not the same. (That would need to be something like Taiwanese noodles or buns or desserts to serve a single-subject niche, I think.) They're for people who love a variety of foods, and don't see the need to fill their shelves with several general cookbooks. And for people who really love the style of cooking in question. So for all those enamored with the sheet pan and chicken (everyone?), hope you enjoy this tome!