Soon into developing recipes for Sheet Pan Chicken, I realized that so many recipes' ingredients could be interchangeable, and their procedures could lend themselves to endless iterations. Case in point: I developed a recipe loosely based on a hearty, French Dijon chicken stew. It was a pan full of mustard-rubbed chicken roasting alongside chopped bacon, potatoes and heaps of sliced onions and mushrooms, which sizzled as they cooked and shrank in size. A glug of heavy cream added to the pan for the last 20 minutes of roasting married all the flavors while making the chicken's skin gleam a toasty golden-brown. I love this recipe, clearly! But because I also had a jar of Brooklyn Delhi's Curry Mustard in my fridge, one day I decided to give it a decidedly different spin. And now I can't decide which version I love more.
Brooklyn Delhi is a brand of small-batch Indian condiments by Chitra Agrawal, a food writer, cookbook author and friend of mine. Every product in the line has enriched my home cooking so much—and sometimes in surprising ways. There's Curry Ketchup, which I have no problem swapping in place of Heinz anytime. Two types of achaar, an Indian pickle that packs a wallop of umami (and is great in omelets, as I've found). And there's simmer sauces, which really simplify your route to a tasty dinner (like with white beans and kale). The Curry Mustard makes a great condiment, to enjoy with your hot dog or fries. But I thought I'd cook with it, swapping it in for the Dijon in my Mustard Chicken recipe from Sheet Pan Chicken.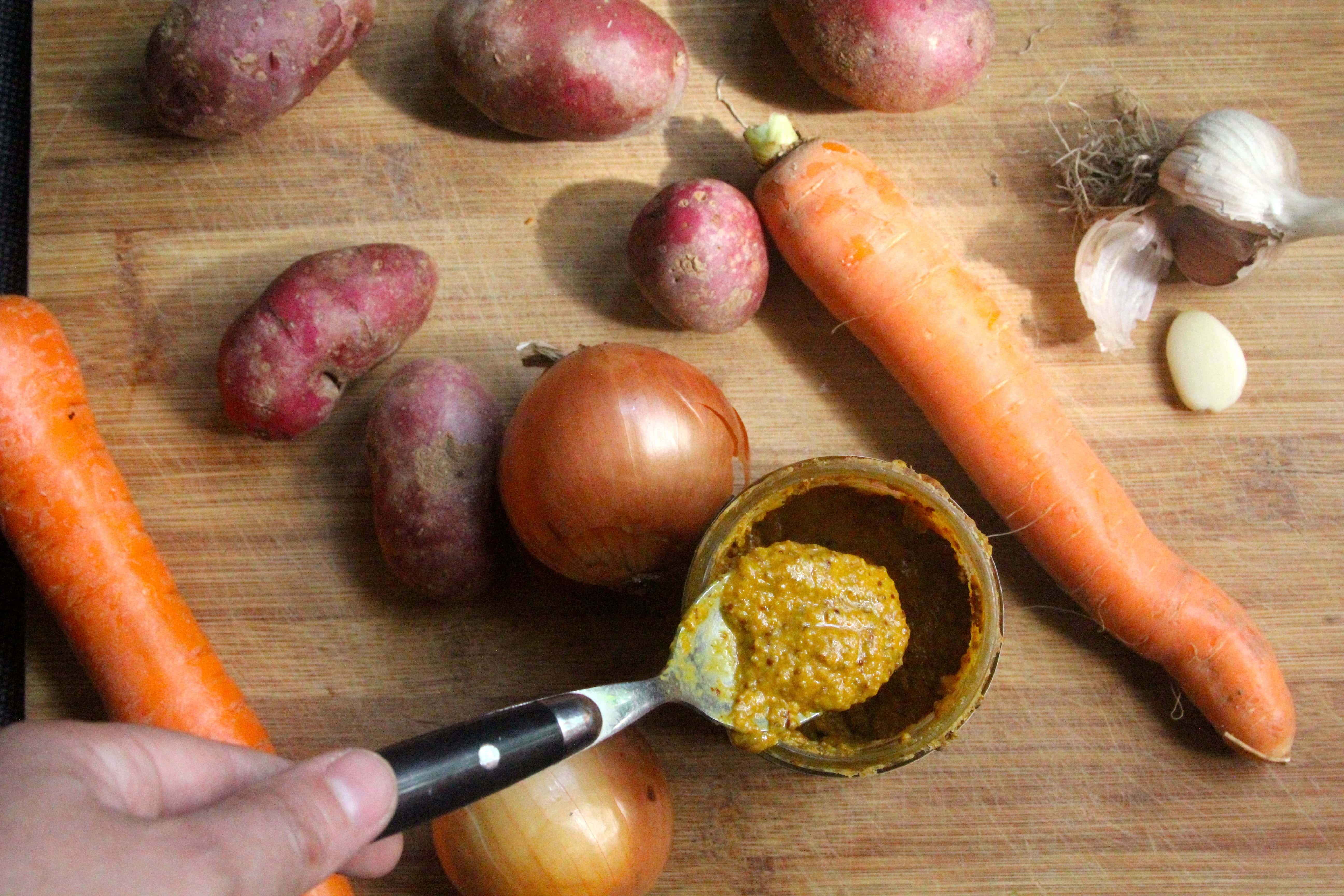 The recipe needed a few more tweaks since we were going in a South Asian direction instead of French. Instead of bacon, I added a carrot. Instead of heavy cream, I swapped in coconut milk. And instead of fresh thyme as a finishing touch, I sprinkled it with fresh cilantro. Same procedure, drastically different outcome in flavor.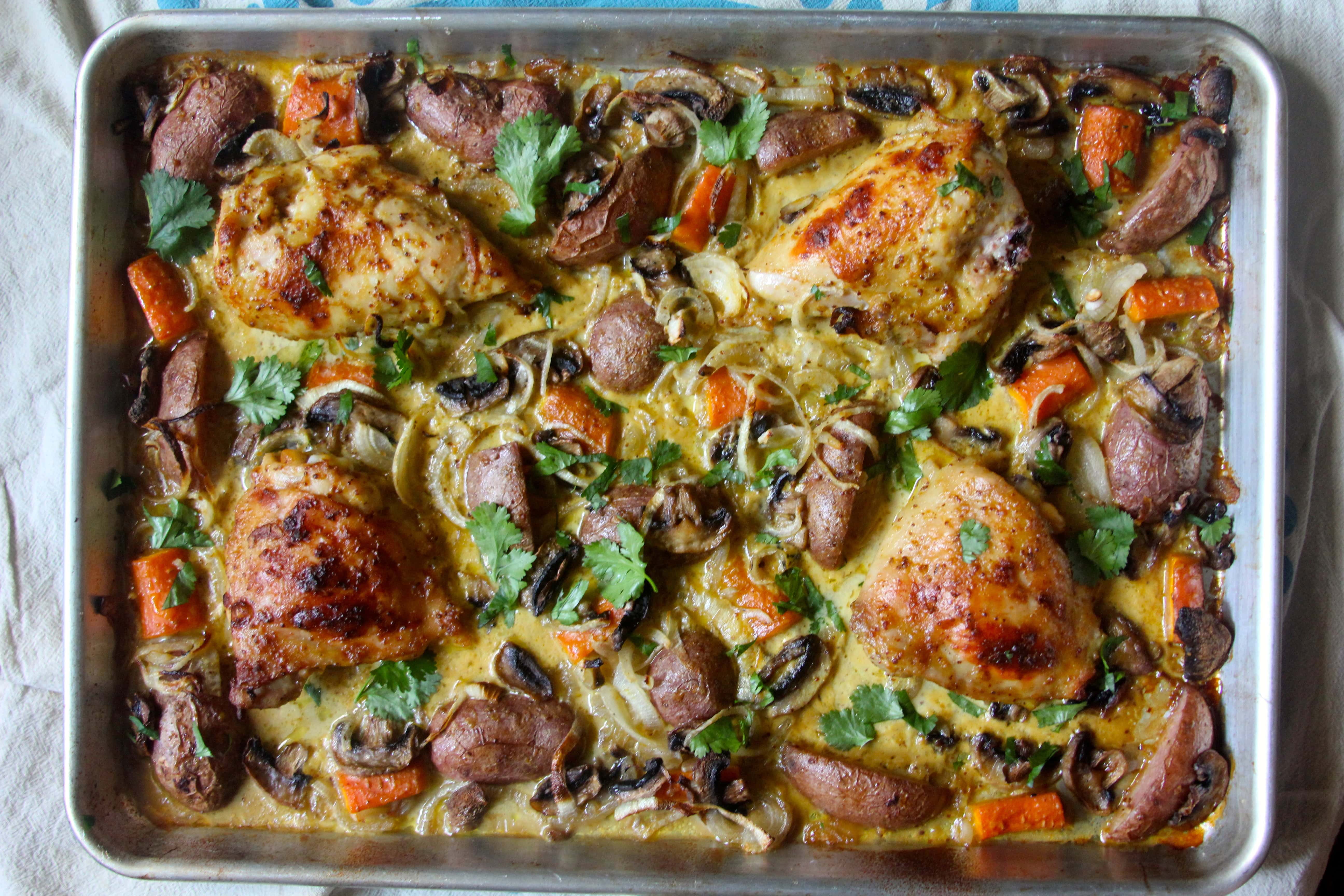 Now, so you can try this out yourself—as well as try the 50 other recipes from Sheet Pan Chicken—Brooklyn Delhi and I have teamed up for a giveaway! Just head over to Brooklyn Delhi's Instagram account for a chance to win a jar of Curry Mustard and a copy of the book. The winner will be selected at random, after following our Instagram accounts. Good luck—and here's the recipe!
Coconut Curry Mustard Chicken with Potatoes, Carrots and Mushrooms
(with Brooklyn Delhi Curry Mustard)
Ingredients:
2 lbs bone-in, skin-on chicken pieces
1 1/2 pounds potatoes, preferably waxy type like red or Yukon golds, quartered or cut to roughly 2″ wedges
1 garlic clove, grated
3 tablespoons Brooklyn Delhi Curry Mustard
4 tablespoons olive oil
2 teaspoons salt
1 teaspoon black pepper
2 yellow onions, thinly sliced
8 to 10 ounces button mushrooms, sliced
2 or 3 small or medium-sized carrots, halved lengthwise and cut to roughly 2″ pieces
1 cup coconut milk
fresh cilantro for garnish, chopped (optional)
Preheat oven to 425 degrees.
Combine the chicken, potatoes, garlic, 1 Tablespoon of the curry mustard, 2 tablespoons of hte olive oil, 1 teaspoon of the salt and 1/2 teaspoon of the black pepper in a large bowl and toss to coat. Arrange the chicken and potatoes on a sheet pan in a single layer.
Combine the onions, mushrooms, carrots and remaining 2 tablespoons olive oil, 1 teaspoon salt, and 1/2 teaspoon black pepper in a large bowl and toss to coat. Spread the onions and mushrooms between and around the chicken pieces (these can be piled up—no need to arrange them in an even layer). Roast for 30 minutes, rotating the pan halfway through the cooking time.
Meanwhile, in a small bowl, stir together the remaining 2 tablespoons of curry mustard with the coconut milk.
After 30 minutes of roasting, remove the pan from the oven and toss the onions and mushrooms to release any pieces that are sticking to the pan. Smother each chicken piece with the cream mixture, and drizzle the excess cream mixture across the whole sheet pan to use it up. Roast for another 20 minutes, until the chicken is golden-brown and its internal temperature reaches 160F with a thermometer inserted into the thickest part of a piece.
Sprinkle the optional fresh cilantro over the top and serve.