This wonton filling is proudly—if improbably—fashioned after san bei ji or Three Cup Chicken. This is one of the ultimate dishes from Taiwan, and one I love enough to try to twist into different forms any day. It starts with a deeply satisfying blend of soy sauce, sesame oil and rice wine (the eponymous "three cups"), and it's splashed with copious aromatics—garlic, ginger and basil. I wanted to get its zingy, herbal flavors inside a wonton for a refreshing filling based on chicken (since I didn't feel like going out of my way to get ground pork).

Dumplings and wontons are perfect vessels for any beloved flavor profile, as I've found. And Three Cup Chicken is so good that it doesn't even need to have chicken—braised squid or clams are classic renditions in Taiwan (included as recipes in The Food of Taiwan). Eggplant, mushrooms and other firm veggies braise very nicely in these flavors, too. Wings, also, turn out great. But I was hankering for wontons after the Brooklyn-based noodle and dumpling skin company, Twin Marquis, asked me to sit in on an upcoming video shoot with the Brooklyn chef, Lien Li of Bricolage. She's going to be making wontons—and I can't wait to see what she does.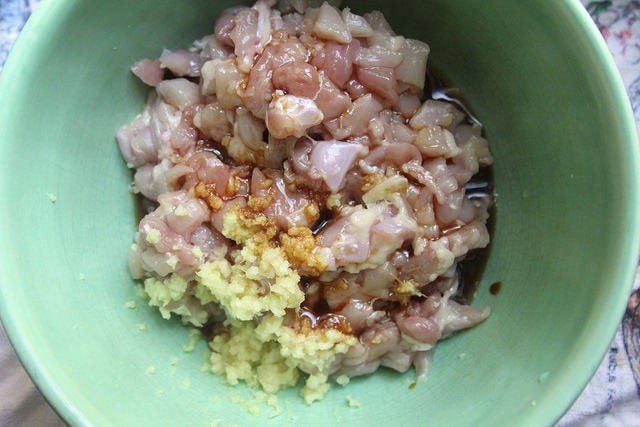 My mom makes wontons just about every time I come over for dinner, nowadays. Growing up, it was something that we'd make from time to time for an occasion, like a holiday, or for guests and relatives coming over for dinner. Due to their smaller size, they can be a bit more time-consuming to make than dumplings, but you don't have to make a huge batch. I didn't this time, although they turned out so tasty that I wish I had a few more to freeze for later. But with just 1 pound of chicken, I made about 45 wontons—you can eat them as a part of a meal, a snack, or as a whole big bowl of them alone.
To make the filling, you can always get ground chicken. But I decided to finely chop some boneless chicken thighs, for a bit more of a chunky texture. (This was time-consuming, but you could also opt for a food processor to pulse it a few times, instead.) Then I drenched it with grated ginger, garlic, soy sauce, sesame oil and rice wine, the classic Three Cup Chicken ingredients. Finally, plenty of chopped fresh Thai basil and a couple chopped scallions were added, and the filling was done.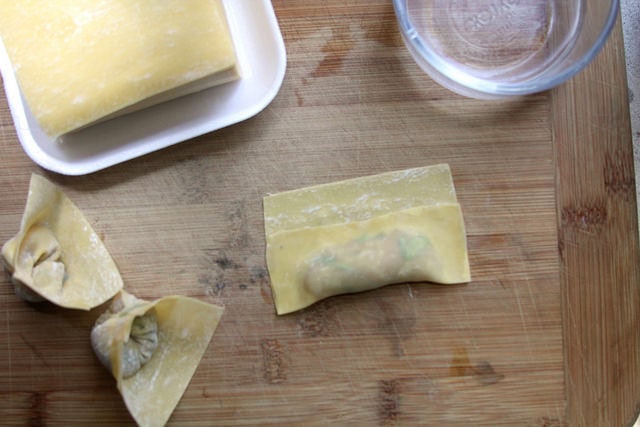 There are a few ways to fold wontons, but in this recipe, I'll show you the way I've been doing it lately (thanks to the admonitions of my mom, as heard in this episode of the Why We Eat What We Eat podcast). It requires some dexterity and you should always opt to under-stuff rather than overstuff the wrapper, because if it's overstuffed it's likely to burst before or during cooking. And you'll lose the juices and flavors to the water.
These wontons are great served in a soup. But you can always serve them straight up, topped with sauces and garnishes like more fresh basil and scallions. Drizzle them with hot sauce, chili oil, sesame oil, soy sauce, rice vinegar, or whathaveyou.
Once you get the hang of making wontons, you can let your own imagination fly. With all the fresh herbs I've been getting this spring and early summer from my own plants and my CSA, I'm thinking more greens can fit into just about anything.
Chicken and Basil Wontons
(makes about 45 wontons, or 4 servings)
1 lb boneless chicken thighs (or substitute 1 lb ground chicken)
1 Tablespoon soy sauce
1 Tablespoon sesame oil
1 Tablespoon Chinese rice wine (or substitute with dry sake)
1/8 teaspoon salt
1/8 teaspoon ground white or black pepper
2 cloves garlic, grated
2-inch knob ginger, peeled and grated
½ bunch fresh Thai basil, leaves trimmed of stems and finely sliced
2 scallions, chopped
1 package square, yellow wonton wrappers
options for garnish:
the remaining half-bunch of Thai basil
1-2 scallions, chopped
fresh cilantro, chopped
soy sauce
your favorite chili sauce
chili oil
sesame oil
rice vinegar
Finely chop the chicken into small pieces about the size of a pea (alternately, you can chop into larger chunks, and pulse a few times in the food processor, stopping to scrape down the sides often). Combine the chicken with the soy sauce, rice wine, sesame oil, salt, pepper, grated garlic and ginger and chopped herbs. (Mixture can be chilled up to a day ahead).
To make a wonton, place about ½ teaspoon of the filling horizontally along the lower half of a wrapper. Dip your finger in water and trace the sides of the wrapper to wet it; wet a line just above the center of the wrapper. Fold the bottom edge over the filling and seal along the sides, and at the top, leaving about a half-inch of wrapper at the top edge (see photos above). Be sure to seal the edges securely shut, and try to squeeze out any air pockets. Wet the corners of both bottom edges of the wrapper, and twist them backwards to meet. Pinch where they meet to seal the wrapper there. Repeat with the rest of the filling and wrappers. (See also photos and instructions in this post.)
Bring a large pot of water to a boil. Drop in the wontons, working in batches if necessary so as not to overcrowd, and boil for 5 minutes. Remove wontons gently with a slotted spoon and transfer to serving bowls. Top with optional garnishes and serve immediately.
Cost Calculator
(for 4 servings)
1 lb boneless chicken thighs: $6.00
1 Tb soy sauce: $0.10
1 Tb sesame oil: $0.20
1 Tb rice wine: $0.10
2 cloves garlic: $0.20
2-inch piece ginger: $0.20
1 package wonton wrappers: $3.00
1 bunch Thai basil: $3.00
2-3 scallions: $0.50
Total: $13.30
Health Factor







Five brownie points: This is a lighter take on wontons, if you're used to the average ground pork filling. Since I used boneless chicken thighs, they come with a good amount of fat for flavor, but it's not too greasy. And adding lots of fresh, green basil boosts your vitamin intake, so add plenty.
Green Factor







Five maple leaves: Opting for chicken pieces that you either chop, mince or process yourself rather than ground chicken (or any meat) gives you more control over the texture. But it can also more easy to find from the suppliers you like—like those that are organic, humanely raised, or small local farms. Right now is also a great time of year to start your own herb garden, and I may have to add Thai basil to my small collection of pots; it's a good time of year to find herbs at markets, too.