I'm convinced that big chunks of root vegetables are the perfect complement for rich, hearty winter stews—they absorb all their juices like savory sponges while adding to the complexity of the sauce. Even if nontraditional, they can make a stealthy starring role in such venerable cold-weather, long-cooked staples as cassoulet—with or without the addition of meat. Or wine-braised short ribs.

You have to appreciate root vegetables' herbal, rooty flavors which can tend toward bitter—especially in the case of the turnip. Rutabagas cook to a milder balance of that bitter and sweet, and might be one of the most underrated of the root vegetable bunch. With a pale orange and purple-blushed skin (usually), it can be hard to distinguish one from a turnip. It might be even mistaken for a smoother celery root. But once you cut into one, a rutabaga's flesh is unmistakably orange-sherbet orange. And it stays much the same color, if translucent, once cooked.
A penchant for rutabagas was echoed recently by a home cook whom I greatly admire—Alana Chernila, when she came on Eat Your Words to talk about her latest book, Eating From the Ground Up. She said that just seeing a pile of rutabagas in the winter would inspire her to make shepherd's pie. While I've never made that particular connection, I can understand it fully. With their intensity of flavor, you can pair rutabagas with the biggest, heartiest meats (and the most full-bodied of red wines).
I usually don't go for the most unctuous, marbled cuts of beef for stews (figuring the leanest, toughest cuts are going to become fork-tender once you stew them long enough, anyway). But short ribs are such a classic for winter braises, and having been served these by friends, I wanted my turn. The richness of the meat definitely helped mellow the rutabagas. I added some tomatoes to bring acidity into the mix, and dry red wine to blanket it all with mahogany.
No carrots needed here, although you can certainly add them if you'd like. The rutabagas served as the replacement for these classic stew roots in my mind. Some celery, onion and leek (or one or the other allium) and lots of garlic were softened to begin. Dried herbs like rosemary, thyme and bay leaves, or a mixture of them such as herbes de provence, were sprinkled in before it all took a long simmer in the oven. After an hour or two, any short rib bones will bob to the surface once you stir the pot. An hour or so longer, the stew will be done.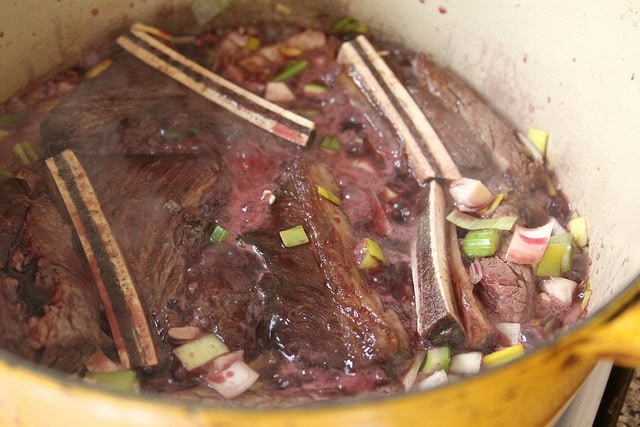 This is not something to rush and you should take your own time, doing your own thing, during cooking—even if that means turning off the oven for a couple hours while you run out for an errand. You can let it cook languidly throughout the course of one day, but plan to serve it the next. It'll heat up ready to eat, at your command. And do try other types of root vegetables instead of rutabaga—celery root, parsnip, turnip, parsley root, radish. Or fennel, though that's a spring stalk rather than winter-hearty root, telling of warmer seasons to come.
Braised Short Ribs with Red Wine, Tomatoes and Rutabaga
(makes 4-6 servings)
2 – 2.5 lbs beef short ribs
2 tablespoons flour
2 tablespoons olive oil
2 stalks celery, chopped
2 medium-sized onions (or 1 onion and a 2-3 inch piece of leek, white and light-green parts only, chopped)
6 garlic cloves, minced
2 cups dry red wine
2 cups whole peeled tomatoes and their juice, crushed by hand
1 cup water or beef stock
1 – 1.5 lbs rutabaga, peeled and cut to meaty, 2-inch pieces
1 teaspoon dried herbes de provence
salt and pepper to taste
Rinse and pat dry the short ribs well with paper towels. Sprinkle with salt and pepper all over, then coat each piece with the flour, shaking off excess. In a large, heavy-bottomed pot or Dutch oven with a lid, heat the oil over high flame. Once hot, place in the short rib pieces (working in batches if too many to fit on the bottom). Don't move for 2 minutes to brown the bottom. Flip to brown the opposite sides, another 1-2 minutes. Remove and transfer the ribs to a plate. Reduce heat to low and add the onions and celery, along with a pinch of salt. Cook, stirring and scraping up any bits on the bottom of the pot, over low heat until softened, 6-8 minutes. Add the garlic and stir another minute.
Preheat oven to 325 degrees. Return the short ribs to the pan and increase heat to high. Add the wine and bring to a boil. Let boil for a minute, then add the crushed tomatoes and their juice and water. Add the dried herbs. Bring to a boil, then remove from heat. Stir in the rutabaga chunks. Cover the pot and transfer to the oven. Let cook for 2 hours. Stir, flipping over the short rib pieces, and return to the oven for another hour. Remove lid for the last 30 minutes or so to reduce the liquid. (Continue cooking for longer uncovered to reduce further, if desired.) Taste for seasoning, adding salt and pepper to taste. Skim as much fat from the surface as you can. (If serving the next day, just chill overnight, and the solidified fat will be easier to remove.) Serve with crusty bread, noodles, rice or potatoes.
Cost Calculator
(for 4-6 servings)
2 lbs beef short ribs: $28
2 celery stalks: $0.50
2 onions: $0.50
6 cloves garlic: $0.25
2 cups red wine: $4.00
2 cups whole peeled tomatoes: $2.00
1-1.5 lb rutabaga: $2.00
salt, pepper, dried herbs, 2 Tb olive oil, 2 Tb flour: $0.50
Total: $37.75
Health Factor










Eight brownie points: It doesn't get much richer than braised short ribs. You could replicate this dish using a leaner cut of beef or lamb, or just use more vegetables in ratio to the meat. Make it equal or more parts rutabagas or other root vegetables—they'll take on the richness of the meat from the long simmer. And try the tips for skimming fat in the recipe to shave off some cholesterol.
Green Factor






Four maple leaves: Red meat like beef is about the most high-impact, carbon footprint-heavy protein you can eat, which is well documented. But you can support producers that produce it in a humane way when you do indulge in it. Surround it with local winter vegetables from the farmers market, like rutabagas. And, keep things in moderation. Not every day is for braised short ribs, but you can stretch a little bit of meat into something for a special occasion.