Who says you can't put miso in chicken soup? Or chicken in miso soup? I get it—miso paste is a great plant-based source of protein and flavor. Chicken soup, made from flesh and bone, needs little help in those departments. But I couldn't decide. When it comes to winter slurping satisfaction, both chicken soup and miso soup are such all-time comforts. If you like both those soups, too, they only get better when you combine them.

I really put the kitchen sink into this one. Strolling the gray winter farmers market, my boyfriend pointed at a pile of black radishes. You know—those radishes that are so hard to love. Had it been summer, they might not have caught our eye, inundated as they would be from striped summer squash in five different shades. But now, in winter, they stuck out with their tar-like color and bloated size. Tough-skinned as a rhinocerous after taking a mud bath, I decided we had to get some. Oh, and leeks, some cabbage, and chicken. We've been suffering the sniffles lately, and chicken soup sounded like a good mend.
This, of course, is all that's needed for a good soup, and a quite interesting one, given the addition of radishes. I imagined them softening to clear cubes like so many bowls of wintermelon soup I had gulped down as a kid, my mom's homemade go-to. Nowadays, she often puts daikon radish cubes into her soup, which soften to almost the same effect. But they lend the soup a warm, earthy and sort of funky flavor and aroma. It is not her neighbor's favorite smell, apparently. Lately, my mom has been embroiled in a feud with an upstairs neighbor of the condominium that she lives in. The woman has been leaving notes on her door complaining of the "pungent" smell whenever she cooks daikon radish soup. My mom is thoroughly enraged.
Not having this problem—and having neighbors who fry fish to a pungency that engulfs the entire hallway—I merrily simmered my soup, giggling over this. I tossed in dried shiitake mushrooms, remembering more of my mom's cooking. These shriveled mushrooms, a staple found in Asian markets, need a good soak in water to reconstitute them, so adding them to soup is an easy way to do that. You'll also get the benefit of its concentrated savory flavor leaching into the broth as they do (definitely save the soaking liquid if you're using the mushrooms for another use). Of course, you can opt for fresh shiitakes or other mushrooms, or just leave them out.
Red cabbage is maybe not the best choice if you want to avoid having a purplish-tinted soup in the end, but it's what I had—hey, purple is a nice color. I saved some leeks to sprinkle like scallions on the finished bowl (light green and white parts only, the most tender and scallion-like). And I had a lot of radish to use up. So I sliced one thinly with the help of a mandoline, and gently roasted the slices to a chip-like effect.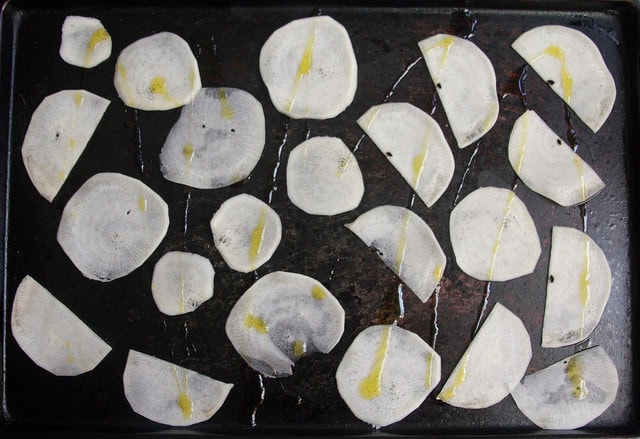 Radish chips: a crunchy garnish that can easily stand in for croutons or crisp bread, and pack more flavor at the same time. If you've made kale chips before, you can make them. This dish in total may take a lot of steps. But it made for plenty of lunches throughout the week. Starting completely from scratch with whole, bone-in chicken breasts that are simmered into stock before shredding up the meat, it's a nice winter weekend activity that's mostly hands-off. And once the miso paste is stirred in at the end, it reaches that "worth it" stage very well.
I am sure that any radish or turnip would work similarly here instead of black radishes, so give them a go on your stove (and oven, for the chip part). But be warned now, if you're not used to the smell of radishes simmering in soup.
Miso Chicken Soup with Leeks, Cabbage, Shiitake Mushrooms, Radishes with Radish Chips
(makes about 8 servings)
2 bone-in chicken breasts
3 quarts cold water
1 large leek
2 tablespoons olive oil
about 1 lb radishes or turnips
about 1/2 lb cabbage
8 or so dried shiitake mushrooms (or fresh mushrooms)
1/4 cup miso paste (or add more to taste)
salt and pepper
Rinse and pat dry the chicken breasts. Place in a large pot and cover with the water. Bring to a boil over medium-high heat. Once water is boiling, skim the scum that rises to the surface with a ladle. Continue to do so a few minutes until most of the scum is gone, and reduce heat to a low simmer. Let cook uncovered for 1-2 hours.
Trim the leek of the really green, tough leaves on the outside. Chop the remaining, reserving about an inch of the light-green part to slice finely into rounds; set aside those pieces for garnish later on. Shred the cabbage finely.Peel and dice the radishes or turnips, saving one or half of one in its full round shape. With that remaining piece, slice as thinly as possible, preferably paper-thin with the help of a mandoline. Set those pieces aside.
Once the chicken has simmered at least 1 or preferably 2 hours, remove the meat from the pot and let cool several minutes.Strain the stock. Once the chicken is cool enough to handle, shred the meat from the bone and discard the bones.
Heat 1 tablespoon of the oil in a large pot and add the leeks. Cook on low, adding a pinch of salt and pepper, for about 5 minutes. Add the strained stock, diced radishes, shredded cabbage, and shiitake mushrooms. Bring just to a boil, then reduce heat to a low simmer. Add the shredded chicken meat and cover. Let simmer, covered, for 45 minutes to 1 hour.
Preheat the oven to 300 degrees. Toss the sliced pieces of radish with the remaining tablespoon of olive oil and a pinch of salt and pepper. Roast for about 5 minutes, then check and flip the pieces (or turn the pan around if your oven distributes heat unevenly like mine). Continue roasting until all the pieces are fairly golden-brown, then remove from heat.
Remove the soup from heat. Pour a ladle of the stock into a small bowl, and add the miso paste. Mix to combine the paste thoroughly, adding more water if necessary, then pour the mixture back into the soup. Taste for seasoning, adding extra miso paste, salt and pepper as desired. To serve, ladle the soup into bowls, and top each with the reserved sliced leeks and a handful of the radish chips.
Cost Calculator
(for about 8 servings)
2 bone-in chicken breasts: $14.00
3 black radishes: $2.50
1 leek: $0.75
1/2 lb cabbage: $0.50
8 dried shiitake mushrooms: $0.75
1/4 cup miso paste: $1.00
Total: $19.50
Health Factor






Five brownie points: This soup is nourishing, filling, and chock full of nutrition. Like any good winter soup should be. The radishes add some funky flavor and they're also full of nutrients like Vitamin C (good for winter sniffles), fiber, and a host of minerals. The chicken will give you soul-soothing protein, while the miso adds to that protein quotient while replacing salt in this soup. Hide plenty of cabbage in this, as it'll provide you with a hoard of superfood nutrition.
Green Factor






Five maple leaves: I'll pat myself on the back for creating something that tastes totally new out of winter ingredients that I've played around with (not) endlessly—by using a couple trusty Asian pantry staples like miso paste and dried shiitakes. This dish is also versatile, as you can even omit the chicken, or swap in other winter veggies like carrots and rutabaga for those found here.