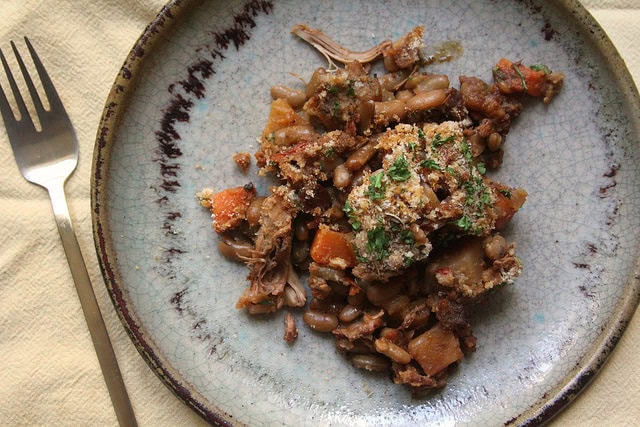 The greatest Reason For Not Eating Out is having leftovers in the fridge. And the greatest reason for having leftovers in the fridge, of all days of the year, is perhaps Thanksgiving. If you made the requisite roast turkey for the grand dinner, you're bound to have lots of bits and pieces of turkey meat clinging to the carcass, no matter how much of it you and your family ate. Many cultures can teach us a thing or two about that. But this year, I decided to take a vicarious trip—to French peasant country—for some tips. Of course, you can always create these delicacies with your leftover roast chicken any time of the year instead.

Oddly enough, the weekend AFTER Thanksgiving has become the real vigorous cooking time for me over the last few years. Instead of a rounded breast of a turkey slowly bronzing in the oven, there's a stockpot with jenky bones sticking out of it, slowly bubbling all day long. Even though I do plenty of cooking for the family holiday meal on Thursday, I get so much more satisfaction out of repurposing relics from it to their fullest in the days afterward. This has produced things such as turkey enchiladas, turkey chili, turkey congee, soups, and many turkey (and leftover vegetable side dish-studded) fried rice meals.
I love cassoulet, that oven-cooked bean dish with any number of meats embedded in its oozing mass. It's easiest to prepare when you have scraps of meats all ready to go. And I like the idea of preserving some meat, too, such as in a pot like rillettes. I've enjoyed slathering duck rillettes onto toast points before, so could the dark, unsightly shreds of turkey meat be a good foil for that of the rich and dark duck legs? Let us find out.
I pulled some dark meat off the turkey carcass, and used duck confit as my guiding philosophy toward a turkey rillettes, of some sort. Derived from the French word "rille" for a slice of pork, rillettes are a pastelike mixture of finely chopped meat, usually pork, that's been salted and cooked in fat. Although my turkey was already cooked, I figured it would need plenty of extra fat, and some more flavor. So I seasoned the shreds of dark meat with lots of salt and pepper, placed some fresh herbs like rosemary and thyme on it, and melted some duck fat on top so that it was practically swimming in golden liquid. I have jars of duck fat in my fridge from prior duck-cooking nights—if you ever cook duck breasts, you can easily reserve the drippings and have some, too. So I used that in combination with some turkey fat that I rendered from big pieces of skin. (The back of the turkey is a great source for not only meat but skin.) This was essentially what my rillettes were made up of.
I added some minced fresh shallots, parsley and a few shakes of red wine vinegar once the whole thing was paste-like, for some extra freshness. The minced mixture was pressed into a jar, and it's a lovely spread for toast points. I look forward to putting that out at my birthday potluck this weekend.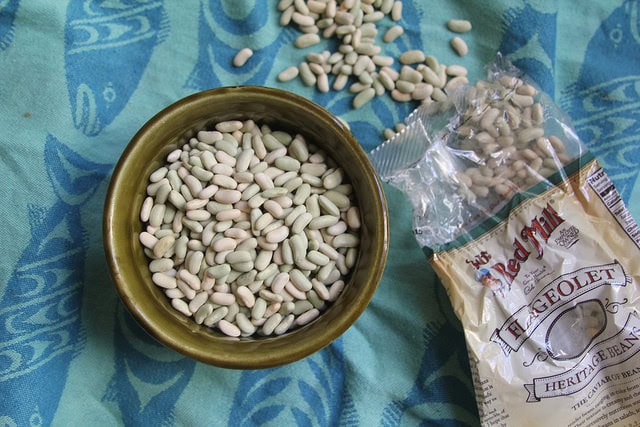 Next up—the cassoulet. This is typically an insanely rich dish, loaded with fat from pork and goose or duck, often preserved salt pork and shoulder and/or lamb and whatnot. Reading a classic recipe for it might give you a heart attack alone. But although I've enjoyed it this traditional way, I don't see why you can't have a soothing winter dish of beans cooked gently in a pot along with some hearty root vegetables, and minimal scraps of tasty meat. So that's what I did. (I've also done a completely vegetarian version of cassoulet, which may be a sin, before, too.)
This cassoulet comprises bacon along with big chunks of pre-roasted turkey, carrots, rutabaga and some tomato. It was a winning combination that I likely would have never thought of, had it not been for the leftover turkey, and some random roots not yet used. The rutabaga chunks cooked to absolutely heavenly golden sponges of flavor, having soaked in all that turkey stock that I kept ladling from the stockpot on the adjacent stove burner. And the carrots were cooked to smears of sweet orange bliss. I do not understand why there aren't usually more vegetables in a traditional cassoulet. The winter roots especially do so well in this great big pot—I can see turnips and parsnips looking pretty delicious in addition or instead. Maybe winter squashes, too. Maybe fennel?
I was fortunate to have fancy French flageolet beans on hand for this task, from Bob's Red Mill. These lovely slender beans have a pale green color when dried, and they're the traditional bean for cassoulet-making. I remember a Cassoulet Cookoff at Jimmy's No. 43 several years back when winner Laura Luciano was talking about her process as she accepted the award, and described using flageolet beans. "Did you say FLAT-U-LET beans?" I quipped at her. We all had a good time.
In case you're wondering, cassoulet is named for its cooking pot, a heavy earthenware or cast-iron Dutch oven that you pop in the oven to cook on low heat a long time. The precise dish that we know cassoulet as nowadays, with all its rich meats and white beans, hails from the Languedoc province of France. (But as you may have observed, it shares similarities with many other one-pot meals cooked in similar vessels, like the category known as the casserole.)
And that's where I'd like to be right now, rather than Brooklyn. But in a sense, getting to create your own version, or vision, of another place and time in the kitchen can be a lot more fun than actually going somewhere. I imagine touring the French countryside, trying to seek out peasant dishes like cassoulets in a restaurant. It would be a lot more work than making it up right at home.
We can't always travel during the holiday season, and maybe that's all for the best, given the traffic and airport hustle-bustle. But you can always travel to new places through your pots and pans.
Cassoulet With Leftover Roast Turkey or Chicken and Root Vegetables
(makes about 4 servings)
1 1/2 cups French flageolet beans (or substitute with cannellini or Great Northern)
3 tablespoons extra-virgin olive oil
2 slices (or about 1 oz) bacon, chopped
2 medium-sized onions, chopped to large dice
1 large carrot, chopped to large dice
1 medium-sized rutabaga, chopped to large dice
1 large tomato, chopped
4 garlic cloves, minced
1 tablespoon tomato paste
1 bay leaf
1 teaspoon herbes de provence (or a combination of herbs like dried thyme, sage, oregano and rosemary)
salt and pepper
about 2 cups leftover cooked turkey meat (or substitute with cooked chicken), in pieces about 2″
about 2 quarts turkey or chicken stock (or a combination of stock and water, as needed)
1/2 cup fresh breadcrumbs
1/4 cup chopped parsley
Soak beans overnight in enough water to cover by at least 5 inches. Drain and cover the beans in 4 cups of water in a pot and bring to a boil. Boil for a couple minutes, then turn off heat. Cover and let sit for 1 hour, while you prepare the rest of the ingredients.
Preheat oven to 325 degrees. Heat a tablespoon of the olive oil in a large, heavy-bottomed, oven-safe pot with a lid, such as a Dutch oven. Add the chopped bacon bits and cook over high heat, stirring occasionally, until the bacon is just browned and crispy, about 2-3 minutes. Remove the bacon from the pan and set aside. In the same pan, add the onions, carrot and rutabaga, along with a generous pinch of salt and pepper. Cook, stirring occasionally, for 2-3 minutes. Add the chopped tomato and garlic cloves and cook another 2-3 minutes. Add the tomato paste and stir. Return the bacon to the pan and add the bay leaf and dried herbs. Cook, stirring, to combine thoroughly. Add the cooked turkey meat, and 1 1/2 quarts of the stock. Bring to a boil briefly. Add a couple pinches of salt and pepper. Reduce to a simmer and cover. Transfer the entire pot to the oven.
Cook covered in the oven at 325 degrees for 2 hours. Then check and taste the beans for tenderness and liquid level. If needed, add the remaining stock or water to ensure that the beans are fully cooked through and that there is always at least one inch of liquid to cover the beans entirely. (Use water if you run out of stock.) Continue cooking until the beans are very tender and the liquid has cooked off to about 1/2 inch to cover the beans. Remove from oven and taste for seasoning, adding salt and pepper as desired. Once seasoned, sprinkle the breadcrumbs evenly across the top of the pot. Place back in the oven uncovered. Cook for another 15-20 minutes. Let sit a few minutes before serving. Sprinkle the parsley on top and serve.