I was craving Korean food the other night, so I made something that could approximate it. Haunts of stuff that one might get while on a group outing to Koreatown with friends, that sort of thing. It's not difficult to pull off a hardscrabble version of such dining-out memories, as long as we aren't talking some Escoffier-esque French gastronomy classics. These cravings can overwhelm, but if you've perhaps tried your hand at cooking similar things before, or just have especially strong taste-memories of what you're looking for in a dish, you can easily sate them at home. Give in to them by making, not passively buying, or mindlessly consuming, sometimes.

I found a few things I was missing in making a proper soondubu jigae, or spicy Korean seafood and tofu stew. Dried kelp and dried anchovies, for a stock, being the most glaring. But I used instead some frozen chicken stock I'd salvaged from a roast chicken's carcass one deliciously scented night by the stove. Fresh seafood like littleneck clams and Gulf shrimp were a half-mile's walk to a seafood shop away. I went the extra mile by going there and back to get them one Saturday.
This stew is sort of like a Korean Bouillabaisse, with more kick. If you're familiar with the classic French dish, you can even use that as your compass for creating this — with appropriate spices and seasonings. There are two essential ones you need to have: gochugaru (toasty Korean chili flakes) and gochujang (extra-thick, savory chili and fermented bean paste).
The seafood choices are up to you. Mussels and clams, shrimp and squid are classic, as they are to Bouillabaisse, and many a peasant seafood soup or stew from around the world (New England included). If you want to get fancier, add some chunks of fresh fish fillets along with them, too. The extra protein (and soft, curdlike texture) of soft tofu sort of takes the place for it in here, though.
The vegetable choices are much more minimal than seafood, but they can be sorta up to you, too. Instead of scallions I went for winter leeks; while opting for winter produce, I added some chunks of carrot, too. And because this duo seemed lonely without their frequent (albeit in French or Western tradition) mirepoix co-conspirator, I added some chopped celery to the mix. But to really make soondubu, you'll want to add some tofu. It makes a great complement for seafood-based dishes, as it'll soak in its flavors without interfering, and add blubs of silken texture as well (usually, soft Korean-style tofu is added to this dish — aka dubu — but if you can't make it to a Korean market, silken-style tofu will do).
Usually, soondubu is comprised of a dried kelp and dried anchovy-based broth. I actually had some kombu, the dried seaweed in question, needed for it, but didn't want to create leftovers after it was strained from the stock. I also wanted to incorporate more greens into the dish. So I added some fresh spinach along with the seafood at just the end. (And forgot to add a raw egg to poach in the stew at the last minute, as per tradition, too.)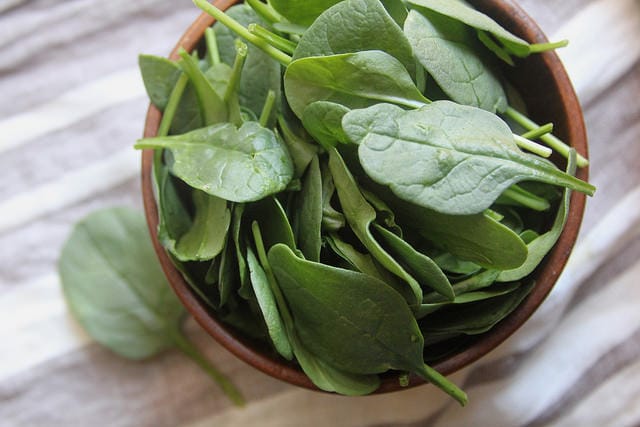 I told you this wasn't a traditional Korean soondubu, but an approximation based on preference, seasonality and maybe just pure whim. In any case, it's good, and satisfied the craving. Takeout can wait another night.
Spicy Korean-Style Seafood and Tofu Stew with Spinach
(makes 4-6 servings)
1 dozen small littleneck clams
8-12 whole shrimp (with their shells and heads if you don't mind)
2 tablespoons sesame oil (or substitute with neutral oil, such as vegetable)
2 large leeks, white and light green parts only, chopped (or substitute with 1 medium-sized onion, chopped)
1 large carrot, sliced to 1/2″ discs
1 celery stalk, chopped
4 cloves garlic, minced
1-inch piece ginger, minced
2 teaspoons Korean chili flakes, or gochugaru (less or more depending on your tolerance to spiciness)
2 tablespoons Korean chili bean paste, or gochujang
12 oz pack firm silken tofu (or substitute with soft tofu of any other type)
6 cups stock (be it seafood, chicken or vegetable stock, preferably homemade, or kombu-steeped dashi stock, or instant dashi, or just substitute with water)
about 1/4 lb fresh spinach leaves, washed and trimmed
1-2 teaspoons soy sauce
salt and pepper to taste
rice for serving
Scrub the clams and rinse. Soak in cold water for 30 minutes to expunge any sand while you prepare the rest of the ingredients.
Heat the oil in a large pot or Dutch oven over low heat. Add the leeks or onion, carrots, celery, garlic and ginger, and cook over low heat, stirring, about 2-3 minutes. Add the chili flakes and continue cooking, stirring occasionally, another minute. Add the gochujang paste and stir to incorporate thoroughly.
Add the stock or water and increase heat to bring to a boil, stirring occasionally. Add the tofu and reduce heat to a simmer. Let simmer for about 40 minutes, or until vegetables are very tender.
Increase heat to a rapid boil and add the clams. After about 2 minutes, add the shrimp. Wait until all the clams have opened (this should take around 5-6 minutes), then stir in the spinach. Taste for seasoning, adding the soy sauce and salt and pepper as desired. Serve with the rice.
Cost Calculator
(for 4-6 servings)
12 clams: $12.00
1/2 lb Gulf shrimp: $10.00
2 leeks: $0.50
1 carrot: $0.30
1 celery stalk: $0.25
4 cloves garlic: $0.20
1-inch piece ginger: $0.20
2 teaspoons Korean chili flakes: $0.20
2 tablespoons gochujang: $0.50
2 teaspoons soy sauce: $0.10
6 cups chicken stock (homemade): $2.00
1/4 lb fresh spinach: $1.00
12 oz pack silken tofu: $3.00
Total: $30.25
Health Factor







Five brownie points: This is a really soothing, healthful tonic of good stuff. (Forget smoothies and juices — the heat from the broth helps aid absorption immediately.) You get heart-healthy omega-3 fatty acids and protein from seafood — yes, even shellfish like clams have them, along with a host of beneficial minerals. You also get cholesterol from seafood. Then there's plant-based protein from the tofu, and a healthy clutch of fresh, nutrient-dense greens. Eaten with rice, it's a tasty, complete meal with a variety of benefits.
Green Factor








Six maple leaves: Local clams can be found any time of year, wherever there's a coast line nearby. It's a healthful, and economical choice. But shrimp are a different story; most of it is from Southeast Asia, harvested under questionable and humanely disastrous conditions, before flash-freezing to ship across the ocean to you. US shrimp from Gulf Coast states is much pricier, but you'll notice the difference — they're incredibly plump, pink and tasty. So you might want to simply eat less of it, but savor it more.