Yes, be a little twee sometimes — go ahead, I dare you. That time you splurged on a dear, felt hat that was so right for a horseback riding weekend in the country that you'll never go on? With the kid gloves that go up to your elbows? That fancy little fetish for truffled sea salts in the cupboard? The extra emoji in a text to a crush? We can all push the cuteness of our character to the limits sometimes — and enjoy it immensely.

Maybe I'm just thinking this because this dish was so unexpectedly pretty once I put it all together. Was it the fireworks of petal-pink inside a watermelon radish's flesh? The sprinkle of fresh mint just plucked from a (prettily potted) houseplant? Or the fact that ricotta is often associated with feminine diet foods along with cottage cheese and yogurt (but it really shouldn't be)?
But I conclude that it's a good discovery to eat like a precious princess sometimes, whether you intended to or not. We might laugh at the Gwyneths of food, and that insane juice lady who was so ridiculed by the Internet. But at the end of the day, good food is just that, pretty or ugly as sin.
Here's how you can end up with a breakfast or snack that's indisputably, almost repugnantly, picture-perfect:
1. You have some leftover, stale, crusty baguette, such as from hosting a dinner party.
2. You have one lonely, lovely watermelon radish that you bought on a whim at the farmers market.
3. You have some filthily-good fresh ricotta that you just want to eat more or less alone, on bread.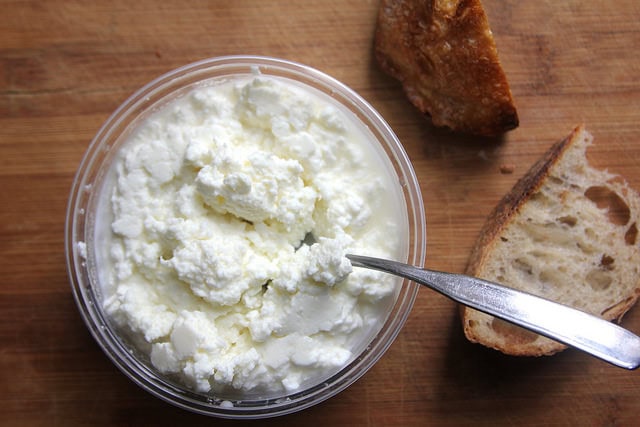 I think watermelon radishes are fairly fetching on the outside as well as in, though they'd be hard to catch your attention alongside strawberries or heirloom tomatoes. In the dead of winter, we have none of the latter. So watermelon radishes were that eye-candy purchase instead.
Then, because there's not much else to work with in terms of seasonal produce now, bread and cheese make up for the slack. Enter a confused, easily distractable food shopper at a winter farmers market and out she comes with these three items. Here's the breakfast that happens as a result. It can happen to you, and I dare say it should, soon, too.
Don't have a leftover baguette? Smother a piece of toast with this instead. In the summer, try the same formula with fresh zucchini or summer squash; now, even, have it with carrots sliced thin as paper instead. Beets? That works, too. They're all going to taste similarly light and fresh, so you can enjoy the plain creaminess of the fresh ricotta and crispiness of the toasted bread with olive oil. But that unexpected zinginess of a watermelon (or any type) of radish? Cool bonus. And no other vegetable may be prettier than it.
Crostini with Watermelon Radish, Ricotta & Mint
(makes 6 pieces, or 2-3 small servings)
6 slices from a leftover baguette (or substitute with 3 pieces of hearty multigrain bread, cut diagonally into triangles)
about 2 oz. fresh ricotta
1-2 watermelon radishes
2 teaspoons fresh lemon juice
2 tablespoons good extra-virgin olive oil
sea salt
freshly ground black pepper
few sprigs of fresh mint or parsley, torn
Coat the bread slices with one tablespoon of olive oil and toast either by placing on a baking sheet and baking at 350 degrees for about 5 minutes, or by heating in a heavy-bottomed pan such as cast-iron. Let cool a few minutes.
Rinse and scrub the radishes and trim the ends. Very finely slice the radishes (using a mandolin preferably). Toss with the lemon juice, the remaining olive oil, a pinch of salt and pepper, and the mint leaves.
Spread the ricotta on each piece of the toasted bread, and top with the radishes. Serve immediately.
Cost Calculator
(for 2-3 small servings)
1/8 leftover baguette: $0.50
2 oz fresh ricotta (at $4 / 8 oz tub): $1.00
2 watermelon radishes (at $4/lb): $0.75
1/2 lemon: $0.25
2 tablespoons olive oil: $0.25
salt, pepper, fresh mint from houseplant: $0.20
Total: $2.95
Health Factor






Four brownie points: This snack eats like a savory treat, and makes for great hors d'oeuvres at a party. Smear it on dense rye bread, and you have the healthy Scandinavian smørrebrød, which is so in vogue these days for its healthfulness, too. With a little creaminess from whole milk ricotta, it's easy to scarf down plenty of detoxifying, mineral-rich radishes (and the fat will help you absorb those even more). A good pairing, like the French penchant for radishes with butter.
Green Factor










Eight maple leaves: It's not vegan, but it's entirely seasonal, local, and makes use of leftovers — bread, in this event. That's not always easy to do in the midst of winter. To make the situation better, invest in a couple fresh herbs like mint and parsley to keep indoors, and spruce up most anything you make.