Have you ever stopped and suddenly thought, is this the one? Could this be my perfect food? I thought this on maybe the third or fourth date I had with Hakurei turnips. It was a sneaky sensation, crystallizing with a subtle sweetness and juicy bite that was so unlike any other thing. I got the same feeling when I tried my first bite of miso-marinated, broiled fish—only it was a smack-in-the-head awakening, a firestorm of personal penchants as if from a dream. The thought also whispered when I decided to mix up miso paste with fresh orange juice for a dressing one time, such a pure harmony of tart, savory and sweet, and I never could remember how I'd come across it.

It just happened that way. I can't explain it. So since it combines all these favorites above, I have a good feeling about this dish's potential as "the one" true thing for me. In food, that is.
Do you believe that there's a "one" out there for everyone in the universe? The one we were destined to find, eventually? I'm not a relationship expert, but after several years of "not eating out" I think I could be your personal food therapist and, yes, say there is a true soulmate out there if you just keep looking and cooking, as it were. Keeping your eyes open to all the fish in the sea.
Although I've had many affairs with lesser-known seafood like the local specialties of bluefish, flounder, porgy, turbot, mackerel and monkfish, it's salmon that keeps bringing me back. Maybe it's also because my friends Emily and Christopher of Iliamna Fish Co. keep literally bringing me back red salmon fillets that they'd just caught in Bristol Bay, Alaska at the end of the summer for their "salmon CSA." Salmon is a type of fish so common that I might have once overlooked it or brushed it off; but over the years, it's the close familiarity that they've given me with it (a setup, you could say) and the particular variety that it is (wild sockeye, to be exact) that won me over into a full-blown love for the species.
I've also been having a years-long flirtation with the method of miso-marinating fish fillets. This isn't simply brushing miso paste on the stuff before sticking it under a broiler (don't do that, it'll burn). But really soaking flavor into the flesh of (preferably oily types of) fish for at least overnight before rinsing it clean and searing or broiling it simply. Afterward, it may seem counter-intuitive to hold back on seasoning the fillets as they will appear naked, but trust me, the miso paste will have flavored them throughout. My miso-marinating fish guru Elizabeth Andoh of the book Washoku advocates for more than a day of marinating, and you can even reuse the discarded miso paste for another batch of fish marinade again.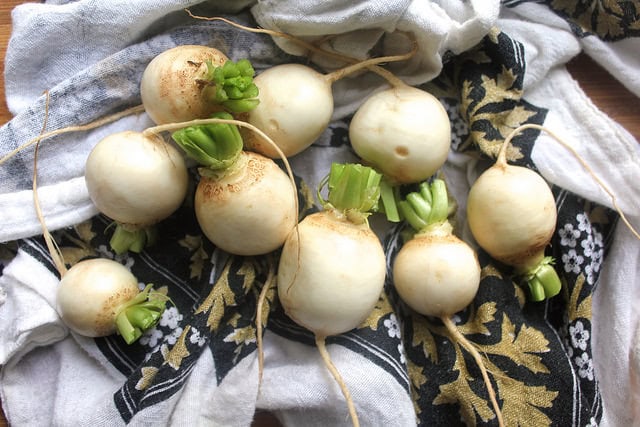 And what to do with those little-ghost bulbs of Japanese turnips (otherwise known as "Tokyo turnips" or "Hakurei turnips," the latter the most precise of descriptors, which I'll choose here)? They're so mild and delicate-tasting their natural sugars will appreciate the glow of burnt crisping, so a quick, hot oven-roast is best suited for them, too. No marinating needed, though.
I enjoyed describing these turnips again to skeptical patrons of a farmstand at Grand Army Plaza Greenmarket last Saturday. The farmer reliably answered their questions about what makes them unique, before I jumped in and offered eager support for what he was saying. They are much milder than spicy radishes, and although you can eat them raw, they're awesome when their sweetness is amplified from browning in the same manner as you might with halved heads of Brussels sprouts.
Then onto the dark horse that ties the whole dish together (some plain steamed brown rice to go with everything is a good addition, too): this sauce. I had once experimented for an event with white miso paste mixed with melted butter and fresh orange juice as a sauce for seared scallops; it went over very well amongst the guests. But I've never browned the butter first, adding a round, savory depth to the sauce, before reducing some sake and orange juice in it before. On a random effort, this turned out very well. I think it's a great sauce for seafood, if you don't mind your sauce being a little thin and clear-complexioned, more like a syrup. It packs a lot of tartness and sweetness just from the orange, and the butter is roasty-toasty flavored to give it legs. If you're afraid of the sauce breaking (which can easily happen with butter), simply reduce some sake and orange juice alone into a syrup, then once it's cooled a bit, stir in the butter to just melt and add body to the sauce. That'll work just fine, too.
Do you believe in a soulmate? Or how about "soul food"?—certainly we're accustomed to this concept, too. I must be saying a lot to give a blessing of this caliber to this recipe below. But it really was such a good one, and we don't ever want to forget it.
Does this mean that, once you've found it, one should only pay heed to your "one true thing" forever? I would hope not. But once you find it, you can imagine eating it for as long as you live.
In total, I think that this might be that one. But I'm not settling down just yet. There's a world of flavors to explore yet, and you never know just what you might find.
Miso-Marinated Salmon with Hakurei Turnips and Sake-Orange Butter
(makes 2-3 servings)
for the fish:
about 1 lb salmon fillet, cut to 2 or 3 individual-sized pieces
1/4 cup white (or "shiro") miso paste
1 tablespoon sake or dry rice wine
1 teaspoon sesame oil
for the sauce:
1 tablespoon butter
1/4 cup sake or dry rice wine
1/2 cup fresh orange juice (about 1 medium-large orange)
for the turnips:
1-2 tablespoons olive oil
1 bunch (about 10) Hakurei turnips, trimmed of most of the stalks and halved or quartered to equally-sized pieces
pinch of salt and pepper
Combine the miso paste with the 1 tablespoon of sake in a bowl. Add the salmon pieces and spread to coat thoroughly. Cover with plastic wrap and let marinate at least 8 hours or up to 48 hours.
To roast the turnips: Preheat oven to 450F. Toss the halved or quartered pieces with the oil, salt and pepper. Spread in a single layer on a baking sheet halved-sides down. Roast for about 6-8 minutes, or until just browned on the bottoms.
To make the sauce: Melt the butter in a small pot over medium-high heat until it's just beginning to bubble. Add the sake and bring to a boil; continue boiling, stirring frequently, until the liquid has reduced to about half. Add the orange juice and bring to a boil. Let bubble while stirring constantly until the mixture suddenly turns translucent and glossy against your spatula, like a syrup. Remove from heat immediately and set aside.
To broil the fish: Rinse the fillets from any specks of the miso paste and pat dry with paper towels. Coat the tops with the 1 teaspoon of sesame oil. Place on a baking sheet and under the highest rack of a broiler and broil for about 5 minutes (depending on the thickness of the pieces) or until the tops are just lightly browned. Remove from the pan (to stop cooking) and let cool a few moments.
Serve the broiled fish along with the roasted turnips and sauce on individual plates and enjoy immediately with an optional side of steamed rice.
Cost Calculator
(for 2-3 servings)
1 lb wild Alaskan salmon: $18.00
1/4 cup white miso paste: $1.00
1 orange: $0.35
1/4 cup plus 1 tablespoon sake: $1.00
1 tablespoon butter: $0.50
1 bunch hakurei turnips: $3.00
1 tablespoon olive oil: $0.20
salt, pepper, 1 teaspoon sesame oil: $0.20
Total: $24.25
Health Factor







Five brownie points: You might notice that this recipe omits starches, but supplies suggestions for serving it along with something very simple, plain steamed rice. If you're hungry, definitely go for that. But if you're having this course at the end of a few snacking sessions, care not. Even with two main ingredients—turnips and salmon—you'll receive a wealth of nutrition, like protein, omega-3 fatty acids, and antioxidants galore. Even the butter is pretty minimal to the sauce, which adds Vitamin C-rich tang more so than richness to the dish, so it's an overall lean, animal-based entree.
Green Factor








Six maple leaves: This really depends on how your salmon was harvested. There's nothing wrong, either, with replacing the "salmon" in this dish for whatever seasonal catch your local fishmonger has in store instead. We waste too much seafood, and we catch vast amounts of certain types while neglecting others for reasons too silly to continue. Consider this a flexible recipe that could incorporate mackerel and many other types of seafood instead of salmon. And if choosing salmon, consider the wild (and yes, more expensive) kind from the Pacific for your own and its health.