There are a lot of initiatives around hunger lately, with World Peace Day just behind us and a long winter ahead, but when one happens to involve dumplings, I cannot sit idly. The New York Dumpling Festival (#dumplingfest2015) is this Saturday, and it benefits one of my favorite charities, the Food Bank for NYC. To salute this group and shout-out the event, I thought I'd go orange with this dumpling recipe, a blend of hearty vegetables from my CSA.

Not "vegetarian dumplings"—which is a moniker that can be as specific as saying "not-dumpling food article"—but dumplings with shredded fresh vegetables inside. Growing up, vegetarian dumplings were usually an indiscernible hodgepodge of minced cabbage, firm tofu, and glass noodles. It just so happened that this week's harvest (the last week of summer, as it were) had dealt me a motley crew of vegetables that created a sunny, yellow-orange hue.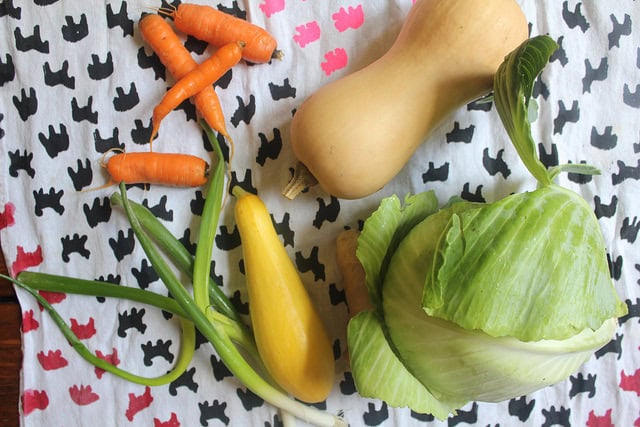 I wanted to see how well you could incorporate vegetables that are not necessarily associated with dumpling-making (or Chinese food, either) to make a satisfying filling for some crispy potstickers, a crowd-favorite dumpling variety. And once you've toyed with the likes of Cheeseburger Dumplings and Broccoli Cheddar Dumplings, this seemed like a pretty safe and moderately conventional bet.
What happens at the New York Dumpling Fest is yet to be seen: it'll take over the Sara D. Roosevelt Park this Saturday from noon to 5pm, and with dumplings from over 8 cultures representing, it'll probably feature much more wild versions than these. There's also a dumpling eating contest, which may or may not happen by default should you attend (and will most likely happen with you and your friends when you make a batch yourself). I'm looking forward to seeing the festival, and some of the musical performances like the local dragon dance team.
But if you're not in town and just craving a new twist on a classic, these dumplings make a fun occasion on their own. I made them with a friend last weekend to freeze and save for when she has her hands full with a new baby soon arriving. With a few hands to help out, we made quick work of the folding (using store-bought wrappers as a time-saving crutch); and we got to eat a spare panful at the end. I was curious about how the butternut squash would turn out—these dumplings had a medley of shredded summer squash, carrots, scallions and cabbage along with that just-in-season fall vegetable. Adding a little sweetness, they cooked just enough to help bind the stuff inside the wrapper and give it a vibrant glow.
You'll want to squeeze out most of your shredded vegetables very well, especially the summer squash, before mixing it all together. (Wateriness is the enemy of keeping dumpling skins sealed.) I seasoned the mixture very minimally, with only a bit of sesame oil, ginger, garlic, white pepper and salt. Give it your own take with a dash of curry powder, or chilies for some heat. Or use what's fresh in season around you, maybe some thinly shredded bell pepper for instance.
Whether eating for a cause or just the cause of eating, I can't think of any occasion that isn't fit for at least some kind of dumplings. Share it with friends and make an afternoon of it (hopefully outside, during this early-fall warmth), and freeze the fruits of your labor for a lazier occasion.
Shredded Vegetable Dumplings
(makes 35-40 dumplings)
1 pack round, white dumpling wrappers (usually about 35-40)
1 zucchini or summer squash, grated with a box grater
2 carrots, grated with a box grater
about 1 cup very thinly sliced cabbage, packed
about 1 cup peeled butternut squash, grated with a box grater
2 scallions, finely chopped
1 teaspoon salt
2 teaspoons sesame oil
1-inch piece ginger, peeled and grated
1/4 teaspoon white pepper
2 tablespoons vegetable or neutral cooking oil
Set aside the grated vegetables individually and sprinkle well with salt. After 10-20 minutes, squeeze each out well, draining excess liquids. Combine all the vegetables in a bowl and toss well. Add the sesame oil, ginger, white pepper, and any additional salt to taste.
Placing a round dumpling skin flat on your hand, drop a tablespoon of filling into its center. Dip your finger into a small bowl of water and trace the edge of the wrapper. Fold the wrapper in half and make a pinch at the top; next, bring a piece of the edge about half an inch to the right of the pinch over to the pinch. (This will cause the wrapper to fold diagonally on the right hand side of the dumpling.) Bring a piece of the edge half an inch to the left over to the pinch next. Pinch the pieces you brought to the center shut and continue to seal the edges to the left and right until the dumpling is fully sealed. From an aerial view, it should be shaped like a crescent.
Heat the oil in a large skillet that comes with a lid. Once the oil is hot, line the dumplings in a circle around the edge of the pan. Fill the center with as many dumplings as will fit – do not squash them against one another too much (you will probably need to cook in 2-3 batches, depending on the size of your pan). Let cook on high for about 2 minutes. Add enough water to the pan to cover about one quarter of the height of the dumplings (about 3 cups, again, depending on the size of the pan), reduce heat to medium, and cover. Let cook covered for about 4 minutes. Lift cover, and cook until all the water has evaporated. Remove the potstickers from the pan with a spatula (they will stick) and serve with soy sauce (or soy sauce mixed with vinegar) and/or chili sauce for dipping.
Cost Calculator
(for about 38 pieces)
1 pack dumpling wrappers: $2.99
1 summer squash: $0.75
2 carrots: $0.50
1 cup shredded butternut squash: $0.50
1 cup shredded cabbage: $0.50
2 scallions: $0.50
1-inch piece ginger: $0.20
2 teaspoons sesame oil: $0.25
salt, white pepper, 2 tablespoons oil: $0.25
Total: $5.94
Health Factor






Four brownie points: Think of it as a crispy, wrapped salad in bite-sized pieces. Thanks to those orangey ones (carrots, squash) you'll get plenty of Vitamin A, and the cabbage adds more antioxidants and fiber. All the vegetables are lightly steamed inside the pockets, so no nutrients can get away.
Green Factor









Seven maple leaves: These vegetarian, vegan dumplings are easy to make in any season, with green cabbage and carrots around all year, and you can use whatever bits and pieces of veggies are around the rest.