These cold, tough months of winter, I'm always in the mood for a warm bowl of pasta. But marinara sauce can get tiresome, and it looks like we've got a long winter still to go. So I made this simple pasta with garlic, mushrooms, and crispy slivers of olive oil-fried kale. I had it as leftovers next, and its flavors had really combined and popped. The oil was deep-green from absorbing that kale. It had also absorbed that lemon, softening it to a subtle tang. It was so strangely good. And I realized, I haven't been using enough olive oil in my pastas all along.

This accidental discovery came as a result of deciding to fry shreds of lacinato kale instead of sautee them, because they just looked so sturdy and texturally interesting to begin with. I didn't want to soften the kale into just mush—but neither did I want to eat raw kale in my cozy, winter pasta dish.
So I frizzled them in a little pool of extra-virgin olive oil. Be warned this task may—no, will—create splatters hot oil, so take extra caution. Make sure the leaves are totally dry before you begin. And strip off the thick stems, too, so you're just left with leafy tears of jewel-toned green, like crinkled paper. Get the oil hot, but not TOO hot, and get ready with tongs to take them out soon. If you do have a splatter shield (a round slat of screen window-like metal), go ahead and place on top of the pan after dropping in the kale. One small bunch of kale yielded a good handful of what we might call kale chips.
To be honest, kale reminds me a lot of seaweed, if that doesn't sound too appetizing to you, and these crinkly pieces of fried kale remind me a lot of salted, crinkly nori sheets you'd snack on from small packages. They're both incredibly dense in nutrients, and have an intensely vegetal flavor once its liquids are sucked dry, as from frying.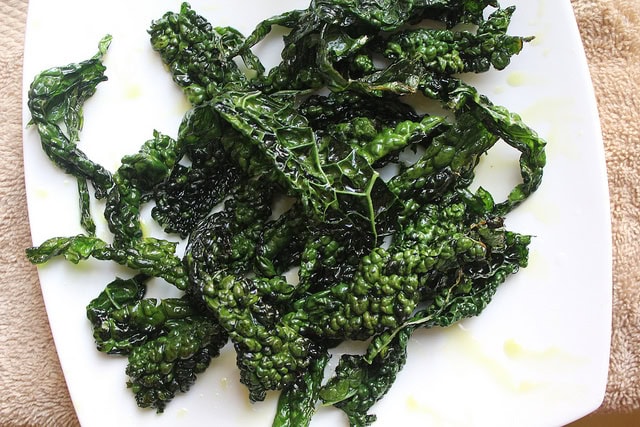 Don't worry about that leftover pool of oil in the pan—we'll use it for browning the mushrooms next. I chose some tender baby crimini mushrooms, sliced simply to resemble the size and shape of the orecchiette pasta I was using in the dish, too. After sauteeing the mushrooms and garlic together, the oil had become this wonderfully flavored infusion. I wish I had kale, garlic and mushroom-infused olive oil in my cabinet all the time.
After the pasta was cooked, it was stirred with the mushrooms, about half the kale, crumbled up some more by hand, a little reserved pasta cooking water and a splash of lemon (stir in some butter here if you like). For topping the dish, some more crumbled kale followed by lemon zest was all it took. Any remnants of the flavored oil can be drooled on top as a finishing touch (and add grated cheese here too, if you like). And for goodness' sake, save some of this pasta for leftovers the next day. You won't be disappointed.
Lemony Pasta with Mushrooms and Fried Kale
(makes 2-3 servings)
1/2 lb dry pasta (any shape)
1 bunch kale (preferably lacinato or "dinosaur" kale)
1/3 cup extra-virgin olive oil
2 cloves garlic, sliced
about 12 oz. fresh mushrooms, such as crimini, trimmed and sliced
1-2 teaspoons fresh lemon juice
about 1/4 teaspoon fresh lemon zest, shaved
salt and pepper to taste
1 tablespoon butter (optional)
1/4 cup grated parmiggiano-reggiano or other hard-aged Italian cheese, grated (optional)
Make sure the kale is completely dry after rinsing. Strip the thick stems from the centers of the leaves by holding at the base and pulling outward. Tear the kale into roughly uniform pieces no longer than 3″ long.
Bring a pot of generously salted water to a boil and drop in the pasta. Cook according to the package's instructions and drain, reserving 1/2 cup of the cooking liquid.
In a wide pan, heat the olive oil over medium-high heat. Set a plate aside for transferring the kale leaves and use tongs (or chopsticks!). Once the oil is hot enough to create loud pops and splatters once a kale piece is placed in, add about half the kale. Stir briskly and remove from the pan after about 20 seconds. Repeat with the remaining kale and set aside.
Reduce heat to medium and add the sliced mushrooms and garlic to the same pan of oil. Stir briskly, seasoning with salt and pepper, until the mushrooms are lightly browned, about 1-2 minutes. Transfer from the pan and set aside.
Combine the cooked pasta with the mushroom-garlic mixture and reserved pasta liquid over medium-low heat. Continue stirring, adding salt and pepper to taste, and squeeze in the lemon juice. Remove from heat. Crumble about half the fried kale leaves and stir into the pasta. (Stir in the optional butter if desired.) Transfer to serving plates. Top each plate with the remaining fried kale, crumbled, the lemon zest, and the optional grated cheese and serve immediately.
Cost Calculator
(for 2-3 servings)
1/2 lb pasta: $2.00
10 oz. mushrooms: $3.00
1 bunch kale: $3.00
1/3 cup extra-virgin olive oil: $1.00
1/2 lemon: $0.25
2 cloves garlic, salt, pepper: $0.25
Total:  $9.50
Health Factor







Five brownie points: Kale is chock full of antioxidants and Vitamin K, yet this fresh vegetable-forward dish may be on the richer side thanks to using plenty of olive oil. Bonus: you can easily swap in gluten-free pasta and add no butter or cheese, making this vegan, to suit dietary restrictions.
Green Factor









Seven maple leaves: We're keeping it seasonal by using wintery fresh vegetables like mushrooms, garlic and kale; however, that olive oil and lemon (and the pasta in my case) are imported pantry staples.