Jambalaya is not a beautiful dish. It, like its name, resembles a jumble—and I'm even told by a Southern co-worker that people in the South tend to pronounce it more like "jumbla," too. It doesn't play nice with restaurant-style plating. Rice grains cling to every shrimp, tasty bits like sausages and nearly-dissolved vegetables are embedded within the mysterious mass. I suppose you could deconstruct your jambalaya to place prime bits ceremoniously throughout, but then they wouldn't have absorbed the incredible flavors of that mystery, and become part and parcel with its depth. But eating jambalaya is some kind of beauty, instead.

I'm not sure why, but I just had to make it this weekend. Similar to Spanish paella, this Creole dish features rice cooked in a tasty broth studded with seafood, sausage or ham and often chicken, and finely chopped vegetables that have cooked down intensely. Unlike the French mirepoix, the Creole/Cajun vegetable medley swaps in green bell pepper for carrots to make up this "holy trinity" along with onion and celery. With the addition of tomatoes, this becomes similar to the Spanish and Latin-American base known as sofrito.
Given all those ingredients, the rice alone is mouthwateringly flavorful and you have to stop yourself from shoveling more spoonfuls of it into your mouth. One thing I like about jambalaya versus paella is that it can be more spicy. Bring on the cayenne pepper, tickle it with Tabasco, and try hiding a lingering heat with a hot, fresh pepper in the trinity.
Another thing I really like about jambalaya is its use of Andouille sausage, a spicy, garlicky, savory pork link that's a treat whenever found. I got some from D'Artagnan via MaxDelivery in NYC, and gosh they are good. If considering substituting Andouille sausage for another type of sausage or diced ham, I'd say just Andou-it. You only make jambalaya once in a while.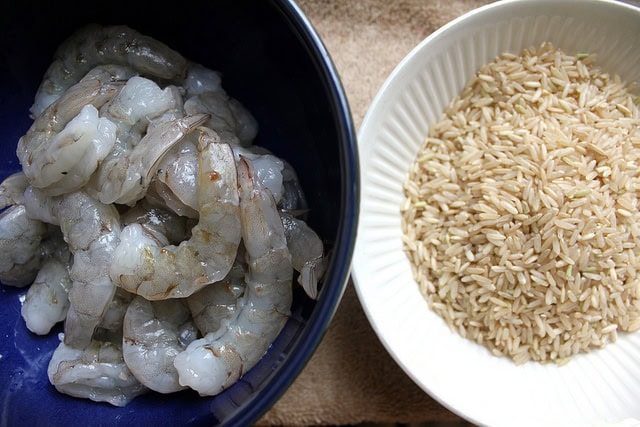 Because of that luxury, I went ahead and skipped the chicken. But be aware that jambalaya is a great place for burying leftover cooked chicken if you have any handy. I did go with shrimp for a classic finish, and when using whole shrimp still in their shells, you can make a quick stock to cook the rice with easily. Simply peel and devein the shrimp, and cover the shells in some water to boil. 30 minutes is enough time to strain for a shrimp stock to use right away.
And because making jambalaya is such a rare occasion for me, I didn't stray from classic recipes too much today. Save for a splash of white wine to deglaze the sausage and vegetables after they'd browned. It's a fancy, Euro touch that I'm not sure Creole folks would opt for, but it works for me. Now step aside, we've got some eating to do.
Shrimp and Andouille Sausage Jambalaya
(makes about 6-8 servings)
2 tablespoons olive oil
1 medium onion, finely chopped
1 celery rib, finely chopped
1 green bell pepper, finely chopped
1 andouille sausage (about ¼ lb), sliced to about ¼" discs
3 cloves garlic, minced
1 lb whole shrimp with shells, peeled and deveined, reserving the shells
½ teaspoon cayenne pepper
½ cup dry white wine
2 cups crushed tomatoes
2 bay leaves
2 cups long-grain rice (either white or brown)
1-2 teaspoons Tabasco or other hot sauce (optional)
salt and pepper to taste
handful fresh parsley, chopped, for garnish (optional)
Heat the olive oil in a large, heavy-bottomed pot with a lid, such as a Dutch oven. Add the onion, celery and peppers and a pinch of salt, and cook on low heat, stirring occasionally, for 5-6 minutes.
Meanwhile, cover the shrimp shells with about 4 cups water in a separate pot. Bring to a boil and let boil uncovered 30 minutes, or until liquid has reduced by about ¼ (you should have about 3 cups of stock once the shells have been drained.
Add the Andouille sausage, garlic and cayenne pepper to the vegetables and cook, stirring occasionally, over medium heat for 2-3 minutes. Add the white wine and bring to a boil; stir to scrape up any browned bits on the bottom. Stir in the tomatoes, the 3 cups of strained shrimp broth and the bay leaves and bring mixture to a boil. Add the rice and bay leaves, along with several pinches of salt and pepper. Once mixture is boiling, reduce heat to a low simmer and cover the pot.
Cook covered for 30-40 minutes, checking after about 30 minutes for doneness of rice (this will take more time and may require more liquid for brown rice; add water if the pot is appearing to look too dry before the rice is tender). Once the rice is tender, stir in the peeled and deveined shrimp and cover again. Remove lid after 4-5 minutes. If the shrimp are pink and no longer translucent, remove from heat. Stir and taste for seasoning, adding salt, pepper and Tabasco sauce as desired. Serve with the chopped parsley for garnish.
Cost Calculator
(for 6-8 servings)
1 onion: $0.25
1 celery rib: $0.25
1 green pepper: $0.75
1 lb shrimp: $12.00
1 andouille sausage link: $3.50
½ cup white wine: $0.50
2 cups crushed tomatoes: $1.50
2 cups rice: $0.50
2 tablespoons olive oil: $0.20
2 cloves garlic, 2 bay leaves, ½ teaspoon cayenne pepper, salt and pepper: $0.25
Total: $19.70
Health Factor








Six brownie points: Not as bad as it might seem. Like many peasant foods, this one uses a small amount of tasty meat (sausage) to flavor a vast amount of filling carbs (rice). So you're getting lots of flavor, and not as much cholesterol as a typical meat entrée. The shrimp will add omega-3 and omega-6 fatty acids along with protein (poor man's protein, so it was once thought). But there are no vegetables here really, so you'll have to make that on the side.
Green Factor






Four brownie points: Rice, shrimp, bell peppers… these are things we don't have in the winter months of the Northeast. This dish is a vacation to a warmer place on your plate, and to source the ingredients, I got frozen shrimp (farmed, see more on shrimp choices here), canned tomatoes, and that delicious Andouille sausage which is actually not hard to get from sustainable meat purveyors all year 'round.