It's a mashup that keeps to the same cuisine: pizza, and a flattish beaten-egg dish topped with anything you like (frittata). Who didn't try to forge pizza with a toaster oven and whathaveyou at home when growing up? English muffins and French bread are a favorite pizza pasttime. I remember spooning stuff from a jar of "pizza sauce" onto halved bagels and English muffins for these after-school snack purposes growing up. Looking back, I'm not sure why the sauce should have been any different from a marinara you'd put on spaghetti. But the idea of making "pizza" at home was so captivating to a youngster that we were sold. And the idea still pulls today.

Given the rise in gluten-free diets, we've seen pizza "doughs" made with everything from cauliflower to quinoa. It's a new playing field, mostly of the young-adult set. None of these iterations really resemble true, yeast-risen pizza dough blackened in a 500+ oven, preferably fired with wood. So why not make it even simpler with a familiar, quick and easy to cook ingredient like eggs? Heck, given the rise in plopping fresh eggs atop Neapolitan-style pizzas at most of the joints popular in NYC these days, a pizza with egg on the bottom instead of the top didn't sound too out of sync besides.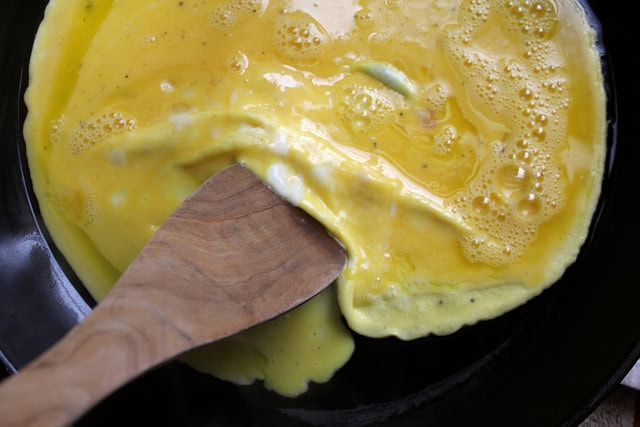 If French bread, bagel, and English muffin pizzas can be accepted into the canon of household variations on pizza, so can this. And fondly, I would say. Aside from their ease of preparation (compared with kneading fresh dough), each version adds a little something different to the experience of molten mozzarella and tangy tomato sauce. My brother once dated a girl for a while who was half-Jewish and half-Italian American, which he would sometimes off-handedly explain with, "She's a pizza bagel." That was an endearment, of course.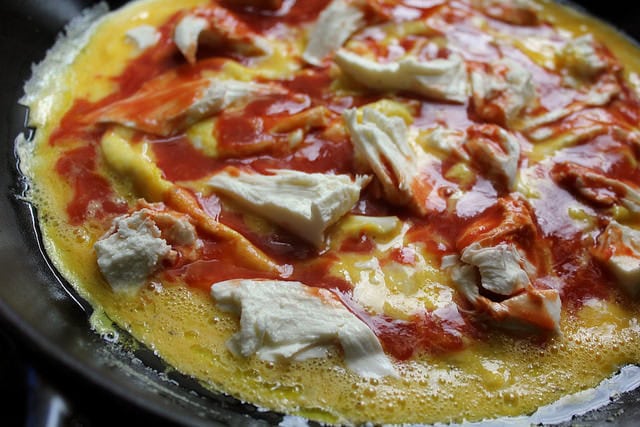 In the case of dough made with just beaten eggs, the benefit is filling, fluffy proteins that you can crisp to a browned bottom in no time. I kept the rest quite simple, and with a nod to the basic "margherita" Neapolitan-style pizzas that are all the rage nowadays. It has fresh mozzarella, not shredded but sort of ripped apart by hand, and layered with a splashy pool of the simplest sauce imaginable–it's really called tomato passata (which I learned about from a class at Pizza a Casa years back), rather than a sauce. Pomi tomato sauce, from Italy, is a good, supermarket-staple example.
This is a thick, tangy, intensely red and tomatoey-flavored puree of plum tomatoes strained of seeds and skin. It's like a concentrate of tomatoes and little else, but it isn't nearly as thick as tomato paste. That way, you can drizzle it around on your pizza–er, frittata–liberally, and still get a fairly runny consistency after it bakes at such high heat for a few.
Finally, fresh basil leaves to scatter across the dish once it's out of the oven would be the classic finish. But my basil plant died on the windowsill recently (I guess it's been pretty cold this winter). So I decided to try out a new herb for the empty spot–fresh oregano. Its leaves are much smaller and its flavor much stronger and more wintery. But that's simply what we've got in the dead of winter in NYC–the cards we've been dealt. Scattered across, the aroma was different from basil, but inviting. The richness of the eggswere intriguing, and although I tried to keep the amount of eggs minimal so that the base of this "pizza" would still be quite thin, it was a decidedly spongey, light slice that resulted from the experiment. So very much like a frittatta. Topped with pizza stuff.
Pizza Frittata
(makes 1 9″ pizza, 8 slices or 2-3 servings)
Note: Use a heavy, preferably cast-iron pan that can withstand 500F in the oven.
6 large eggs
2-3 tablespoons olive oil
about 8 oz. fresh mozzarella
about 6 oz. tomato sauce (preferably Italian tomato puree known as passata)
salt and freshly ground pepper to taste
handful of fresh basil or oregano leaves
optional: any other toppings you like (thinly sliced vegetables, cooked sausage or charcuterie)
Preheat oven to 500 degrees. Beat the eggs with a generous pinch of salt and pepper. Tear the fresh mozzarella into rough pieces no larger than 2″ and set aside.
Heat a 9″ cast-iron pan (or heavy-bottomed fry pan) with the oil over medium-high heat for about 2 minutes. Pour in the beaten eggs. Let set slightly around the edges after a few seconds. Using a spatula, push the edges toward the middle of the pan and let the eggs run to the edges, completing the round shape. Continue to do this a couple more times with other edges of the pan and even out the middle of the pan so that it's uniformly covered with eggs.
Turn off the heat and arrange the torn fresh mozzarella pieces across the top. Drizzle the sauce across the top.(If using other optional ingredients, scatter these across now, too.) Transfer the pan to the oven and let cook for 3-4 minutes, or until the top of the frittata has begun to lightly brown and the eggs appear to be set. Remove from the oven and scatter with the fresh herbs. Serve immediately.
Cost Calculator
(for 2-3 servings)
6 eggs (at $5/dozen): $2.50
8 oz. fresh mozzarella: $4.00
6 ounces tomato sauce: $2.00
3 tablespoons olive oil: $0.50
handful fresh oregano leaves: $0.25
Total: $9.25
Health Factor








Six brownie points: It's pizza, but it's not a carb-filling, work-your-way-off-the-next-day affair as much as a power breakfast. It has plenty of fats and cholesterol from the cheese and eggs, but its simple, wholesome ingredient composition means that not much more can step in its way to further disadvantage (as opposed to the processed, frozen pizzas or even "pizza sauces" of ready-to-eat alternatives. Can you eat it for dinner instead of daytime? Of course. Will you be the champion of healthful eating for it in either case? Of course not. But it's a great way to sate the palate for easy fast food.
Green Factor








Six maple leaves: Also a lukewarm reception from the local, seasonal front. For one thing, this pizza-frittata margherita has no meat but animal-based products that are available easily year-round (eggs and cheese). It's a pantry-happy dish to make in summer, spring, winter or fall, since preserved tomatoes are found throughout the year as well. You can use any herb you wish for the garnish (or optional veggies for a topping in addition). That'll make best representation of what's available in your area, likely, and in winter in NYC, this is admittedly pretty slim.