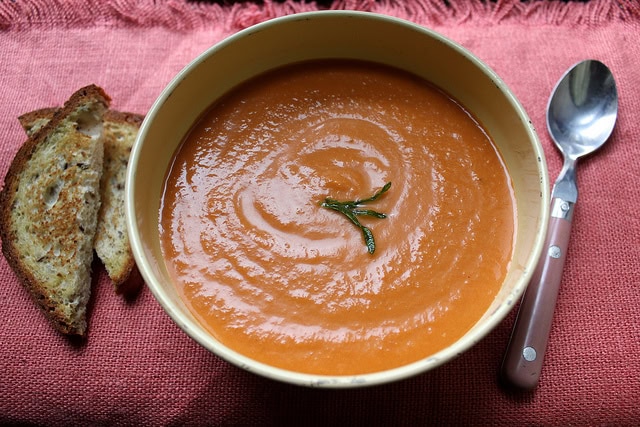 What a chilly, rainy start to 2015 in New York. Yesterday found me stomping through the city in a sleeping bag-esque coat that collected flurries, hail, and splatters of freezing rain like moths around a flame. Alright, I guess the precipitation hit everyone else on the streets, too. But my fate seemed sealed toward making tomato soup when I got home–perhaps with toast, or grilled cheese.

I think I get what's so comforting about this classic combo. Unlike chicken soup, tomato soup is undeniably simple, monochrome. It has a velvety texture that might remind one of baby food. And its tangy bite is softened with a touch of cream. That is, if you're making tomato soup in the creamy, pureed style of a bisque.
That's what I wanted, after swapping my soaked clothes for sweats. But I don't often have cartons of heavy cream in the fridge. And, I didn't want to revisit that wet down mop to go out to the store.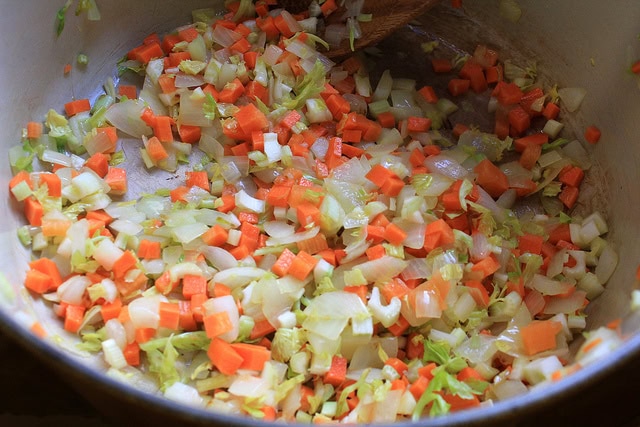 So I started a tomato soup using the simplest of ingredients–a mirepoix of carrot, onion and celery, some garlic, a can of whole plum tomatoes and stock. For a bit of creaminess at the end, I leaned on another type of "milk": coconut. Its color and thick body looked convincing enough to sub in for cream. And I've been on a kick lately making coconut curries with a splash of the stuff to create a delicious sauce.
The temptation here would be to add more spices to the tomato soup base, in keeping with an island-y theme. But I didn't go that route, curious to see how a simple, straightforward tomato soup would taste with coconut milk. It doesn't have to make perfect, thematic sense to taste good, after all.
Adding coconut milk also serves the virtue of making this soup an all plant-based affair; who'd have thought with a buttery, all-American classic? French chefs must be reeling at this recipe but knowing elders of Southeast Asian cuisines might nod in approval instead. You can't please everyone at the same time, doing what you gotta do.
Ultimately, you might have to try it to believe, but it does come together in harmony. Coconut milk goes a long way in enriching the soup, and you can add as much or as little as you prefer. I could see it working well in a (curried or non-) butternut squash bisque, or with other vegetable-based soups. To be sure, we've made a Tomato Soup to Write Home About here before, but with none of the creaminess and more of the chunkiness, quite different from this.
Yes, coconut oil-crisped toasts tasted pretty good to dunk into this bowl as well. Expect to see more coconutty adventures from these recipes to come.
Tomato Bisque with Coconut Milk
(makes 4-6 servings)
2 tablespoons coconut oil (or olive oil)
1 large yellow onion, chopped
1-2 celery stalks (and leaves, if available), chopped
1 carrot, chopped
2 cloves garlic, minced
28-ounce can whole, peeled plum tomatoes
2 cups vegetable or chicken stock
1/2 cup coconut milk (or more as desired)
salt and black pepper to taste
Heat a pot or Dutch oven with the oil. Add the onions and reduce heat to medium-low. Add a pinch of salt and let the onions cook, stirring occasionally, until softened, about 6 minutes. Add the carrot and celery and cook, stirring occasionally, another 4-6 minutes. Add the garlic and cook another minute. Add the tomatoes and stock and increase heat to bring to a boil. Reduce heat to a low simmer and cover. Cook for 30 minutes.
Puree mixture by using an immersion blender or transferring (in batches if necessary) to a blender or food processor. Return to the stove and add the coconut milk. Add salt and pepper to taste and serve.
Cost Calculator
(for 4-6 servings)
1 onion: $0.25
2 celery stalks: $0.40
1 carrot: $0.25
2 cloves garlic: $0.10
2 tablespoons coconut oil: $0.50
28-ounce can whole plum tomatoes: $3.50
2 cups chicken stock (homemade): $1.00
1/2 cup coconut milk: $1.00
Total: $6.90
Health Factor







Five brownie points: It's not exactly a soup that eats like a meal, but as a side or starter course you could do much worse. There's been much said about the pros and cons of coconut milk — on the one hand, it's high in calories and saturated fats, but also provides lots of vitamins and minerals. This recipe uses a small amount of it, to keep its use in moderation. Coconut oils furthermore furthermore contain medium-chain triglycerides, which are linked to boosting energy levels. This recipe also uses canned tomatoes, which can be high in sodium, so go easy on the seasoning with this soup.
Green Factor






Four brownie points: Although it's all plant-based, vegetarian and vegan, so naturally lower on the carbon impact of the raw ingredients, much of this recipe involves canned pantry items that were imported (coconut milk and tomatoes).