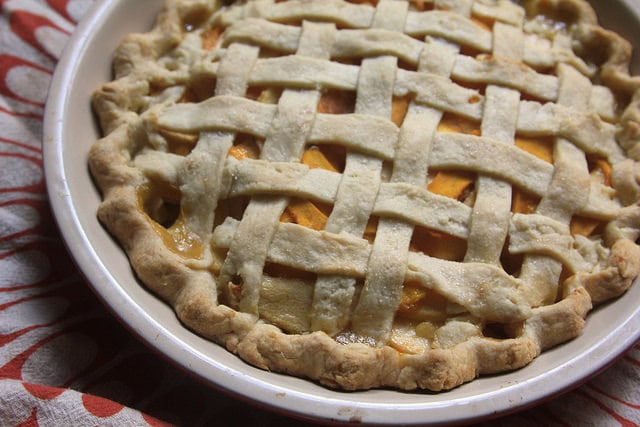 I've had an earworm for the last few weeks. Ever since finding a record called "Apples, Peaches, Pumpkin Pie" by Jay & the Techniques, the title track has been playing in my head nearly constantly. It's a great song—have a listen. This pie is not what the song is actually about, but I just couldn't shake the idea of making it. In an uncanny confluence of new seasonal fruits and old musical discoveries, apples, peaches and pumpkins all happen to be in season locally—starting from about the time that I bought this record. And they have been decorating my living room, side by side.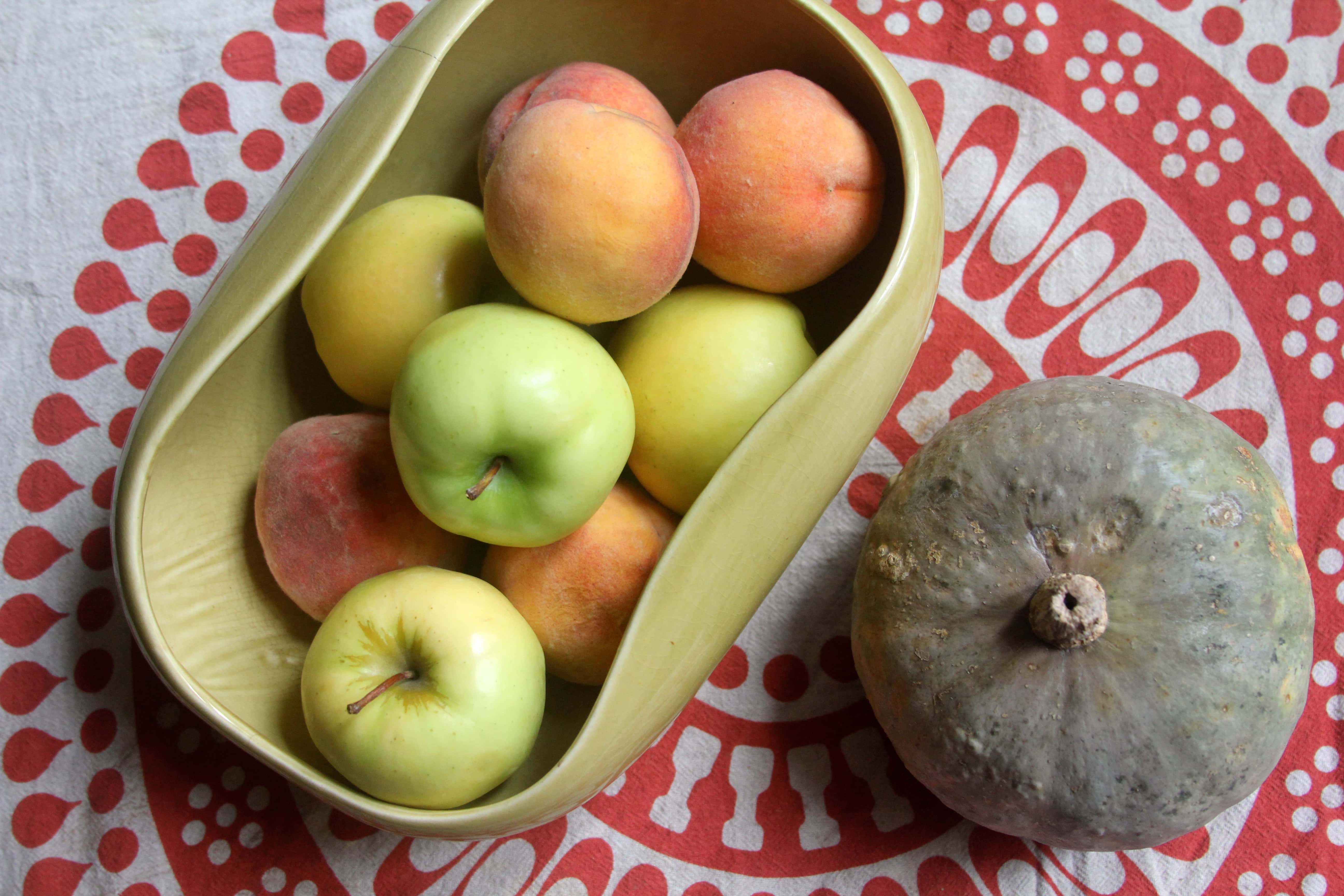 Aren't they beauties? I am big on buying bags of fruits and vegetables at the farmers market in the late summer, when there are just so many tomatoes, peaches and now apples overflowing from their crates. It's always a bargain and having too many of them (or a few bruised ones) just means that I'll have to make preserves or pies with some (or ice cream). My CSA has been delivering winter squashes since early August, too, starting with some delicata squash and then this… I'm not sure if it's a kabocha squash (aka Japanese pumpkin) or blue hubbard squash of a more flattened shape. But its flesh is very dense and flavorful, like a kabocha or kuri squash, another Japanese variety. It's pumpkin-y enough in my book, and these denser, sweeter winter squashes are great for pie-making because they're not as watery as sugar pumpkins. (Though I did see some large pumpkins of the Halloween doorstep variety at the Grand Army Plaza Greenmarket last weekend and it gave me a minor panic attack; summer can't be over yet! That can wait!)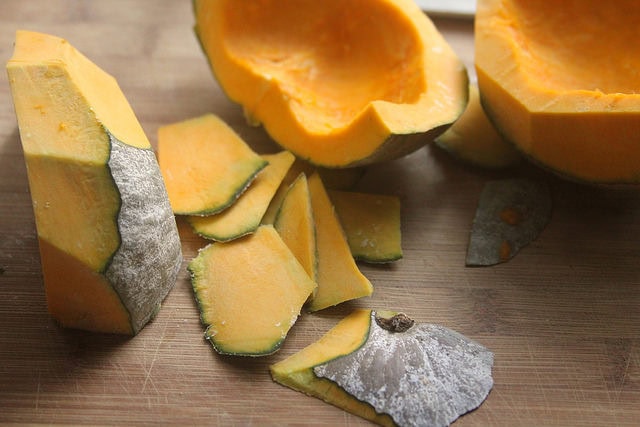 But just who are Jay & The Techniques, and why were they singing about apples, peaches, pumpkin pie? I am still a bit confused on the latter, but this band was a somewhat typical 1960s R&B pop group who emerged from Allentown, Pennsylvania. They are fronted by two African-American vocalists and backed by four white instrumentalists, so perhaps atypical in its biracial member makeup. But their sound is in line with R&B groups that are either all-black or all-white males from the time, and I love collecting records from such groups (Little Anthony and the Imperials' being perhaps my favorites) via Brooklyn street stands and flea markets. The long, lovely write-up on the back of this record describes Jay & The Techniques as an exciting, young upstart band. But it seems like they never quite gained enough notoriety in the R&B scene until it dissipated after the late 60s in order to propel them into new musical territories, and they disbanded in the mid-70s. So "Apples, Peaches, Pumpkin Pie" remains their biggest hit, which reached #6 in the Billboard Hot 100 chart in 1967.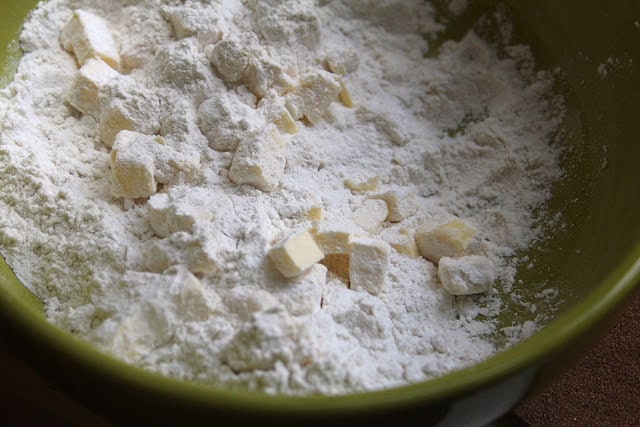 It's a song about playing hide-and-seek as kids. And reflecting back on those days, to a person whom the song's narrator wants to seek out as a wife. I had no idea that Apples, Peaches, Pumpkin Pie may be a slang term for the game of hide-and-seek, but that seems to be the case according to the lyrics—and rhythmically, this string of fruits sounds lovely to the ear as a chorus. It's a real earworm, I'm warning you!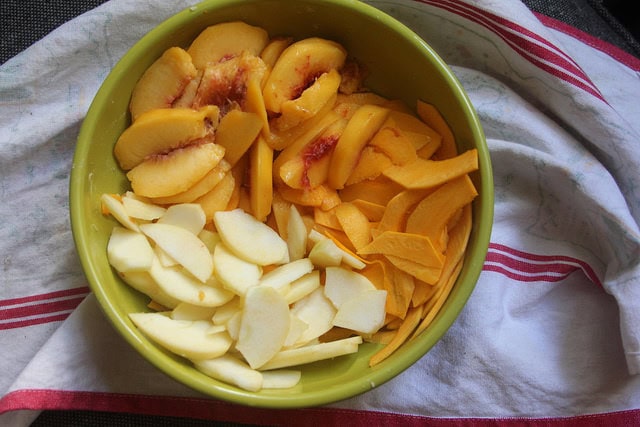 I agonized over how to make a pie with all three apples, peaches and pumpkins, to do this great song right. I considered making a basic, egg-set pumpkin base, and folding some sliced apples and peaches throughout it. But that chunky texture interrupting what should be like a custard just didn't seem very appealing to me. (Also, would the juices released by sliced fruits interfere with it setting properly? Probably.) I eventually determined to make very thin slices of fresh pumpkin or squash, along with less-thin slices of fresh apples and peaches, basically treating them all in the same manner as apples or other fruit for pies. The peaches' more juicy nature could make up for the less juicy nature of the squash, I figured.
I won't say that breaking down a fresh winter squash is easy, but I find it fun. After halving the squash, you'll want to scoop out the seeds. Then, placing the squash on its flat side on the cutting board, cut the skin off, turning the squash as you cut downward all around it. Once the skin has been sufficiently trimmed off, a mandoline will help create the fine shavings that will cook evenly, and soften enough while baking. In the end, the squash creates a textural contrast in the pie, holding firmer amongst the mushy sags of apples and peaches. They don't taste very prominent, but they do add to the structure of the filling. Add as much or as little of each to the squash-apple-peach mixture as you like, depending on what you like best.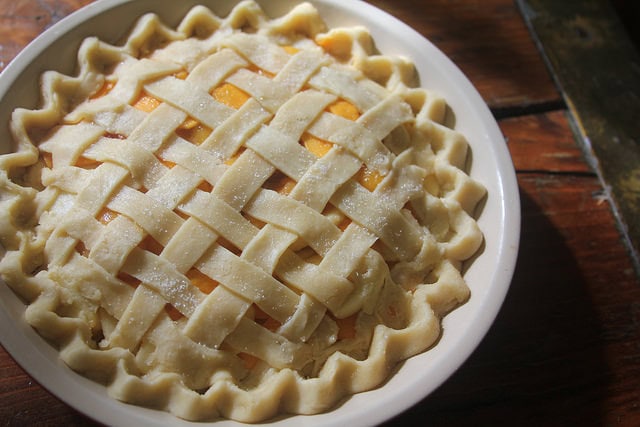 The squash and peaches that went into this pie had nearly the same color, but very different textures and flavors. Folded together with apples, this pie filling has a lot going on. You could say that the apples, peaches and pumpkins are playing a game of hide-and-seek in this pie. Go ahead and find them as you dig in. As Jay & The Techniques sang, "Who's not ready? Holler "I"!
Apple, Peach and Pumpkin Pie
(makes 1 9-inch pie)
for the crust:
6 tablespoons cold, unsalted butter, cut to small cubes
1 teaspoon salt
1 1/2 cups all-purpose flour
1-2 tablespoons cold water
for the rest:
2 large apples, preferably Granny Smith, peeled, cored and sliced
3 large peaches, peeled, cored and sliced
about 2 cups peeled and finely shaved winter squash or pumpkin (see more on breaking down the squash in post above)
½ cup sugar
1 tablespoon flour
1 tablespoon fresh lemon or lime juice
Combine the flour and salt and gradually cut the flour mixture into the butter with a pastry cutter or your hands, until the chunks of butter are no larger than a pea. Add a tablespoon of the water at a time until there is just enough moisture for the dough to hold together into a ball. Make one ball with about 2/3 of the dough mixture, and make one smaller ball with the remaining 1/3. Cover the balls with plastic wrap and let chill for 30 minutes (or up to a day ahead).
Combine the peeled and sliced apples, peaches and pumpkin in a large bowl and toss with the sugar, flour and lemon juice to distribute evenly.
Preheat oven to 375 degrees. Roll out the larger ball of dough (the 2/3 one) onto parchment or waxed paper. Carefully remove it and press it into a 9″ pie pan. Roll out the other, smaller ball of dough onto parchment or waxed paper into an oval shape. Cut strips about ½ – 1" thick into the dough.
Arrange the filling mixture into the pie pan. To make the lattice crust, carefully lift one long strip of dough and drape it across the center horizontally. Place another strip of dough across the center vertically. Place another strip of dough horizontally about an inch away from the last. Lift one of the sides of the vertical strip to place the next strip vertically about an inch away from it. Continue to arrange the strips of dough to create a weave pattern until all the dough is used up, and the pie is uniformly covered with a lattice. Place any remaining dough along the edges of the pie to even out the amount of dough across the edge, then crimp the edges. Sprinkle a little sugar on top of the pie before baking. Bake for about 45 minutes, or until top is golden-brown. Let cool for at least 15 minutes before serving.
Cost Calculator
(for 1 pie, or 8-10 servings)
6 tablespoons butter (at $6/lb): $1.00
1 1/2 cups flour: $0.50
2 apples: $1.50
3 peaches: $2.00
2 cups shaved winter squash: $1.00
1/2 cup sugar: $0.25
1 tablespoon lemon juice: $0.25
flour, salt: $0.10
Total: $5.60
Health Factor







Five brownie points: Hide a little veg in your fruit pie! Winter squashes are chock full of Vitamin A, C and have more fiber and much less sugars than the fruits. Smothering them with juicy, seasonal fruits is a great way to sneak them in. Aside from the fruits, you will get a good dose of sugar, although I use much less sugar than most recipes call for. Fresh, in-season fruit that's been tree-ripened like those you'll find at the farmers market have plenty of sweetness to go around.
Green Factor










Eight maple leaves: Making pie is a great way to use up slightly dinged fruit that's otherwise really flavorful, when in season. And, as mentioned, all these fruits (if you can call pumpkin/squash a fruit) are in season now. You could just as easily make an apple-peach pie. Or go with whatever you have too much of. All it takes are some pantry staples like flour and butter—and some time and effort—to make it work for any seasonal specialty.