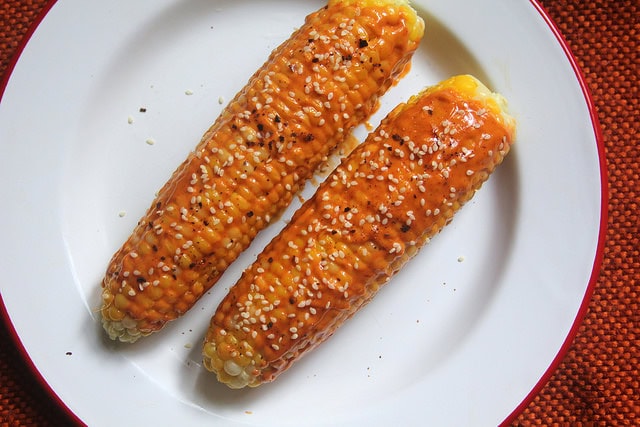 There's really nothing that parallels that burst of succulent kernels when sweet corn is in season, late summer. Just the noise of biting them straight off the cob—often uncontrollably fast—is a soundtrack to the season. Not to diminish the enjoyment of pure corn on the cob, maybe slicked with butter, but I've been slathering those juicy ears with a combo like this all summer: mayo mixed with some kind of spicy sauce. This one really hit the mark.

This dish is an obvious riff on elotes, a Mexican street food. Also a fixture of summer barbecues and Brooklyn bars, it's grilled corn on the cob layered with mayonnaise, sour cream, chili powder and cotija cheese, often squeezed with fresh lime. I often reduce that formula to just mayonnaise mixed with hot sauce—which is how this variation found its way.
Even if you've never had gochujang, a fermented bean paste essential to Korean cooking, you will likely fall in love with it quickly. Thick as tar, this deep-red (or deep-brown, if using the un-spicy variety) paste instantly adds serious flavor in tiny dabs at a time. If you're okay with a little heat, go ahead and use the one in the red tub or tube, laced with chilies. You can add as much or as little as you'd like.
Go slowly, though, as when diluting it in something else—thick mayonnaise for instance—looks can be deceptive at first. After several stirs, the intensity of a little smear of gochujang will become evident in color. Taste and adjust however you'd like. I was originally imagining that I'd want to add that squeeze of lime to this mixture, or perhaps rice vinegar, but I found that it didn't need anything else. A sprinkle of sesame seeds for texture and slight dusting of gochugaru (Korean chili pepper flakes) to top it all off is a nice touch, though.
I also simply steamed this corn, post-shucking. When you get a good ear of corn from the farmers market or CSA in the summer, I find that's the most hassle-free way to make it tender and perfect, especially if you're cooking indoors. Grilling may create smokiness to add to the depth of flavor here, but gochujang has plenty on its own. Isn't it great when the simplest solutions turn out to the best after all? That's the persistent song of summer cooking.
Steamed Corn on the Cob with Gochujang Mayo
(makes 4 servings)
4 ears of fresh sweet corn
1/4 cup mayonnaise
1/2 teaspoon (more or less to taste) gochujang
toasted sesame seeds for garnish (optional)
Korean chili flakes or gochugaru for garnish (optional)
Shuck the corn and remove silk and stems. Bring about 2 inches of water to a boil in a large pot with a lid, big enough to fit the corn. Insert a steamer rack (or a bootleg solution of a bowl with a plate placed on top of it) to the bottom of the pot, and assemble the ears of corn on top. Cover with lid and steam for about 5 minutes. Remove from heat and let the corn cool.
Meanwhile, mix the mayonnaise and gochujang very well, to create a uniform deep-orange sauce. Spread the sauce evenly all over the ears of corn. Sprinkle with the optional sesame seeds and chili flakes and serve immediately.
Cost Calculator
(for 4 appetizer-size servings)
4 ears corn (from CSA): $3.00
¼ cup mayonnaise: $0.50
1/2 teaspoon gochujang: $0.25
sprinkle sesame seeds & chili flakes: $0.10
Total: $3.85
Health Factor







Five brownie points: This feels like an incredibly rich, finger-licking good appetizer, but it's just a little mayonnaise on the surface. From the corn, you'll get fiber, potassium and other vitamins and minerals, and if you're concerned about calories, an ear of corn has about the same as an apple.
Green Factor










Eight brownie points: Just one in-season vegetable and a couple pantry staples. That's a good formula for eating seasonally and well. Although this won't be a complete meal, it can take the spotlight away from a main course. So don't skimp, and think about treating other vegetables that come your way in a similar manner.