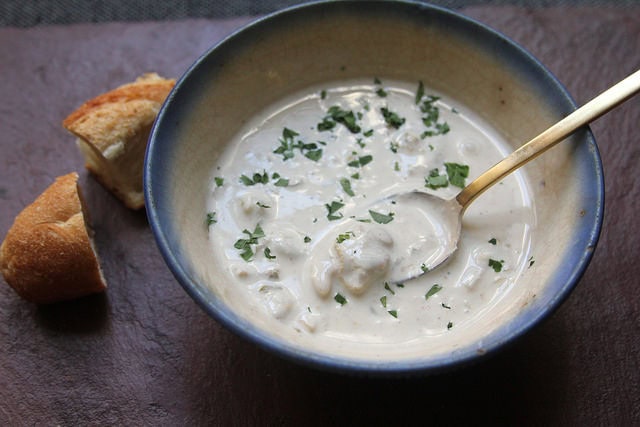 Let's start off a year of fewer regrets. It's 2018, a good time to start getting things done! It's about time to do things that have long been neglected and put off, like a laundry list of—well, laundry is one of them. And for some reason, I have never made New England-style clam chowder before. Let's knock this one off and keep on going strong.

If you had to ask me what my favorite soup is—and I was recently asked this, during an historic cold snap across much of the East Coast—I would have to say New England clam chowder (and I did). That creamy base, thick enough to coat a spoon like custard, tasting of the deepest depths of the sea. It is irresistible; if I could eat it every day, I probably would. But I prefer to savor this one as a rare delicacy, for fear of getting bored with it (such illogic is surely a sign of love). I take the time to taste every little slurp like it's the nectar of a beautiful flower and I am a bee in pure bliss.
But I was afraid to make this soup myself, perhaps because I was afraid that my efforts would never own up to the satisfaction that I'd enjoyed so many times—at seaside restaurants, or even from a warmed can of Campbell's. Let me dissuade any notions you may also harbor like this: It is incredibly easy to make yourself. And it will be far better than any New England clam chowder you've ever had before.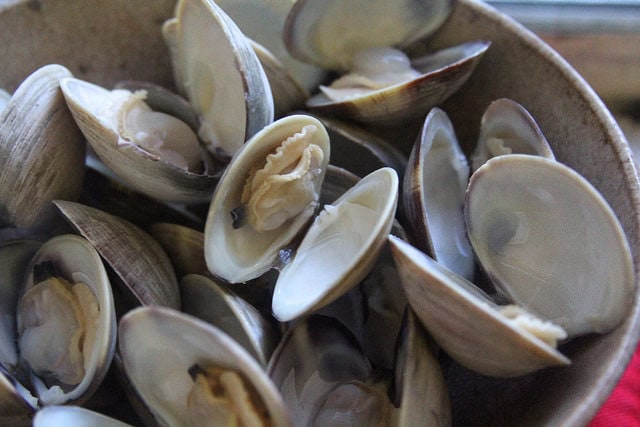 One misconception I had about making this classic chowder was the need for some kind of pre-shucked clams, which I don't often find. But a quick glance at a recipe from The Fisherman's Wife, the cookbook of my favorite local fishmonger, Blue Moon Fish, assured me that fresh, live clams were all that was needed. And those are readily available at any seafood market in my area. (Hear Stephanie Villani, aka The Fisherman's Wife, talk about the book on Eat Your Words!)
In fact, the substitution of live clams that are steamed open and plucked from their shells for canned or pre-shucked is a big reason why this chowder is far better, and much fresher-tasting, than any I've had. No surprise there, I suppose.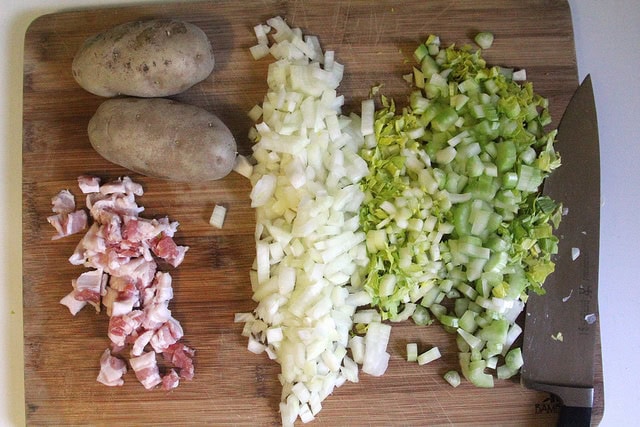 In addition to clams, this soup has a wonderful supporting cast of ingredients and I do not suggest leaving any of them out. They each shine separately—potatoes adding fluffy starch, celery and its leaves for herbal zing, bacon for smoky undertones—and come together with such harmony. Finally, milk, cream and butter is stirred in towards the end to envelop everything with richness. Feel free to adjust the ratio of cream and milk, using just milk for a lighter, thinner broth, or all cream for a heavier one.
To ensure that the soup would be as thick as my memories of favorite New England clam chowders recall, I stirred in some flour towards the end of sauteeing the vegetables, so that once the clam liquid was added, the broth was already a little thick and opaque. This is just a preference (and a deviation from Stephanie's recipe), and you can skip the flour part if you don't mind a thinner soup with just as much flavor.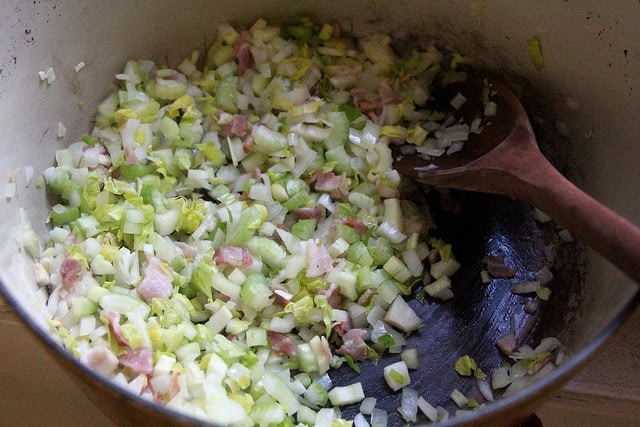 I had my friends Karol and Dave over for dinner, and served this clam chowder as the first course. On a whim, my boyfriend and I baked homemade sourdough bread "bowls" to serve the soup in (again, recalling favorite New England clam chowder memories). We scooped them out like pumpkins, and poured the soup in. It was so much fun scraping the bread as it became soggy into spoonfuls of the soup. Everyone filled their bowls up with seconds of soup, and then everyone ate every last bit of the bread bowls—less dishes for me to do! There was a whole roasted fish in the oven to eat next as the main course, but we'd all killed our appetites on the clam chowder and could barely peck at it. This soup was just too irresistible.
So here's a wellness tip for 2018: Cook something you really love. Even if you only make it once, and even if you think you can't pull it off for whatever reason. Just knowing that I could create one of my favorite foods—let alone that it turned better than any I can remember—was the most positive experience of my year thus far. Feed your positivity with an old favorite food. Here's mine.
New England Clam Chowder
(makes about 6 servings)
2 lbs live littleneck clams (about 20)
3 cups water
2 strips bacon (about 2 oz), finely chopped
1 medium-sized onion, finely chopped
2 celery stalks and leaves, finely chopped
2 tablespoons butter
2 tablespoons all-purpose flour
2 medium-sized potatoes, peeled and finely diced
1 cup whole milk
1 cup heavy cream
salt and pepper to taste
Ask your fishmonger if the clams have been soaked to remove sand; if not, or if in doubt, then scrub the clams well and cover with cold water for 1-2 hours, changing the water once.
Drain the clams. Place in a pot with the 3 cups water and heat over a high flame, covered. A couple minutes after the clams have begun boiling, remove lid to check if they've all opened. If not, cover and check in another minute (cooking time depends on the size of the clams). Once all the clams have opened, remove from heat and transfer the clams with tongs to another bowl to cool, making sure to reserve all the cooking liquid in the pot.
In a large, heavy-bottomed pot or Dutch oven, cook the bacon over medium-high heat for 2-3 minutes, or until almost cooked, stirring occasionally. Add the onion and celery, along with a pinch of salt and pepper. Add the 2 tablespoons of butter and reduce heat to low. Cook, stirring occasionally, until the onions are translucent and softened, about 6 minutes. Stir in the 2 tablespoons of flour and continue cooking, stirring, for another 1-2 minutes. Add the reserved cooking liquid from the clams and stir well. Increase heat to high to bring just to a boil. Add the potatoes, reduce heat to a simmer, and cover. Let the soup cook, stirring occasionally, until the potatoes have softened, about 20 minutes (if chopped to a fine dice).
Meanwhile, remove the clam meat from the shells with tongs and set aside. Discard the shells, but be sure to save any tasty liquid and add it to the soup. If desired, or if clams are especially large, you can chop the meat. But you can (and I suggest to) leave them whole.
Once the potatoes are fully cooked, add the milk and cream to the soup, and warm thoroughly under low heat. Do not thoroughly boil the soup once the milk and cream have been added (though a little bubbling is fine). Stir in the clams, and taste for seasoning, adding salt and pepper to taste. Serve immediately.
Cost Calculator
(for 6 servings)
20 littleneck clams (at 0.75 cents each): $15.00
1 onion: $0.25
2 celery stalks with leaves: $0.25
2 potatoes: $0.50
2 strips bacon: $1.00
2 tablespoons butter: $0.50
1 cup whole milk: $0.50
1 cup heavy cream: $0.50
Total: $18.50
Health Factor







Six maple leaves: It's a rib-sticking rich soup, at least the way I prefer my New England clam chowder. But you can always adjust the level of cream or milk to your liking (or omit it entirely, in the manner of some regional clam chowder preferences). Bacon or salt pork was traditionally added to clam chowders because people didn't think that clams themselves contained protein—at least that was what I was told by the Brooklyn Chowder Surfer Ben Sargent a long time ago. Whatever the cause for their addition, I think they lend a great complement in terms of flavor. As for clams, they are actually high in protein and relatively low in fat, with many beneficial minerals like iron and selenium as well.
Green Factor






Five maple leaves: Fresh clams are such a plentiful, sustainable, and inexpensive seafood option that I'm not sure why so many recipes call for using canned ones. But I guess the idea of cooking them can give many pause. Try it out once and be rewarded, especially if using littleneck clams, which are small and cook very quickly. In addition to clams, this dish incorporates not-so-sustainable bacon, and plenty of dairy. While all-season-friendly, these ingredients come with a much bigger carbon footprint. At least here they play supporting, rather than starring roles.