Good winter carrots are like a good idea left alone for a while as it silently, snugly, digs deeper. At least, I think this is what happens with ideas that I leave beside for a whole season—or year perhaps. They develop and grow more legs—or roots—as time goes by, so that when you're ready to finally pull them up, they'll be more matured and robust. Even if you did not consciously think about them.

There are a few good spring vegetables to be found in this region now that April is coming to a close. Asparagus have sprouted, and the wild things like ramps and fiddlehead ferns have made their annual appearance (and I had my first annual sighting of Wildman Steve Brill leading a foraging tour in Prospect Park a couple weeks ago).
But good carrots are still to be found, having been locked up in winter storage while their sugars concentrate and flavors deepen (much like coarse, over-wintered spinach). The months have endowed these carrots with a dusky surface but vibrant orange flesh thick with fibers. Let's enjoy them as they are—gently cooked and slightly perfumed with something that equally took months to ripen to its full flavor potential: preserved lemons.
I brought these carrots to an Easter party and lo and behold, they were the only vegetable on the table. So I can't take much credit for them all being eaten up (maybe the mischievous Easter bunny helped out?). But they were a colorful contribution to the deviled eggs, ham, lamb and more egg dishes that showed up. I think they can be an easy side dish to make one night and save for many leftovers throughout the week. It can be served warm, hot or cold, immediately or not, and you can futz and omit and add with the spices used.
Carrot salads are a staple of Moroccan homecooking, and that region is where this dish takes its inspiration. When I gave a jar of my own (under-fermented, in hindsight) preserved lemons to a part-Moroccan family I was visiting one night for dinner, they were preparing a carrot salad pretty similar to this. And I found two somewhat similar carrot salad recipes in the Moroccan section of Claudia Roden's cookbook, Arabesque.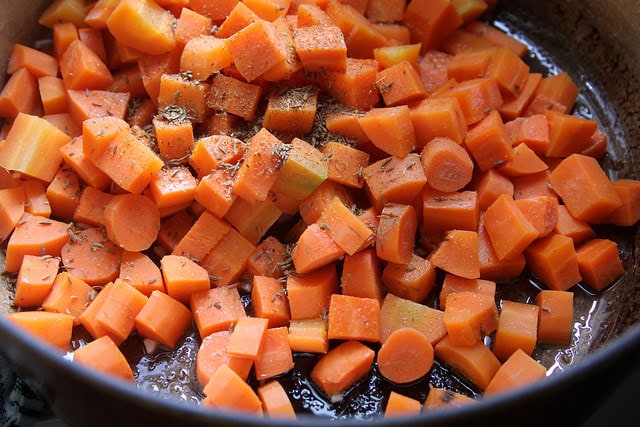 No need to worry about having a full spice cabinet. I chose just one dry spice for these hardy, tasty carrots: cumin. If you have whole cumin seeds, toast them up in a dry pan for a few seconds until wonderfully fragrant, before breaking open a bit with a mortar and pestle (or back of a spoon against a small bowl). It brings out the most from the least bit of ingredients, and I think it's a fun task to get you (and your kitchen) in the right, spicy mood. After a quick boil, chopped carrots are briefly sauteed with the cracked cumin, minced garlic and olive oil. After it cools a while, stir in the preserved lemon peel (you can get it in ethnic or big grocery stores like NYC's Kalustyan's if not preserving your own), only the yellowest parts, slivered.
That's basically it—except for a little garnish of fresh herbs. Mint seemed a fitting touch, to signal a changing of the gardens to spring.
Carrot Salad with Cumin, Mint and Preserved Lemon
(makes 4-6 servings)
1 lb carrots, peeled and diced or sliced to about 1/2″ pieces
1/2 teaspoon cumin seeds (or 1/4 teaspoon ground)
1 clove garlic, minced
2 tablespoons extra-virgin olive oil (plus more for finishing, optional)
juice of 1 lemon
about 1/4 preserved lemon, completely scraped of white pith and pulp to only the yellowest skins, slivered
salt and freshly ground black pepper to taste
handful fresh mint leaves
Bring a pot of salted water to a boil. Add the carrots and cook for 3-4 minutes, until the pieces are still firm but crisp-tender. Drain.
If using whole cumin seeds, heat a dry pan and add the cumin seeds. Heat for about 30 seconds, tossing or shaking the pan occasionally, until the seeds are very fragrant. Remove from heat immediately and transfer to a mortar and pestle or small bowl. Gently crush until most of the seeds are just cracked. (Skip these steps if using ground cumin.)
Heat the olive oil in a large pan and once hot, add the garlic and the toasted, cracked cumin seeds (or ground cumin). Add the carrots and a hefty pinch of salt and pepper. Stir and cook for 2-3 minutes, until fragrant and thoroughly mixed. Transfer the carrots to a bowl. Stir in the lemon juice, slivered preserved lemon, and salt and pepper to taste. Add optional extra glugs of olive oil. Garnish with the mint leaves and serve. (Can be stored up to week and served cold or room-temperature.)
Cost Calculator
(for 4-6 side servings)
1 lb carrots: $2.00
1 lemon: $0.50
1/4 preserved lemon (homemade): $0.25
about 3 tablespoons olive oil: $0.25
1/2 teaspoon cumin, 1 clove garlic: $0.25
handful fresh mint (from houseplant): $0.25
Total: $3.50
Health Factor





Although it can't suffice as a full meal, this all plant-based side is a great way to get your oranges. That means Vitamin A galore, along with fiber, potassium, Vitamin C, Vitamin K and much more.
Green Factor









Seven maple leaves: Mostly carrots, stuck in cold storage over the winter and looking ragged at the farmers market. This is a great way to use up slightly old, less snackable-looking carrots in your crisper drawer. Extra points if you make your own preserved lemons from scratch, although in this Northeast region, all lemons will be shipped in from afar.