Blooming heads of brassica make such a large, lovely impression that I'm not sure why they're not kept intact when serving more often. They do take a while to cook—especially in the case of dense, crunchy cauliflower. It's like a small planet of fiber. You can save an hour by cutting pieces down to equal size before roasting (and that is the preferred thing to do with cauliflower, to bring out its natural sugars and crisp its peaks with texture). But, you can also leave it ceremoniously whole, like a spring offering to the gods—if gods today were plant-based diet-leaning and fond of globally-inspired flavors in classic American dishes.

Because this quiche is just that. And, since right now we're straddling two of the largest religious ceremonies of the Western calendar, Passover and Easter, maybe it's an appropriate time to make it an offering to god. Or, just your friends.
I was inspired to do this when I purchased a cauliflower head that was so tight and pure white. It seemed a shame to break it into a million florets. It would be like taking a peony and ripping off the petals. So I did this. I had no idea how it'd work, and next time I attempt this, I will bake it in a deeper pie pan, possibly a spring-form cake pan so that the cauliflower head is not sticking out from the egg custard quite so much.
But it was a fun deviation from the average quiche, or the increasingly familiar spice-rubbed roasted cauliflower side dish.
Then there is another curveball—the crust. Its secret ingredient is "coconut flour" from Bob's Red Mill, a new flourstuff that's much finer than shredded coconut, but is essentially just that—coconut meat, ground up. It has the texture of very light sand or very coarse talcum powder, and it wants to fly out of its bowl with any slight breeze or certainly with a sneeze.
It has an amazing toasted-coconutty smell, too. But it was a little too powdery to replace with wheat flour entirely in a basic pie pastry crust. I tried a version using purely coconut flour in lieu of all-purpose flour and butter and while it held together surprisingly and was tasty it turned out kind of chalky. So instead I recommend using 1 cup of AP flour with 1/2 cup coconut flour, as you'll get the flavor and proteins from the coconut while still retaining a workable, flaky pastry.
As for the cauliflower head, you can spice it up with any combination of stuff in your spice cabinet—or use your favorite blend of curry powder. Warm Indian spices, coconut and cauliflower go together like bacon, egg and cheese (a la Quiche Lorraine) to me. But if that's not floating your boat, skip the spices altogether and season it with just salt and pepper for a simpler taste.
You'll need to start baking the cauliflower long ahead of time—about 40 minutes, depending on the size of the head. Tenting it with foil so it steams a little in the oven is a good idea. Once half-submerged in the egg mixture in the quiche, the cauliflower can cook a bit longer and the exposed top will get a bit crisp. But you'll want it to be completely soft throughout—this is not the time for crisp-tender cauliflower. It's best that the cauliflower meat be soft and silken, almost like the eggs themselves.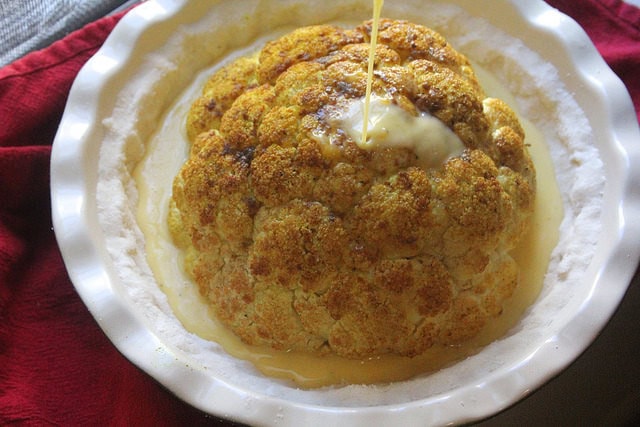 This dish really brings out the "flower" in cauliflower. If whole-hog or whole-lamb roasting is not exactly your thing, then try going whole-cauliflower or broccoli sometime. Yes, I made another quiche using a broccoli crown.
This was more or less a control-test quiche in case the coconut-flour cauliflower one went horribly wrong. If you're making something for the first time, especially if it's for company, it's always a good idea to have a safe control-test dish as backup. I added cheddar cheese to the broccoli quiche and none of the spices like in the cauliflower. (Note that it'll take much less time for the broccoli to pre-roast in the oven before assembling in the quiche than cauliflower, but it will also want to fall apart more so than it.) Together, these quiches went to a baby shower over the weekend, like bobbing baby heads in brightly colored spring bonnets. Okay maybe that was gross. The birth of a new, wacky brunch food, at least.
Spiced Cauliflower Quiche with Coconut Flour Crust
(makes 1 9-inch quiche, or about 8 servings)
for the crust:
1 cup all-purpose flour
1/2 cup coconut flour (see from Bob's Red Mill)
1/2 teaspoon salt
6 tablespoons cold, unsalted butter, cut to small cubes
3-4 tablespoons cold water
for the filling:
1 large head cauliflower
¼ teaspoon turmeric
¼ teaspoon cayenne pepper
¼ teaspoon cumin
¼ teaspoon coriander
¼ teaspoon black or white pepper
½ teaspoon salt
2 tablespoons coconut oil (or substitute with olive oil)
6 large eggs, beaten
½ cup whole milk or half-and-half
½ teaspoon salt
¼ teaspoon black pepper
Make the crust: Combine the flours and salt in a large bowl and add the small chunks of butter. Cut in the butter using your fingers or a pastry cutter until no butter pieces are larger than the size of a pea. Add the cold water a tablespoon at a time just until you can fold the mixture into a ball, adding another tablespoon or so if necessary. Cover the ball with plastic and chill for at least 30 minutes.
Preheat oven to 400 degrees. Trim any leaves from the cauliflower head. Using a large chef's knife, cut an even slab from the base so that the cauliflower is flat on the bottom. Rub the head with the spices, salt and oil thoroughly. Place on a sheet of foil and fold the foil to tent the head partially. Place on a baking sheet and cook for about 40 minutes, or until the cauliflower feels tender throughout (it will continue baking in the quiche, but should be fairly done at this stage). You can remove the foil tent during the last 10 minutes of pre-roasting for a more golden crust.
Reduce oven heat to 375 degrees. Take out the pastry ball and roll it on waxed paper until it's about 10 inches in diameter. Peel carefully into the inside of a 9" round pie pan (alternately, you can roll it out somewhat then transfer to the pie pan, and press it out into the bottom of the pan with your fingers.)
Lightly beat the eggs, milk or half-and-half with the ½ teaspoon salt and ¼ teaspoon pepper. Place the roasted cauliflower head in the center of the dough in the pie pan. Pour the eggs over or around the head. Place in the oven and bake for about 40 minutes, or until the crust is lightly browned. Let cool several minutes before serving.