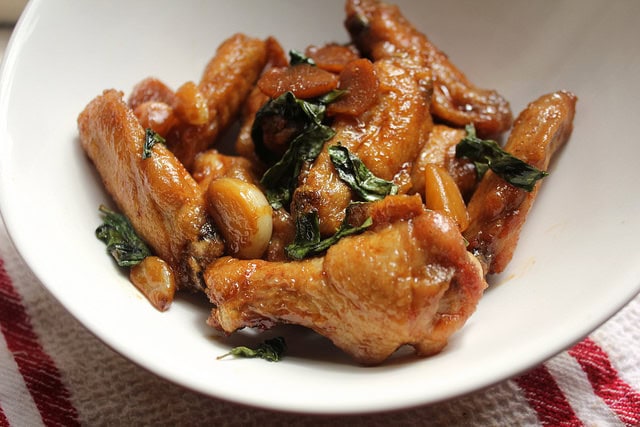 For the cookbook release of The Food of Taiwan, I threw a number of dinners and edible events. This was served at one of them, a pub menu-themed makeover of some classic Taiwanese dishes. Other dishes included clams braised with Taiwan Beer instead of rice wine with garlic, chilies and basil, and the famous Taiwanese "hamburger" or gua bao in a grilled slider bun instead of steamed bun. When Superbowl Sunday rolled around the other week, I thought of making a sticky-sweet and deeply savory Three Cup Chicken-inspired wings to bring to a party. Then I realized that I'd done this already.

Even if the right moment has passed—and today is Valentine's Day no less—this dish is too good not to share. Besides, what's not sexy and V-day appropriate about smearing wing sauce all over your face and licking it off your fingers? And, one of the signature ingredients in this dish is basil, a classic aphrodisiac.
The thing about San Bei Ji (literally, "Three Cup Chicken," which refers to equal parts soy sauce, rice wine and sesame oil) is that it can be very oily thanks to all that sesame oil. Whole garlic cloves and big slabs of ginger are practically deep-fried in this flavorful oil to start out. The chicken is more shallow-fried rather than "browned" or "seared" in it next. Then rice wine and soy sauce are added to make it, ultimately, a braise. And since it calls for small, bone-in pieces of chicken, wings are a great cut to use only to spare you from hacking a cleaver through chicken pieces with bone.
The thing about wings you usually eat at a Superbowl party is that they're deep-fried, then tossed in sauces afterward—Buffalo wings-style, that is. So if you don't have a deep-fryer or the desire to go full-on deep-frying, this is a good alternate. Albeit, it has nothing to do with the flavor profile of Buffalo wings (for that with an Asian twist, just turn to Buffalo Chicken Dumplings).
If you're like me and could gnaw at some wings any day or non-occasion, then having some leftover wings that are maybe room-temperature or even cold is a great thing indeed. The flavorful sauce will have seeped into the chicken more the longer you let it sit. So I'd recommend taking this to a party and perhaps heating it up again right before it's served, or making ahead of time. If America likes chicken wings enough to eat a billion of them on Superbowl Sunday, why not other days of the year?
It's also a dish that I'm revisiting while gearing up for my #ImmigrationIsTasty post next week. It's Taiwanese in origin, which is the place my mother immigrated from. But as it's been transplanted and adapted for certain penchants or wing-worthy occasions in the States, it's also a novelty I don't think I've seen nor would have thought to explore before.
Three Cup Chicken Wings
(makes 4-6 appetizer-sized servings)
2 lbs chicken wings, separated into wing and drummette pieces
1/2 cup toasted sesame oil
1-inch piece ginger, skin peeled and cut to 6-8 thick discs
6 whole cloves garlic, peeled
1 cup Chinese rice wine for cooking (such as Shaoxing), or substitute with dry sake
1/4 cup light soy sauce
1 tablespoon sugar
1 bunch fresh basil leaves
Heat the sesame oil in a large pan or wok and add the ginger and garlic cloves. Let sizzle, stirring occasionally, until fragrant and the oil is very hot. Add the chicken wing pieces, preferably spread out so each of them has contact with the pan. Don't move for about 30 seconds. Then gently turn the wings using tongs or chopsticks to fry the opposite sides. Let cook about 1 minute longer to lightly brown each side, then add the rice wine to the pan. Bring the wine to a boil and gently unstick any chicken, ginger or garlic pieces from the pan. Add the soy sauce and sugar and stir. Reduce heat to a simmer and cook uncovered, stirring every few minutes or so, until the chicken is cooked through and the liquids have nearly evaporated. Add the basil leaves and stir or shake around the pan until the basil is completely wilted. Transfer to a serving dish and enjoy immediately.
Cost Calculator
(for 6-8 appetizer servings)
2 lbs chicken wings: $10
1-inch piece ginger: $0.10
6 cloves garlic: $0.25
½ cup sesame oil: $0.50
1 cup rice wine: $0.50
¼ cup soy sauce: $0.25
1 bunch basil: $2.00
Total: $13.70
Health Factor








Six brownie points: Chicken wings are fun-to-eat vehicles for tasty sauces and seasonings, thanks to that amplified ratio of surface area to meat. With skin on, they have a hefty ratio of fat to meat as well. So eat in moderation, as a special treat. At least pure chicken wings won't leave you wondering what's inside them like heavily processed chicken foods, like nuggets.
Green Factor





Four maple leaves: Nothing much to see here but some chicken. Wings are usually an economical cut to buy, and I usually can find some wings in my freezer, saved up from whole chickens I butchered for something less wing-appropriate. (They're great for making stock with, too, if you can't garner enough of them to make a platter of wings with.) The rest of the ingredients are pantry staples—soy sauce, rice wine and sesame oil—that I'd recommend having if you ever want to cook something Taiwanese or Chinese again.