This recipe is really 3, 4, or 7 different recipes bundled into one package:
1. You could make just the spicy cucumber salad.
2. You could make just a spicy eggplant salad.

3. You can make a spicy eggplant and cucumber salad.
4. You can make just spicy cold noodles.
5-7. And you can toss those noodles with either one of, or both, these chilled salads.
But if you have eggplant and cucumber, as we have much of in the summer, then you should go for the dynamic duo—with cold noodles (or without as a side dish). What a duo they are. I wonder why eggplants and cucumbers aren't seen too often prepared together. It's not a classic pairing like either one of those ingredients with tomatoes as a partner: eggplant caponata, for instance, or cucumber-tomato salad.
Tomatoes are sort of a bridge between these two summer veggie extremes. As far as vegetables go, eggplant are considered meaty and substantial, associated with heartier fare (e.g. eggplant parm). Whereas cucumbers are as light, cool and crisp as… well, its name. They're also served fresh, never soft and rarely warm. And eggplants are typically cooked until mush.
We have another yin-yang dish. And if you're really into that thing, all meals should truly be in balance like that.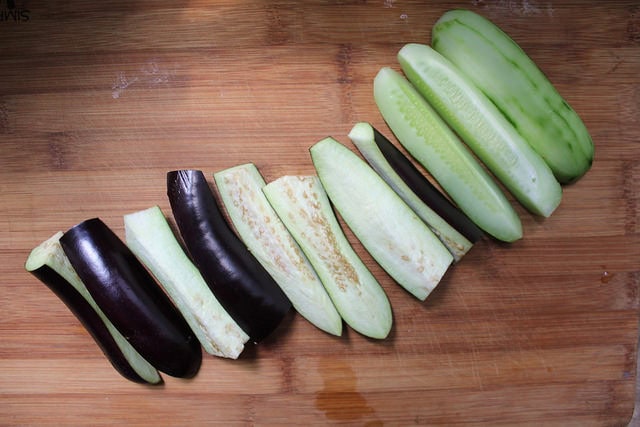 Is it necessary to use Asian eggplants when making this dish(es)? Not at all. You can cut pieces with any eggplant to soften by steaming them simply, as I've done here. But I will maintain that the higher skin-to-flesh ratio of Asian eggplants is ideal for making bite-size pieces — actual pieces, rather than congealed mush.
Then, if you don't mind a more messy, loosey-goosey eggplant salad, that's totally fine, too. Maybe it'll become more saucelike when you stir it with your noodles.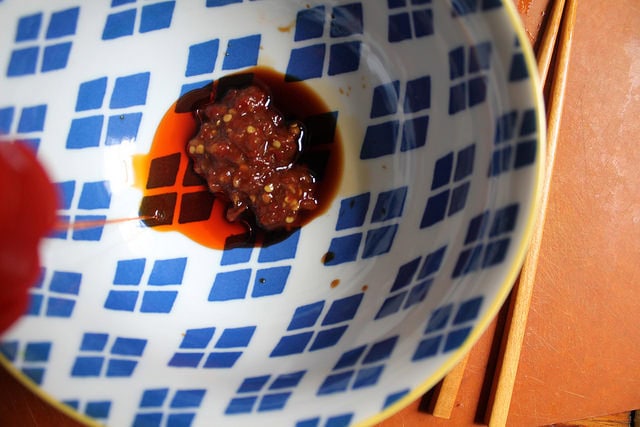 With that, there are no absolutes when it comes to mixing up the sauce. I used sambal olek, a tangy Vietnamese chili and garlic sauce. It has a fresh-tasting kick and vibrant color, which is nice to have in the summer. You can use another green capped Vietnamese sauce that everybody knows as Sriracha, which has a smoother body and a sweeter, more "cooked" flavor, I think. Along with that, you'll want to add some oil to glisten the noodles and permeate its flavor throughout. I went with a few dollops of a chili-infused sesame oil; you could also add just plain sesame oil and more heat to your liking instead. Then, just add vinegar and soy sauce to taste.
Steaming eggplants is an easy, relatively hands-off process. Screw the bamboo steamer—you just need to find a pot with a lid and a plate that fits inside it. Something to prop up that plate inside the pot to elevate it from the boiling water underneath is necessary; an upturned bowl usually does the job. Cooked otherwise, eggplants usually soak up so much oil in order to soften and not burn; when they're steamed, they soften through quickly, especially if you chop them to small pieces first.
No need to cook the cukes, though. Those crisp slices can slip into the pool of redness which is your sauce immediately. Once the eggplants are sufficiently steamed through and cooled a bit, they'll join them here.
Then it's just a matter of cooking some noodles to drain and rinse cold. I'm not opposed to linguine, soba, or curly instant ramen noodles here. I used some yellow chow mein noodles from my local deli, which has a lot of ingredients popular to Caribbean fare (like chow mein noodles are, incidentally).
At once refreshing yet savory enough to satisfy for a meal, this is one good bowl o' spicy noodles. Mix and match with it as the occasion suits.
Cold Noodles with Spicy Eggplant and Cucumber Salad
(makes about 4 servings)
1 lb dried noodles, such as chow mein or another thick Asian wheat noodles, or linguine
1/2 – 3/4 lb eggplant, preferably a long Asian eggplant variety, ends trimmed and cut to 2″ long wedges or pieces about 1″ thick
1 medium-sized cucumber (or 2 smaller Kirby cucumbers), peeled, halved, and cut to thin, 2-inch wedges (removing excess seed pockets if necessary)
1-2 tablespoons sambal olek (or substitute with another chunky chili sauce)
about 2 teaspoons soy sauce (or more to taste)
1 tablespoon rice vinegar
1 tablespoon sesame oil
1 tablespoon red chili oil (or substitute with more sesame oil)
1/2 teaspoon sugar (optional)
1 teaspoon toasted sesame seeds (optional)
finely chopped fresh scallions, cilantro or Thai basil for garnish (optional)
Cook the noodles according to the directions on the package; drain. Immediately rinse with cold water and toss until noodles are chilled. Let dry a few minutes, or while you prepare the rest of the ingredients.
Fill a large pot with a lid with about 1 inch of water at the bottom. Bring to a boil. Place an upturned bowl or a steamer rack at the bottom of the pot. Arrange the eggplant pieces on a plate that fits inside the pot. Sprinkle the eggplant pieces with salt and place in the "steamer" and cover. Let cook for 5 minutes. Inspect the eggplant, and if the pieces give away easily when touched, remove from the steamer, drain any liquids from the plate, and let cool.
Combine the soy sauce, rice vinegar, sesame oil, red chili oil, and optional sugar and sesame seeds in a bowl. Adjust the seasoning to your preference, adding more soy sauce or sugar as desired. Add the cucumber pieces and toss to coat thoroughly. Add the cooled eggplant pieces and fold in gently.
Divide the chilled noodles amongst serving bowls; top each with the dressed eggplant and cucumber mixture. Top each with the optional herbs, and serve immediately.
Cost Calculator
(for 4 servings)
1 lb dried noodles: $3.00
2 Asian eggplants (from my CSA): $2.00
2 Kirby cucumbers: $1.00
1 tablespoon chili sauce: $0.25
2 teaspoons soy sauce: $0.10
1 tablespoon rice vinegar: $0.25
1 tablespoon sesame oil: $0.25
1 tablespoon chili oil: $0.25
Total: $7.10
Health Factor







Five brownie points: Not bad at all. But not particularly bursting with super foods, either. That's okay. You're getting a lean, full meal from all plant-based sources that's as tasty as can be. Slurp it up and feel refreshed (not heavy, not gross) afterwards.
Green Factor








Six maple leaves: Cucumbers and eggplant are such easy garden veggies to grow, and easy to find at the height of summer from a nearby farm. The seasonings (chili sauce, soy sauce, sesame oil) might be imported, but the pantry staples can help make any such local, low-carbon veggie satisfy without the need for meats.