This is going to sound terrible. But until today, I had been prejudiced towards vegetables based on color. I adored deep colors. I bought produce according to my preconceived notion of their superiority alone. And when I passed the lowly, pale white cauliflower, I turned up my nose without giving it any further thought and went, 'peh.' And reached for a more becoming candidate in the Brassicaceae oleracea family, like Brussels sprouts. I was a vegetable bigot.

Not surprisingly, I've had my eye on those punky purple shocks of cauliflower heads that have been animating Farmers' Markets these past few weeks. I could just see a lavender-hued soup brewing away with one of those. Mmm. Purple. But for some reason last Wednesday, all the purple heads weren't looking so fresh — not nearly as unblemished and crisp as the white ones beside them. Bah! I said, like a bushy-mustachioed Hitler. Don't they have any others? What about orange cauliflower, what about even yellow? Anything, please, but this sickly snow white. Well, as you can probably figure by now, the answer to that dilemma was no.
Immediately then, I softened. I took another look at the Plain Jane cauliflower. I just don't have much need for it, I tried to reason. I didn't think it fitting for the quickly stir-fried-with-garlic applications that I treat most vegetables to. I couldn't imagine tossing it in a pasta primavera (that dull contrast with the color of pasta… ). I hadn't yet heard of mashing it up as a "fauxtato," or low-carb substitute for potatoes. I suppose I could have added it raw to a salad, but that somehow seemed pointless. Sadly, I realized that each one of these judgments had been based solely on color. It was a shameful moment, to say the least.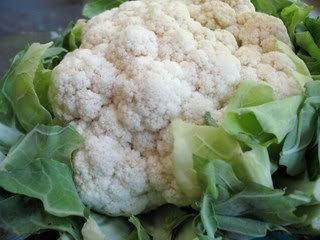 'flower power
So with a heavy sigh, I chose a crisp white head of cauliflower and decided to give it a go.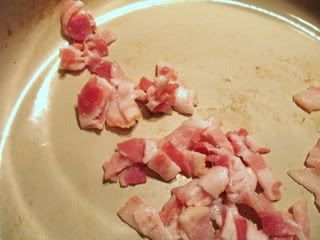 That is, with the help of some bacon.
Shallots, onion, white wine, butter and lots of cream. I think we're off to a beautiful start. Cream of anything soup is an instant winner for me. Especially with vegetables that aren't especially sweet — broccoli, spinach. Cauliflower seemed like another good match, even if it's exactly the same color as cream.
Though cream soups are known for being incredibly heavy and rich, I find that when using a dense vegetable, like cauliflower or broccoli which adds to the body of the soup, it's easy to go light on the heaviness without taking away flavor. So in this recipe, three orders of creaminess are offered as options — whole milk, half-and-half and heavy cream. This time around, I stayed in the middle range with the half-and-half. I also added a couple strips of bacon for a smoky enhancement to the cauliflower's mild sweet flavor. Depending on how fresh your cauliflower is, you may want to omit this to fully experience its flavor.
Cream of Cauliflower Soup
(makes 6-8 servings)
1 head cauliflower, trimmed of stalks and chopped to pieces
1 medium onion, chopped
2 shallots, chopped
1 garlic clove, chopped
1/2 cup dry white wine
3 cups chicken or vegetable stock (preferably homemade)
2 strips bacon, chopped
1 cup half and half, whole milk or heavy cream (or any combination, depending on desired richness)
2 tablespoons butter
1 bay leaf
salt and pepper to taste
2-3 tablespoons fresh dill or chives, chopped
Heat a large soup pot or Dutch oven over a medium flame. Add the bacon, and stir for a minute. Add the onion, shallot and garlic. Stir occasionally for 5-7 minutes, until softened. Add the white wine, and raise heat to medium-high to bring to a boil. Add the bay leaf, cauliflower and all the stock and season with a few pinches of salt and pepper. Bring to a boil, stirring once or twice. Once it begins to boil, turn heat to low, cover and let simmer for 20-25 minutes.
Open and turn off heat. Try to remove that bay leaf. If using a handheld blender, puree until thick and somewhat uniform in texture. I like to keep it a little bit chunky. Or, if you have a food processor, let soup cool for 10 minutes or so, then work in batches to puree. Once the soup has been blended, return to the pot and cook over medium-high heat. Add the cream, half-and-half or whole milk. Taste for seasoning, adding salt and pepper if necessary. Bring soup to just a boil, but don't let it keep boiling as the milk will burn. Turn off heat and stir in the butter and dill or chives. Serve in bowls and garnish with more of the herbs.
Cost Calculator
(for 6-8 servings)
1 large head of cauliflower: $3
1 onion (at $1/lb): $0.25
2 shallots (at $3/lb): $0.20
1/2 cup dry white wine (two-buck Chuck!): $0.40
2 strips bacon (at $5/lb): $0.65
1 cup half-and-half (at $2.99/pint): $1.50
3 cups chicken stock (homemade): $1.00
2 tablespoons fresh dill (at $1/bunch): $0.35
2 tablespoons butter (at $4/16 oz): $0.25
1 clove garlic, bay leaf, salt and pepper: $0.20
Total: $7.80
Health Factor





Five brownie points: Dead in the middle. I've been garnishing my food like crazy lately, and it's not just because the herbs aren't going to stay crisp in my crisper for too long. Okay, maybe it's mostly because of that, but I have this almighty attitude about dusting things with them knowing that it's adding flavor and nutrition all at once, and you can never have enough of both. Not that I'd need much help with this cauliflower soup. Its color betrays the fact that it carries plenty of fiber, folate and Vitamin C. Three florets supposedly grant you 67% of your daily intake of Vitamin C, even. So much for those old-fashioned nutrition color codes. Although if I'd gotten the purple ones, it would have more antioxidants to boot.