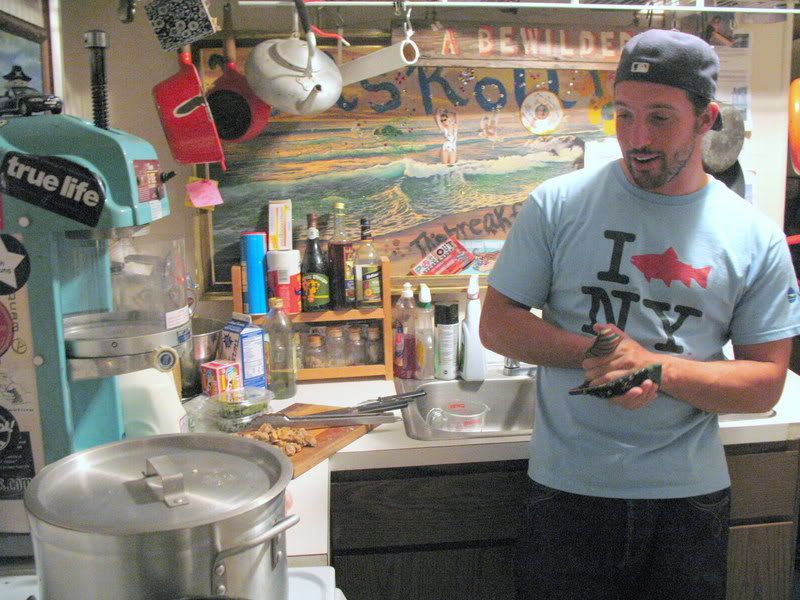 It's November and the end of the warm water surf season, that is, to New York-based surfers like Ben Sargent. To the rest of us average human omnivores with tastebuds that signal richness, warmth, nostalgia and most of all deliciousness, however, it is most certainly the beginning of chowder season. Fortunately for us, Brooklyn's own Chowder Surfer is here to share both of these high seasons all year 'round. Ben Sargent, self-taught chef, former proprietor of New York's surf bar Hurricane Hopeful, and star of the only online TV series chronicling the adventures in chowder-making via surfing (or is it the other way around?), was kind enough to chat over a steaming pot of home-cooked chowder for this blog.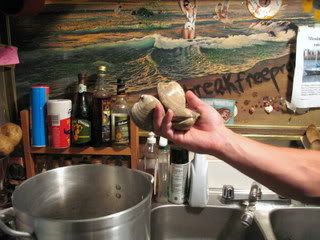 the quahog — New England's littleneck

For this occasion, I got to visit Ben's lair in Greenpoint, a low-ceilinged basement studio made even lower from its entire length being lined with surfboards. Fittingly, the space quickly filled with the pungent aroma of the sea as Ben demonstrated his classic clam chowder recipe. First- and second-generation Williamsburg foodies might recall a similar scenario involving boards, rubber sharks and other surf paraphernalia that flocked Ben's original restaurant on North 6th St. Its floor was also covered entirely with sand. Hence, it was a flip-flop friendly surf shack, with reckless New England spirit, hard-hitting cocktails (I once learned my lesson on one called "The Fogcutter"), succulent lobster rolls and of course, the finest chowder in the city.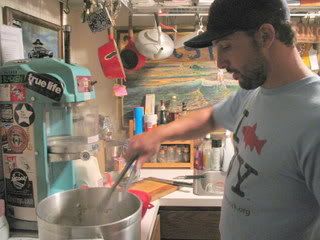 Ben admits he finally converted to tongs after meeting Martha Stewart for a television appearance
So good was Ben's chowder that it landed him on the fateful first episode of Throwdown with Bobby Flay. Something like The Food Network's twisted answer to Candid Camera, only where in this case, the victim thinks the camera is shooting his own cooking show pilot, Throwdown regularly pits acclaimed chef and restauranteur Flay against a humble master of a certain dish, like mac 'n cheese or jerk chicken. And the dish that started it all, of course, was chowder. Ben's subtley Thai-spiced Bohemian monkfish chowder went up against Chef Flay's lobster corn chowder in a guts-for-glory cooking contest held by the sea — er, the East River, from Williamsburg's Grand Ferry Park. But we'll get to that in a little while.

evidently Ben doesn't watch too much regular TV
Aside from being famous for his Bohemian monkfish chowder, Ben has a somewhat monkish, yet Bohemian attitude on making chowders himself. "I'm trying to do the Ben & Jerry's of chowder," he said. Meaning, he'd like to see a world of passion and variety attached to a food that we had once taken for granted as having only one face. But there are some strict dogma: Never use flour. Ben advocates for using only one pot when making chowder at home, and one knife that you can use for filleting your fish as well as chopping your vegetables. He uses both olive oil in cooking the chowder and butter to finish it with, and savors "that buttery sheen that you get on top of a spoonful." He also debunks a few non-native New Englander myths (i.e. proper clam chowders should be brothy and very flavorful, not thick-enough-to-stick-a-spoon-upright-in creamy). With these and a few other reverent details in mind, it's all fair playing field for Ben, who estimates that he has penned recipes for about twenty chowders that he could claim his own. "It's like a little experiment," he said. "I make the shittiest stuff often."

clams, white wine, dill and thyme — oh my!
What's the chowder that you're making tonight?
This is my grandfather's clam chowder. I'm making it tonight without one ingredient, though, because I couldn't find it. It's the salt pork. This went back to the days when they thought fish didn't have protein, so they added bits of meat.
When did you decide that chowder was more than a hobby, or a favorite food, and something that you wanted to focus on as a career?
Well, any time that I've strayed from chowder, things haven't worked out — It's like, this is what I do, I make chowder, and here, meet me. The restaurant that started it all [in 2001] was, I think, a gem. I didn't have much help, and I was the only one in the kitchen, but the concept was perfect. It was just this New England chowder shack, like, come in, and talk to the other surfer at the bar. My friends would be able to get off the L train on their way to catch the A out to the Rockaways. I lived in that spot, too, and I used to sleep literally over my chowder pots.
Is this the concept you've been continuing in your online TV show?
The show is a bit like exploring all these characters and places with chowder as the vehicle. You go and check out this farm in Rhode Island, where you pick up one ingredient, or this sea market somewhere else. You get a little surfing, a little lowdown on a spot, a do-it-yourself way of living, a recipe, and then a little diddy on the ukelele. My episodes get a little loose, though. Like, in one episode I'll be trying on outfits at Beacon's Closet.
So it's kind of like, Chronicles of the Surfer Guy?
Yeah, it's almost like The Catcher in the Rye – a lost soul searching for chowder [laughs]. It's like, I like to fish… and there's something about it that feels like home. It's like days spent fishing with my grandfather, pulling up the traps. This is going to sound really cheesy, but there's something about the late afternoon sun, being tired from the day's work, all the smells of cooking, and this pine smell that was always in the air where I lived… I have this great memory of the time when my grandfather gave me the key to his fishing closet. My dad was so surprised because he couldn't believe he'd entrusted the key to me, and not to him.
Why do you think surfers love chowder?
I invented that! Ha — I don't know that they do, probably more accurately it would be peanut butter and jelly, since I don't know if most surfers could afford anything else.
What was it like to lose a Throwdown to Bobby Flay?
It was awful. I was crying. It was the most disappointing thing in the world. I think I was crying on TV – they were like, 'Oh my god, the chowder guy is crying.'
Aw! And it was so close, too.
Yeah… I read some blogs afterwards that were talking about it and people were saying they thought Bobby Flay was such an asshole because of it. I think since my episode they've tried to gear the show so that it doesn't look like he just comes in and tromps these people. But I did get to taste both of his chowders, and they were incredible…
How did The Food Network find you?
Well, they found me and I found them, sort of. I pitched a TV show to them, and they were like, thanks for your pitch but no thanks… and so then, literally ten minutes after being almost sort of rudely shoved out of their office, the woman calls me on my cell and is like, 'How much do you like chowder? Do you really like chowder? We may have something for you.' And then a few days later, they were like, 'You've got your show!'
[Sigh.] So, on your TV show, is there an upcoming episode we can look forward to? Or new chowder recipe?
Well, I just got back from Costa Rica and will be featuring a surfing spot and a Costa Rican fish preparation there called Rondon. It's a coconut milk preparation [meaning, literally, "whatever the cook can run down" —Ed.] that turns out to be a pretty thick stew, but I turned it into a chowder with a few adjustments. A Martha's Vineyard episode should be up not too long after that.
Keep watching www.brooklynchowdersurfer.com for news, videos and more chowder lore. Ben's writing can also be found in The Surfer's Journal.