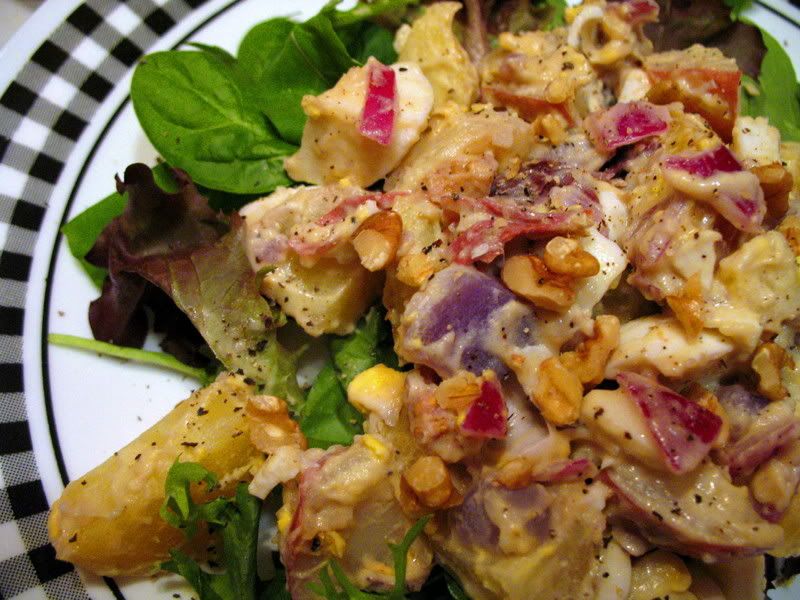 My Grandma Erway, may her soul rest in peace, wasn't someone I thought I'd ever be taking cooking cues from. In her golden years, she often remarked on never enjoying the pesky task of cooking, and was relieved to let others take the wheel on occasions like Thanksgiving. She introduced me to Newberg, and badly. I didn't know if Newberg existed outside of her kitchen for many confused years, having only encountered it as chunks of artificially colored fishcake drowned in some pinkish, floury-tasting mayonnaise on white bread. She dressed fruit with heaps of sugar and served it on corn flakes with heaps of sugar. Fresh strawberries needed to be dipped in a bowl of sugar before they could touch her tongue. Her sweetened hot "black" tea was so lost in milky oblivion that it could put a virile youth to sleep in minutes. But there were instances of her overly dressed style of food preparation that were more than acceptable, and one shining example is her classic potato salad. Nearly half of it was hard-boiled eggs. The other half a mixture of French's mustard and mayonnaise. Oh, and a few peeled and boiled potatoes. The result was a uniform daisy yellow sludge with a blush of paprika on just its surface. Deviled potatoes, you might call them. This was actually a good thing.

Or so I recently decided when my mother revisited her eggy potato salad recipe this Fourth of July. And though I wouldn't have dreamt of salads in monochrome (not even a so-called green salad), I licked my fork clean of it.
Very little of her cooking has passed down to me, and somehow I don't think Grandma Erway would have minded this at all. Yet I was so tickled by the taste of this potato salad that I decided to bastardize the recipe, splashing it with twenty-first century color. To begin, I scooped up a little assortment bag of baby red, Yukon gold and purple potatoes that they sell at Trader Joe's. Though I doubt it would have crossed her mind to put them in anything that wasn't sticky-sweet, I recall my grandmother liking walnuts, so I sprinkled in some of these with my tricolor potatoes. The rest of the details might not be very classic either, like adding honey and Dijon, raisins, red onions, and certainly, serving it on a bed of greens.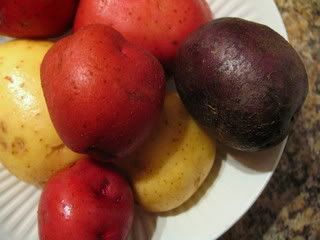 Tricolor Potato Salad
(makes 3-4 servings)
1 lb red, yukon gold and purple potatoes, boiled and chopped to about 1-inch pieces
2 or 3 eggs, hard-boiled and chopped
1/2 red onion, finely chopped
1/3 cup walnuts
1/4 cup raisins (optional)
about 1/2 cup mayonnaise
about 2 Tb mustard (any kind — I prefer Dijon)
about 1/2 tsp salt
1 tsp cider vinegar
1 tsp honey
fresh ground pepper to taste
Combine mayonnaise, mustard, salt and honey in a large bowl. Add potatoes, onions, walnuts and raisins and stir until potatoes are completely coated and yolks have broken down into the dressing. Taste and adjust seasoning as desired. Chill for at least half an hour and serve on a bed of greens if desired.
Cost Calculator
(for 3-4 servings)
1 lb tri-color potatoes (from a 28oz bag for $2.49): $1.80
1/2 red onion (at $1/lb): $0.20
2 eggs: $0.40
1/3 cup walnuts: $1.00
1/4 cup raisins: $0.25
1/2 cup mayonnaise: $0.40
2 Tb mustard: $0.50
salt, pepper, 1 tsp each vinegar and honey: $0.25
Total: $4.80
Health Factor





Four brownie points: I almost feel like it's crossing the line to make a dish in honor of my Grandma Erway that's remotely healthy. Then again, it's so far from the original salad the only thing in common is its plethora of eggs, and these, as we now know, are lovely little nuggets of protein. Those along with the walnuts elevate this salad to complete-meal status. Plus, purple and red potatoes may come in many varieties, but each are sure to provide plenty of antioxidants and other vitamins.