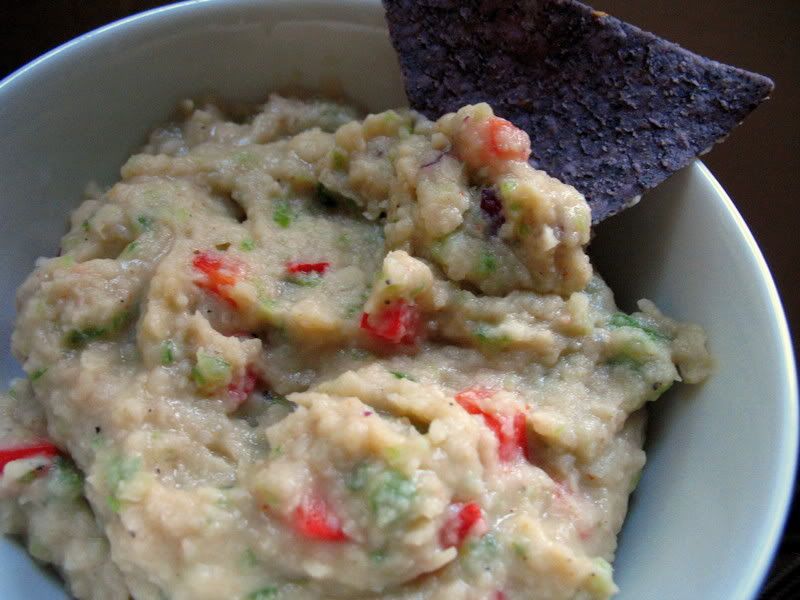 Who says the Fourth of July can't be red, white, green, yellow, orange, purple and blue? This quick chip and dip snack is an easy fix for barbecue-bringing, and it can be improvised with almost any veggies you might have on hand. Sure, it might not look as bright and pretty in that abstract expressionist painting way as a strictly veggies-only salsa, but white beans go a long way and sure do make one smooth, almost creamy base.

White cannellini beans are somewhat a blank slate among legumes, in my opinion. In Tuscany, where the people are sometimes called mangiafagiole, or bean-eaters, it seems almost their answer to soy. Black beans are much more assertive in flavor, and their fermented varieties are even intense. They're certainly not very sweet either, like green beans or peas. If I really had to describe its flavor, I'd probably be sitting here staring at the screen for hours on end as I focused on nothingness, sort of like meditating. (And I think I do enough of that without any help as it is.) Hence, it's a versatile bean to mash around with in different flavor combinations, and for this dip I went the way of spicy, tangy, zesty, peppery, sweet and salty. When I first made it to bring to a birthday party-barbecue, it was interesting to see how people seemed to react with genuine surprise when they tried it — I'm guessing because they had no idea what to expect it to taste like. I like that.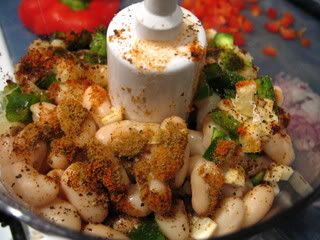 I almost always buy cannellini in a can — no, not just because it sounds about right — because it doesn't require an extra day of planning ahead and soaking. If I'm not doing the bean justice by doing so, then I want to hear about it so feel free to bombard.
White Bean Confetti Dip
(makes about 1 pint)
1 can cannellini beans, rinsed and drained
2 jalapeno peppers, seeds removed and finely chopped
1/4 cup red onion, finely chopped
1/4 cup red pepper, finely chopped
juice of 1 lemon
1 tsp lemon zest
1 large garlic clove, crushed
1/4 tsp cumin
1/4 tsp chili powder
1/4 tsp cayenne pepper
1/8 tsp white pepper
1/4 tsp chipotle sauce
2 Tb olive oil
salt and freshly ground pepper to taste
1 Tb tahini (optional)
Combine all ingredients except for jalapeno, red pepper and onion in a food processor and pulse until mixture is a smooth consistency. Taste for seasoning, adjusting as desired. Transfer mixture into a bowl. Fold in chopped pepper and onion, and stir until blended. Serve chilled and store up to 1 week in the refrigerator.
Cost Calculator

1 can cannellini: $0.75
2 jalapeno peppers: $0.35
1/4 cup red onion: $0.25
1/4 cup red pepper: $0.50
1 lemon: $0.33
garlic clove: $0.03
2 Tb olive oil: $0.20
1 Tb tahini: $0.15
cumin, chili powder, peppers, salt, chipotle sauce: $0.20
Total: $2.76 (better bring lots of booze to the party as well)
Health Factor
Three brownie points: This dip, with chips, is like a meal in itself. A healthy, well-rounded one at that. Cannellini offer not only protein but iron, magnesium and folate in few calories. Try with baked chips or toasted pita wedges instead of tortilla chips to make it even lighter — the flavor should override the lost greasiness.