Hopefully many people reading this blog who don't know me personally will have sensed that my culinary tastes are quite various and international in scope. But what I haven't disclosed for this long and would feel irresponsible about withholding at this moment, is the fact that every Thanksgiving dinner I've attended has served the same traditional, no-nonsense all-American spread favored by the senior Erway clan of upstate New York.

That means, essentially, cranberry sauce straight from the can, can't-change-the-recipe bread stuffing with celery, onions, and dates, mashed potatoes, a vegetable dish, and none too many desserts. If I do venture out of this box and make something different, such as roasted root vegetables, they're usually left untouched by the majority of the big fat American family members (figuratively speaking). Which leads me to the conclusion that the majority of Americans, like my extended Erway family, are not New Yorkers, and for the most part do not deign to try unusual foods. Though I'm not sure what good that realization does me.

Care for a blueberry, apple, pumpkin, pecan, or cranberry-apple pie?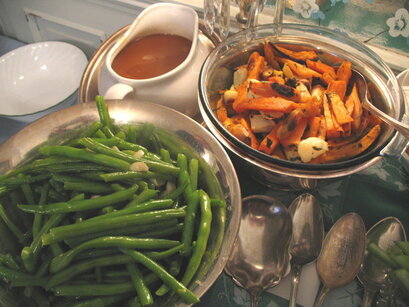 Veg. and taters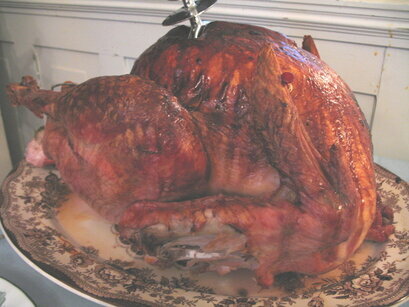 I do highly recommend brining the turkey the night before cooking it, which we adopted a couple years ago. This is achieved with a mixture of sugar and salt (about two cups each for a 20-lb bird), and a large bucket of cold water to cover the bird completely for the night.

My favorite Thanksgiving dish: boiled turkey neck and gizzard sprinkled with salt. I know–it looks gross–but that neck is so tender and falling off the bone. My mom boils this every morning after the turkey goes in the oven. (Could this be our one Chinese contribution to the meal?)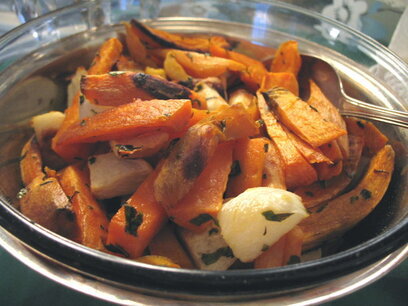 Roasted Root Vegetable Medley
I was going to post a recipe for this, but there's not much of one to write. It's basically a mixture of yams, turnips, parsnips, and carrots coarsley chopped down to about the same thickness, doused with olive oil, salt, and pepper, and roasted at 350 degrees for about 35-40 minutes, turning once in the middle of cooking. When they're done, I toss them with freshly chopped herbs such as rosemary or parsley. Proportions don't matter here at all. Sure to fix those crunchy, soft, sweet, bitter, and salty cravings all at once.