Thursday, May 24th, 2007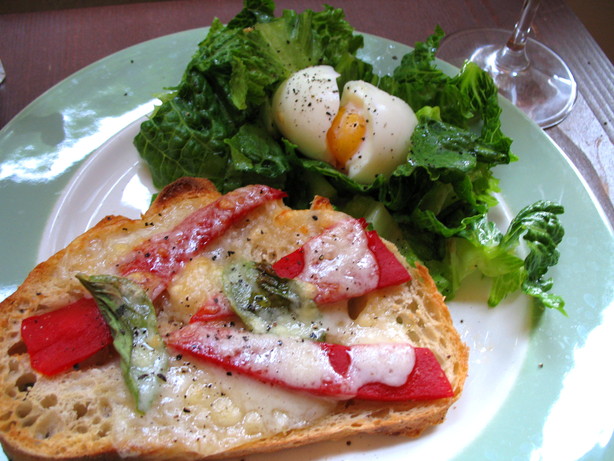 open face: roasted red pepper, basil and swiss cheese tops a homemade no-knead slice of bread

I can't express enough what a good grilled sandwich-making bread the No-Knead Bread recipe makes. It's just meant to be: the perfect crackling, lacy froth of bubbles around the bread's crust that crisp up to a delicate network of texture, the chewy, slightly moist and yeasty taste of the bread's core that perfectly soaks up a sandwich's flavors.

I still haven't stopped baking this bread, and I usually have a portion of a loaf on hand every day. This is a good thing, even if there's carbs inside me fighting to get out since I never exercise. After a couple of days, though, I've noticed that the bread takes on a pretty rigid character, as most any would. But it's such a hard fall going from beautifully pillowy and crusty bread when it's fresh one day to a mono-textured, tough lump another day. That is, unless you toast it up with some sandwich makings inside.
Lately, I've been taken by my broiler oven, as it crisps up the bread so well in such quick time. In this photo, I topped a slice with roasted red peppers, a couple of basil leaves, and a slice of swiss cheese. After all of 2 minutes in the broiler, the cheese had melted like glue and the bread was crunchy around the edges and moist in the middle, sort of like a pizza. I sprinkled a little pepper on it and had as a light summer dinner alongside a green salad dressed in a simple soy sauce-minced garlic vinaigrette and topped with a soft-boiled egg. Delish. Ben had the same thing only with two slices of it smashed together with a panini press on the grill. Next time I'm having that, too.