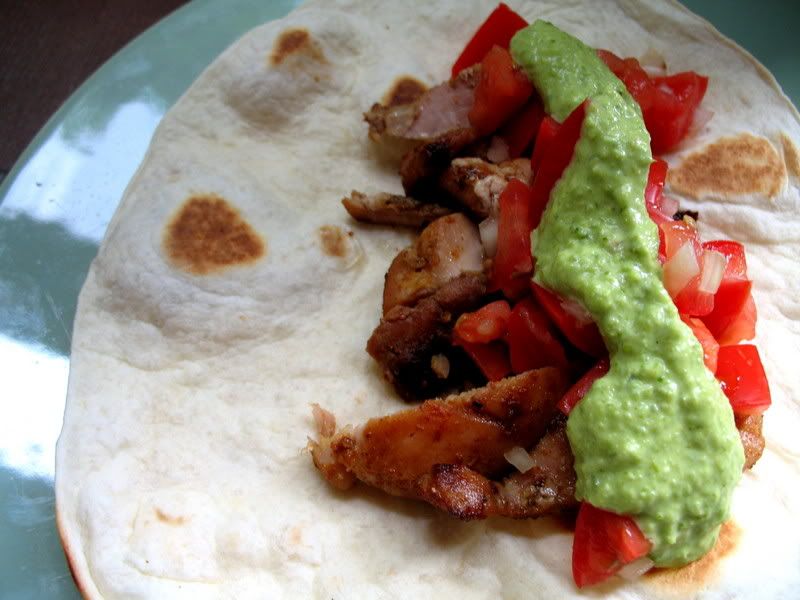 There's always those nights when I'm craving something that feels like it's from a greasy take-out restaurant. My creations never, thankfully, end up quite as greasy, and I hope it stays that way. I'm not sure that I would even know how to make food as greasy as some restaurants do — is it not trimming globs of fat from meat? Cooking in copious amounts of oil oil slathering butter and mayonnaise from a greasy wand with reckless abandon, like those guys at bagel places when you don't ask them to "lightly" butter your bagel? Whatever it is, I don't need to know the secret.

All I need to know is how to cook something that satisfies this greasy spoon nostalgia, and these fajitas (or soft tacos?) were a hit. Plus, I didn't have to get filled up on the gratuitous chips and salsa before the main course.
Initially, I was just going to stir-fry some sliced jalapenos with onions along with the chicken and pile that into a more traditional fajita. Then saw my food processor perched on top of the counter, looked at the stir-frying vegetables, and decided to give them both a whirl. This jalapeno sauce, with or without fresh cilantro ground into it, has a really refreshing taste followed by a good kick of heat afterward. It also serves as a glue for all the ingredients in the fajita. And for some reason, it reminded me of guacamole — could just be the color.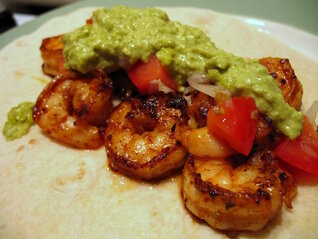 I liked this so much that I made it again the next night with shrimp!
Chicken Fajitas with Jalapeno-Mayonnaise Sauce & Pico de Gallo
(makes about 4 servings)
8 fajita-size flour tortillas (or 4 burrito-size)
for the chicken:
1 lb boneless chicken, in pieces or cutlets not much thicker in width than 1 inch
1 Tb olive oil
1/4 tsp salt
1/4 tsp chili powder
1/4 tsp cumin
1/4 tsp paprika
pinch of oregano
pinch of cayenne
pinch of black pepper
for the sauce:
4-5 fresh jalapenos
1/2 cup light mayonnaise
1 Tb olive oil
1 large shallot (or 1/4 cup chopped onion)
1 garlic clove
1 Tb fresh lime juice (or substitute 1 tsp vinegar)
1 Tb fresh cilantro (optional)
salt to taste
for the pico de gallo:
1 1/2 cups ripe tomatoes, chopped
1/4 cup onion, finely chopped
pinch of salt
Marinate the chicken with spices and olive oil and keep in a tightly sealed container in the refrigerator while doing the rest of the preparation, at least 15 minutes.
Core and slice jalapenos into quarters lengthwise. Remove seeds to desired spiciness — I like to keep almost half of them in for a medium-hot flavor. (Also keep in mind that the longer you cook the jalapenos, the milder they will become.) Heat the 1 Tb olive oil in a medium pan and saute the jalapenos with the shallot/onion and garlic on medium-high heat for about 6-8 minutes, until the peppers are just softened. Pour mixture into a food processor or blender and pulse. Add mayonnaise, lime juice, cilantro and a pinch of salt and process to a smooth consistency. Taste for seasoning.
Same pan used for jalapenos can be heated up for the chicken. Place chicken down on high heat to brown. Cover for 3-5 minutes to let it cook through without drying out. Remove lid and turn over once to brown the other side. When fully cooked, remove chicken from pan and turn onto a cutting board. Chop into strips.
Pile chicken into tortillas along with pico de gallo and jalapeno sauce, fold and enjoy.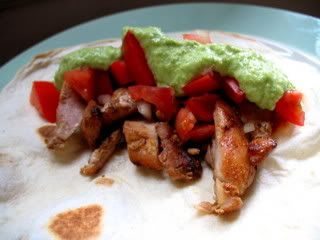 Cost Calculator
(for 4 servings)
1 lb free-range boneless chicken thighs: $4.00
5 jalapenos: about $1.00
2 tomatoes (at $1.99/lb): $0.75
1/4 cup chopped onion: $0.10
1/2 cup mayonnaise: $0.20
1 shallot: $0.20
1 garlic clove: $0.03
2 Tb olive oil: $0.07
salt, pepper, chili powder, cumin, paprika, oregano, 1 tsp vinegar: $0.10
4 flour tortillas: $0.25
Total: $6.70
Health Factor






Six brownie points: But do I care? This not-so-greasy delight is actually filled with fresh veggie colors. Most people think of them as a mere spice, but fresh dark green jalapenos have a similar nutritional value as any green pepper.