Is there anything you can do with rhubarbs except make pies and jams and jellies, often in combination with a sweet red fruit? The world may never know. I'm not in any mood to find out myself, because before this I was a virgin to making the classic rhubarb pie.
Okay, maybe I still am, since I chose cherries as its pie partner. They just looked so fresh and plump and made me want to buy more than I could eat. While strawberry is the rhubarb's claim to duo fame, I never quite liked how strawberries cook up: the sad, sagged, muted pink slivers make the fruit's seeds stand out so, and while still delicious the texture is not one of my favorites. Rhubarb mating season has begun.

I got my rhubarbs at the Farmer's Market so they must be in season. It makes me wonder if chefs around the country are beginning to serve their own versions of rhubarb pies and other desserts. I don't bake like a world-class pastry chef, and I'm sure they have some good tricks up their sleeves, but for some reason, I know I wouldn't have found this at any bakery or restaurant of the city, on that certain day. And that makes me happy. As long as I don't fail too often at completely improvised recipe attempts. For this one, I actually borrowed heavily from a recipe on Martha Stewart for just rhubarb pie. I wasn't aware of just how tangy and tart rhubarbs are before making this. Since they are, it's good to make sure whatever fruit you have next to it is a little milder and sweeter, and you should be set to go.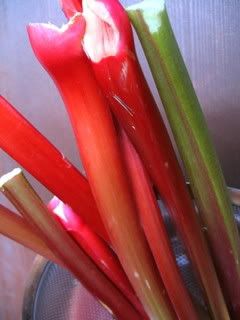 whoa, your celery's on fire!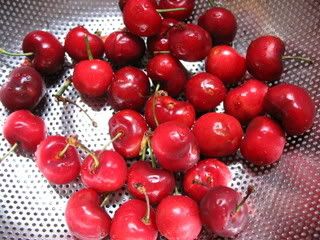 the gratuitous beginning-of-summer bowl of cherries shot

meeting and making nice together

all said and done
Cherry Rhubarb Pie (makes 1 9-inch pie)
Pastry for double-crust pie (recipe can be found here)
1 lb rhubarbs (about 1 1/4 cups chopped), sliced to about 2-inch pieces
1 cup cherries, pitted and sliced (plus any juice from pitting)
3/4 cup sugar
1/2 tsp salt
2 Tb cornstarch
Preheat oven to 400 degrees. Roll out pastry for the bottom crust and place into pie dish. In a large mixing bowl, combine the rhubarbs, cherries, sugar, salt and cornstarch. Pour mixture into pie dish. Roll out pastry for the top crust and either apply whole, or slice into strips for a lattice-weave crust (as seen above). Trim edges of pastry to an even consistency around the rim of the pie pan, re-allocating pastry bits to other parts of the rim if necessary. Crimp pie crust all around its rim.
Place pie onto a baking sheet (very helpful to avoid mess, as this pie can drip a bit, especially with a lattice crust) Lower oven temperature to 375 and bake pie about 1 1/4 hours, or until the crust is lightly browned. Let stand for almost an hour before cutting into and serving.
Cost Calculator (for about 8 servings)
1 lb rhubarbs: $3.00
1 cup cherries (at $4.00/lb): $3.00
3/4 cup sugar: $0.25
Pie crust ingredients combined: $1.50
Total: $7.75
Health Factor








Seven brownie points: As far as pies go, you could do a lot worse than get some sugar and fat from butter for dessert. Since most pie crusts were made with trans fatty shortening pre-ban in NYC, making one yourself is the best way to make sure you're not eating shortening — and knowing how to tell the difference. I'm not that educated of the palette to rightly tell myself, but I can say that it's pretty good crust using just butter. Rhubarbs, as their color cries out, are full of antioxidants and other vitamins, like dark red cherries, but the big lesson of the day is that it's also full of calcium.