I had an earth-shattering sopa de lima (lime soup) a couple years ago in the Yucatan Peninsula, near Tulum. My friends and I had just swam in a cenote, an underground sinkhole created by the natural collapse of limestone bedrock. After emerging from what felt like a scene in Fraggle Rock, we looked for lunch nearby, and came to a small roadside restaurant. Having not consulted any guidebook or website, we didn't have any grand expectations when we sat down at a sidewalk table; we were just hungry. What came was the best meal of the trip, and the highlight was one of the simplest, purest expressions of chicken soup that I have ever had.

That is a barometer for chicken soups, in my opinion—that you can really taste the chicken through a clear, aromatic broth and it's just a simple, soothing comfort. But recently, I spiffied up this memory by adding some sweet corn and roasted poblanos from my CSA in Brooklyn.
I may have been lacking that pool of water beneath a zillion rickety steps to be refreshed from, but this soup did not disappoint. It was resplendently refreshing in its own way, because—instead of being on vacation in the tropics—I was at home, sick. I had gotten a cold at one of the best times of the year to enjoy being outdoors—the balmy last days of summer. But the soup combined with the memories, perhaps, made me well in a matter of a day or two.
Is that a secret ingredient that you can add to any chicken soup to make it more fulfilling, a sparkling memory of a great slurping experience of yesteryear? I think it might be. And I am sure that with something as universal as chicken soup, you can conjure a similar memory to sprinkle into your own bowl for added nourishment.
I've been on a mission to eat everything from my weekly CSA batch by the end of the week I've received it—a natural goal, since I'll have to pick up a new installment the next day. It's not something that gives me stress, though, just a fun challenge. This leads to recipes, as always, that often have more things than you'd need to make a satisfying version of said dish. Hence, this soup could have easily gone without the corn and poblano peppers. (Try the recipe below without these two ingredients and you'll do just fine!)
One thing you can add to a good chicken sopa de lima is tortilla strips. Or just broken tortilla chunks, as I went with; it's a classic topping that often leads to the soup being called simply Tortilla Soup, or Chicken Tortilla Soup. But another thing that I wouldn't skimp on is the addition of limes, and in this case, quartered segments of limes that had been slightly blistered by a direct flame to their skins. Because that is how I experienced it at that roadside restaurant outside the cenote, and I was blown away by the flavor. While you could easily just squeeze in some fresh lime juice for that brightness, these striking pieces really cemented the chunky, rustic character of the soup overall. And I love that. Plus, the burnished, burnt taste of lime zest helped round out the bitterness of whole lime wedges with skins. Bartenders would know this well, after burning slivers of orange zest before rimming cocktail glasses with them. The slightly blackened pieces of tortilla rounds that were absorbed into this soup while eating helped reinforced that burnt flavor, in a good way.
As did the preparation of the poblanos. These deep, lizard-green, medium-sized peppers are distinctly non-spicy but full of character all their own—and it's perhaps best expressed after their skins are blackened and peeled off. I don't know exactly why, but that is how I've enjoyed pretty much every poblano pepper I've ever encountered in Mexican cuisine, so I'll defer to that wisdom and leave some things to the mysteries of the ages.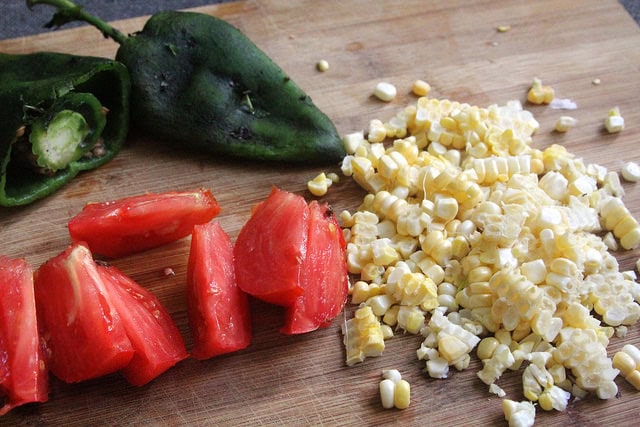 Piquant, chunky wedges of tomatoes were thrown into a pot of sizzling chopped leeks (use onion alternatively, I just had leeks on hand), while another pot was simmering with bone-in chicken breasts. I tried my best to make this soup fantastically fast and think I hit a new record, although your chicken soup or stock can always benefit from more time. (I was sick and didn't want to wait long.) It is very possible to make a satisfying chicken soup in an hour's time, as I've learned. And it's in great part thanks to fresh summer ingredients that don't need to cook very long, rather than dense carrots and celery.
So sopa your way to recovery—or just ultimate satisfaction. And now I think I get why that non-hyped restaurant near the cenote was so surprisingly good to our palates. Wherever, whenever, it's hard to go wrong with such pure ingredients and pure intentions.
Chicken Lime Soup with Corn and Poblano Peppers
(makes 4-6 servings)
2 bone-in chicken breasts, 1 – 1.5 lbs total (or substitute for same quantity of roasted, leftover chicken)
1 bay leaf
2 tablespoons extra-virgin olive oil
1 medium yellow onion, chopped (or substitute 1 large leek, white and light green parts only)
3 cloves garlic, minced
1 serrano or jalapeno pepper, seeded and finely chopped (optional)
2 poblano peppers
1 ear sweet corn
1 large or 2 medium-sized tomatoes, coarsely chopped
2 limes
salt and pepper to taste
warmed tortillas or tortilla chips for serving
Place the chicken breasts (if using raw) in a large pot with 8 cups of cold water. Bring to a boil and reduce heat to a simmer. Cut the kernels off the ear of corn, and set aside. Place the corn cob and the bay leaf in the water with the chicken. Once boiling, reduce heat to a simmer and continue cooking uncovered, for about 45 minutes to 1 hour. (Skim any scum that rises to the surface.) Alternately, if using cooked chicken, remove the meat from the bones and set aside; only add the bones to the water to make a light stock.
If you have a gas stove, place the poblano peppers directly on the burner and turn on high heat. Blacken all sides of the skins, turning occasionally with tongs. Once the pepper is mostly all blackened, remove and place the peppers inside a plastic bag and close to keep the steam in (this will help the skins get soggy and easier to peel). If you don't have a gas stove, place the peppers (and rub them with a bit of oil first) on a baking sheet and place under a broiler; turn them a couple times until the skins are mostly blackened all over and place in a bag to steam.
Meanwhile, heat the oil in another large pot and add the chopped onions or leeks along with a pinch of salt. Cook on low heat, stirring occasionally, for 6-8 minutes. Add the garlic and hot pepper and continue cooking, stirring occasionally, another 1-2 minutes. Add the chopped tomatoes and reserved corn kernels and cook another 2-3 minutes, stirring occasionally.
Once the poblano peppers have been sitting in a bag for a few minutes, remove and let cool. Gently scrape off the blackened skin with a knife and discard burnt skins. Cut the pepper lengthwise and remove the seeds. Slice into long ribbons and add to the pot with the onions.
Remove the chicken breasts and corn cob from the water. Strain the broth to remove any impurities and scum, and pour into the pot with the onions, tomatoes, garlic and peppers. There should be about 6 cups. Let the chicken breasts cool a while, and once cool enough to handle, shred the meat into slivers and add them to the pot. Bring soup to a boil and add generous pinches of salt and pepper.
Place the limes directly on the gas stove and turn them a few times with tongs, just to brown or slightly burn a few spots on the outsides. Cut one lime into wedges for serving. Squeeze the juice of the other lime into the soup, adding just enough of the juice to taste. Taste the soup and add seasonings to taste. Serve with the extra lime wedges for garnish, and tortillas or tortilla chips on the side.
Cost Calculator
(for 4-6 servings)
1 bone-in chicken breasts (about 1.25 lbs at $8.99/lb): $11.24
1 ear corn (from CSA): $0.50
2 poblano peppers (from CSA): $1.00
1 large tomato (from CSA): $1.00
1 leek: $0.75
2 limes: $0.50
3 cloves garlic: $0.25
1 serrano pepper: $0.20
2 Tb olive oil, salt, pepper, bay leaf: $0.25
Total: $15.69
Health Factor






Four brownie points: So soothing and light, it's hard to find fault with this chicken soup. It'll make for a pretty satisfying, well-rounded meal, especially if you add tortillas for serving, although you might want to add a salad on the side for some more leafy-green nutrition (easy feat in the summer). As is, it has protein from the chicken, antioxidants from the tomatoes and peppers, some fiber from the corn, and some more Vitamin C from the fresh lime.
Green Factor








Six maple leaves: You could easily see this soup coming together from a bunch of leftover, pre-cooked things you might have, so next time there's a barbecue and you're left with chicken, corn and some peppers, think a bright soup like this. All ingredients are in season now in the Northeast, thanks to the bountiful late summer, and are easily locally-sourced. So enjoy this soup while you can, and while its ingredients are at their prime.