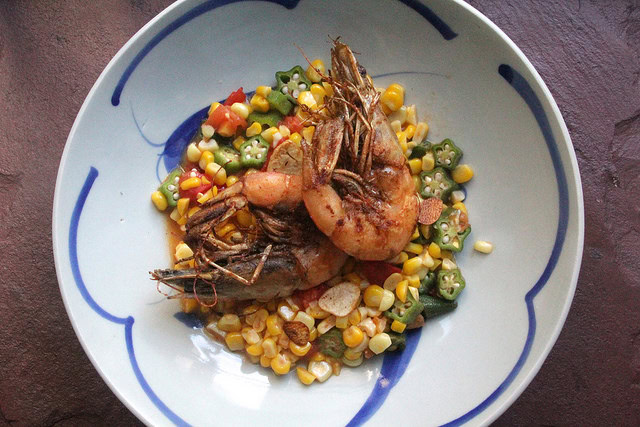 It's the season of no recipes needed. In winter, we might pore over splatter-pocked cookbooks, braising a stew or simmering a ragu just the right way. In the summer, things get a lot more loosey-goosey: we unsheathe the barbecue, dig into dirt, invent salads from overflowing refrigerator crispers and lounge around barefoot catching seafood, perhaps. All this fun and the peak quality of seasonal ingredients leads to a quick and effortless cooking session, if you can even call it that.

Yes, it's the last weeks of summer but it's actually the start of peak harvest season for the Northeast. Now, you can gorge on plump, vine-ripened tomatoes and sweet corn. You can simultaneously find juicy peaches and squeaky cabbages fresh from the farm. Eggplants and peppers will be available in every color at the farmers market. You get into a groove that's too chaotic to futz and putz around the kitchen for too long, especially if you're the member of a CSA. With great torrents of produce come responsibility for enjoying them to their fullest—but they usually require little help, as it turns out.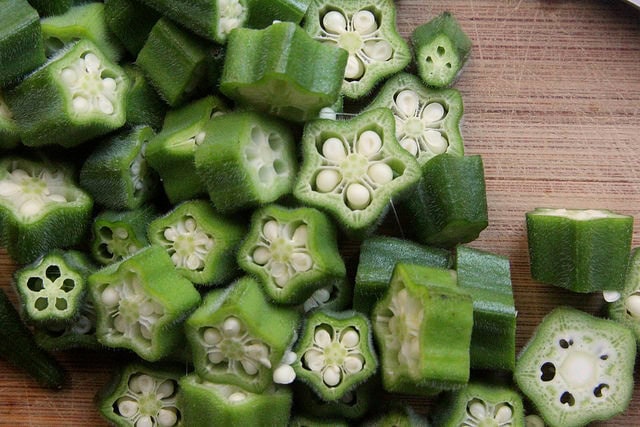 Don't get me wrong: I've let many a fresh herb yellow and tomatoes get squished in my purse as I toted them around. Not everything may make it to the table, but what does usually does so with aplomb. Wondering what I might do with small amounts of squishy tomatoes, corn and okra, I went with something that might resemble a succotash—only without the (I think) crucial ingredient of beans. Or you might think of this as a very deconstructed gumbo (thanks to the inclusion of okra), only without much soupiness or spiciness or roux. Or maybe it's more like the Cajun corn dish Maque Choux but without one member of the Holy Trinity, peppers. So I'm really at a loss here for what to call this dish, but it's somewhere along all those three.
I went for whole, head-on Gulf shrimp from one of my favorite stores in Brooklyn, Mermaid's Garden. Gosh, it's hard going back to pre-frozen and thawed shrimp from Southeast Asia (aka most shrimp found in the US) after trying these specimen. Not having the patience to prune them from their skins and heads (and besides, the flesh stays juicier and sweeter if you keep them on during cooking) I simply dusted them with flour and dropped them into just enough hot oil to fry. Some large strips of garlic went in just after turning them for crusty chips to top the dish with, too.

The corn, stripped from their cobs, were quickly tossed with some splattering chopped tomatoes and sliced okra. It was done in a few minutes, and I'm sure could have taken on many more seasonings than I added, but a squeeze of fresh lemon over everything at the end was sufficient for me.
You get some of the prettiest dishes when you're cooking fast and free, casually in the summer. You probably have a great tan right now, too.
Fried Shrimp with Corn, Tomatoes and Okra
(makes about 2 servings)
about 1/2 lb (or 6-8) head-on shrimp
1-2 garlic cloves, thinly sliced
about 1 cup neutral frying oil (such as vegetable)
1 tablespoon extra-virgin olive oil
about 1/2 cup all-purpose flour
pinch of salt
2 large, ripe fresh tomatoes, chopped (or 1 pint cherry tomatoes, halved)
1 pint fresh okra, stems trimmed and sliced to about 1/2-inch pieces (or substitute with thawed frozen okra, sliced)
2 ears sweet corn on the cob
salt and pepper to taste
1 tablespoon butter
1 lemon, halved, for serving (optional)
Rinse the shrimp and pat dry with paper towels. Heat enough neutral oil in a small pot to submerge at least half the width of the shrimp. Spread the flour and pinch of salt on a flat plate.
Heat the olive oil in a pan and add the chopped tomatoes and a pinch of salt. Let cook on medium-high, stirring occasionally, about 2 minutes. Add the okra and corn and another pinch of salt and pepper and stir to combine.
Once the oil in the pot is very hot, dredge the shrimp in the flour and shake off excess; place the shrimp in the pot (working in batches if they do not all fit) and let cook on one side for about 1 minute or until browned and crispy on the bottom; turn the shrimp, add the garlic slices and cook on the opposite side another minute. Remove shrimp and garlic immediately and place on paper towels to drain. Sprinkle the shrimp with a pinch of salt and pepper.
Continue to cook the corn, tomatoes and okra, stirring occasionally, until the okra has turned darker green but are still firm, about 3-4 minutes. Remove from heat and stir in the butter. Add salt and pepper to taste. Place a scoop of the vegetable mixture on individual plates and top with the fried shrimp and garlic. Serve immediately with a wedge of the lemon on the side.
Cost Calculator
(for 2 servings)
1/2 lb head-on Gulf shrimp (at $24/lb): $12.00
2 fresh tomatoes (from CSA): $2.00
2 ears corn (from CSA): $2.00
1 pint okra: $4.00
1 cup vegetable oil: $0.50
1 Tb olive oil: $0.10
1 Tb butter: $0.30
1 lemon: $0.33
Total: $21.23
Health Factor







Five brownie points: Colorful corn, tomatoes and okra is a cornucopia of phytonutrients. Okra is even a good source of protein along with Vitamins A, C, K and plenty of minerals. You'll get fiber and potassium from the corn, and more antioxidants from the tomato. You will get your omega-3 fatty acids, lacking in most American diets, from the shrimp, as well as a bit of calcium if you munch on some of the crispy skins (recommended, especially the legs). All this for a fairly minimal amount of fat to cook with, although shrimp does come with cholesterol.
Green Factor








Six maple leaves: Even though Gulf shrimp from the Southern Atlantic states is not exactly local to the Northeast, there are more ethical concerns when buying shrimp in addition to sustainable ones—it was uncovered a couple years ago that much of the global shrimp purchased in supermarkets comes from slave labor in Southeast Asia. US shrimp fisheries are well maintained and more transparent than those you can find in the global market, too. It can be a headache finding out the sustainability of the zillions of types of shrimp out there, so the best advice might be to talk to a fishmonger you trust about the source, rather than scratching your head over which type of shrimp you've got and from where on Seafood Watch.