You don't have to have ripe, juicy tomatoes and basil leaves to enjoy some slices of fresh mozzarella on a plate. The classic combination (known as Caprese salad) is not overrated by any means, but if your crisper drawer is bursting with greens instead of tomatoes since your early-summer CSA began (or if you just want to sneak more greens into your diet, noble you), then you can play up this concept anew.

My crisper drawer was literally bursting with leafy greens last week. My latest Local Roots CSA share came with three billowy heads of baby bok choy, a broccoli crown nestled inside broccoli greens like an egg in a nest, a bunch of golden beets with fresh, edible greens, some nice spring onions, and a hulking bunch of rainbow chard. Sheesh, was it really easy being green? I wondered.
But good old Kermit had the answer again. Instead of woeing about its not being easy being green, I found the Rainbow Connection.
Like the song goes, "Somebody thought of that / And someone believed it / And look what it's done so far."
That's exactly what happens with classic food combinations like tomato, mozzarella and basil. Due to the vast popularity of Caprese salad, one might think of adding just about anything contrasting and colorful to a few slices of fresh mozzarella on a plate. But all too often, we're so lodged in the tradition of "what it's done so far" that we only add fresh tomato slices and basil to slices of fresh mozzarella on a plate.
And that's fine and well. But stepping back, you just want to add something colorful, contrasting and a bit acidic to the mild, creamy mozzarella, don't you? You can achieve this with many things, such as rainbow chard.
Of course, your greens don't necessarily have to have rainbow-colored stalks, but I really do question the sense in buying seeds for regular, white-stemmed Swiss chard sometimes.
Unlike kale or collard greens—in another plant family called brassicas—Swiss chard has much less densely-packed cells, resulting in a watery crunch rather than fibrous chew when eaten. They do well with pickling, as they absorb the vinegary solution like a cucumber. So their tangy bite after sitting in some red wine vinegar coupled with their natural rainbow colors will knock off two things from your list of how to replace tomatoes in a Caprese salad: redness, and acidity.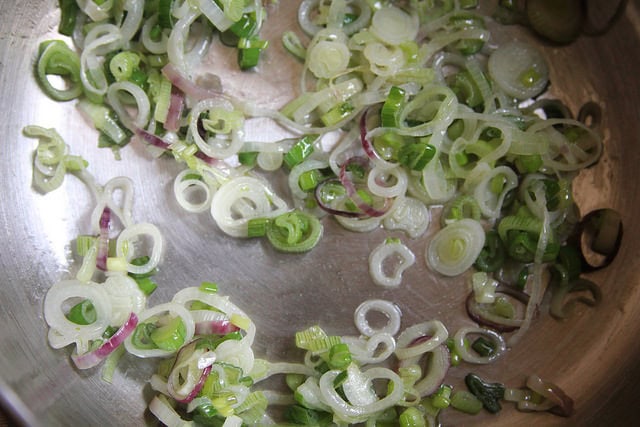 I didn't use everything from this week's CSA share to pull together this meal with, and I'm sure you can agree that we don't need to necessarily. But I did sneak in some of those spring onions, which were softened in a pan just before adding the Swiss chard leaves for a quick sautee.
But not to worry, the broccoli and bok choy got quite a star treatment on the grill at a barbecue Friday night. Super-fresh and crunchy greens like these are great for tossing into high heat to get just a little char and gobbling up just as quickly, perhaps with a squeeze of lemon juice. Highly recommended as a vegetal antidote to your meat-focused grilling activities with coming 4th of July weekend. I'm sure no one will complain, and these greens won't take more than a few minutes' time with the precious grill's real estate.
And for that matter, this dish won't take more than a few minutes of your time whenever you decide to enjoy it—as an appetizer or side instead of the expected fresh salad, or as a simple snack or a meal if you decide to put it between two crusty slices of bread. However you have it, it's a delectable little burst of color and textures, good enough to become a new classic.
Fresh Mozzarella with Rainbow Chard, Pinenuts and Pickled Swiss Chard Stems
(makes 3-4 servings)
1 medium-sized bunch rainbow Swiss chard
1/4 cup red or white wine vinegar
1 shallot or small spring onion, finely sliced
1 clove garlic, minced
2-3 tablespoons extra-virgin olive oil
1 ball fresh mozzarella
1/4 cup pinenuts
salt and pepper
Separate the stalks from the leaves of the rainbow chard. Set the leaves aside. Finely dice the stems. Submerge them in a bowl with the vinegar, and fill with just enough water to cover if necessary. Add a pinch of salt and set aside in the refrigerator while you prepare the rest of the ingredients.
Shred the leaves of the swiss chard. Heat about 1 tablespoon of the oil in a pan over low heat. Add the sliced shallot or spring onion, and a pinch of salt and cook, stirring occasionally, until softened and just translucent, about 8 minutes. Add another tablespoon of olive oil and increase heat to medium-high. Add the minced garlic and swiss chard along with a pinch of salt and pepper and cook, stirring, until the leaves have wilted and most of its liquids have evaporated, about 2-3 minutes. Remove from heat and set aside.
Wipe down pan or use a dry pan and heat over medium-high for 1 minute. Add the pinenuts and (do not walk away) watch them, shaking the pan occasionally. Once some of them turn slightly golden-brown, turn off heat and continue shaking them about another minute or until the pinenuts have turned slightly golden-brown all over. Remove from heat immediately and let cool.
Slice the mozzarella into about 8 slices. Arrange in serving dishes (of two to each for four servings). Arrange the sauteed swiss chard on each one, followed by a sprinkle of the pinenuts and the pickled swiss chard stems. Drizzle with a little olive oil to finish and serve immediately.
Cost Calculator
(for 3-4 servings)
1 bunch Swiss chard: $4.00
1 ball fresh Mozzarella: $5.00
1 spring onion: $0.50
1/4 cup pinenuts: $1.00
1/4 cup vinegar: $0.25
3 tablespoons extra-virgin olive oil: $0.40
1 garlic clove, salt, pepper: $0.20
Total: $11.25
Health Factor






Four brownie points: It's a rainbow of phytonutrients thanks to using both leaves and stems of the chard. With tons of Vitamin K and antioxidants, plus fiber and potassium from those crunchy little cubes of pickled stalk. Some fats from the mozzarella and pinenuts help you absorb it all.
Green Factor









Seven maple leaves: Using all parts of a plant from stem to shoot can be a feat when you have a surplus of veggies from a CSA (or just a binge at the farmers market). But keep in mind you can pickle and preserve many types of stems (like the broccoli stems for instance) for a later use to use em all up. This dish includes some fancy imported pinenuts and olive oil, good for keeping in the pantry to spruce up your otherwise local, seasonal ingredients.