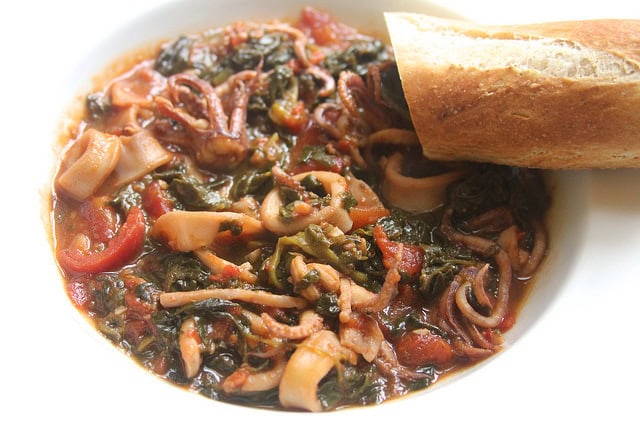 Spring has been really snoozing on the job. Rather than bursting with cherry blossoms, the new season has only brought soggy, sort-of snow and below-freezing nights. This might be our latest bitch and moan as we bundle up in scarves on the subway each morning, but it's actual, literal bad news for local orchards. Seems that peaches in Upstate New York may not make an appearance this summer, unless these small-scale farmers have the time and resources to bundle their trees with heaters. Perspective.

But since it's still more cold than warm out, I thought a long-simmered, weekend project for the stovetop seemed apt. And since the Long Island fishmonger Blue Moon Fish has returned to the Grand Army Plaza Greenmarket for the spring — cough — and summer, I figured on seafood for that. A celebration for their welcome return!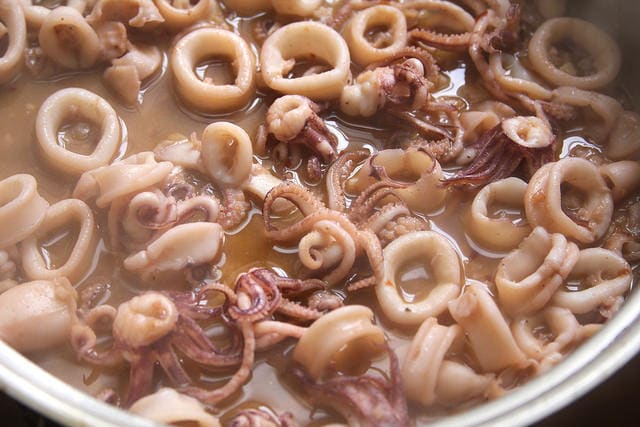 I really wanted to make stuffed calamari, after reading Francis Lam's recipe for it in The New York Times. But stuffing squid sounded tedious and I didn't have the patience to crush and toast breadcrumbs. So I made a "deconstructed" version of that — instead of putting the bread and flavors inside the squid and stewing it together, I put the stewed squid on top of toasty bread. (You could put it on pasta, too.) Oh, and added some handfuls of fresh spinach leaves just for fun.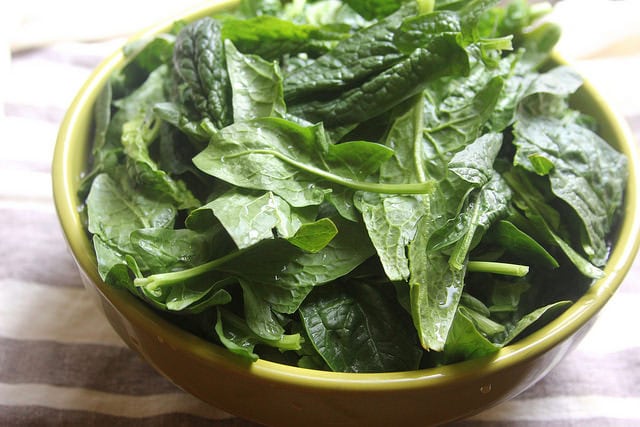 Once I decided on not stuffing calamari but making a dish of similar elements, there were two recipes that gave me guidance, which were sort of mashed together. I pulled out an old favorite cookbook, the circa-1950 The Talisman Italian Cook Book by Ada Boni. A classic of Italian housewives, this book is so chock full of recipes — often with numerous iterations to account for all the regional variations on which — it's like an overflowing pot of ribollita.
One thing that I love about older Italian cookbooks is that you see a lot of anchovies being used. Whether that's because Northern Italian cuisines became trendier in the last few decades or because American palates were like, Ew, gross! about the little preserved fish, I'm not sure, but maybe it's a bit of both. One recipe I found for calamari in Ada Boni's book was "Calamari Marche Style," which called for garlic, dried chilies and minced anchovies to sautee the squid with then white wine to braise it further. Sounded great to me. Another recipe was for "Squid with Chard," a similar thing but with Swiss chard leaves and tomatoes along white wine to braise.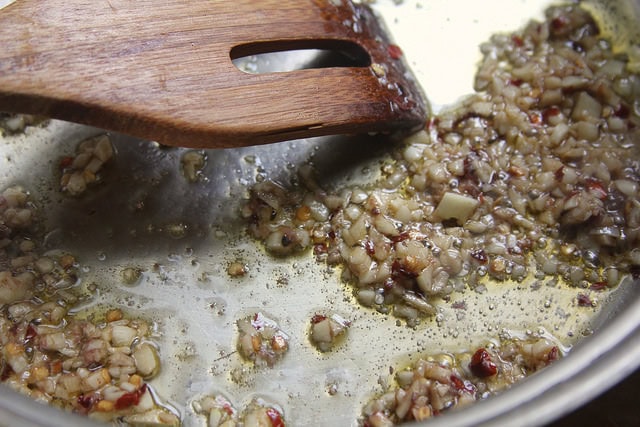 So I mixed it up. Honestly, the squid would have tasted great if you just stopped at Marche Style and went no further. And it would have been fine without the anchovies such as with the chard (or in my case spinach) recipe with tomatoes. But I think this hybrid dish has a lot of uses for it, with pasta and so forth — which is good for me, as I was making enough for plenty of leftovers. And it seems like the best of both worlds in terms of taste and leafy-green nutrition.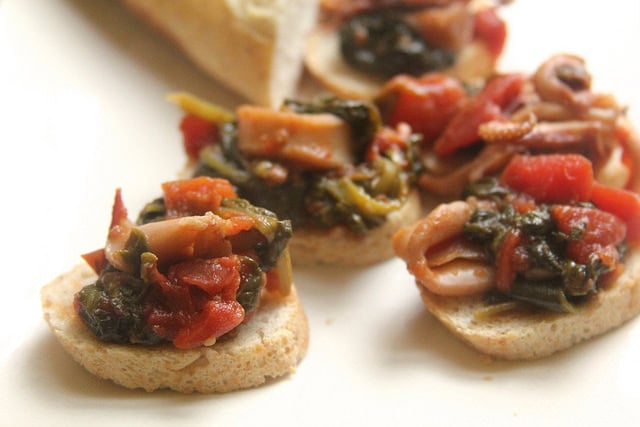 You can also serve this stuff on baguette slices as crostini. Or just dunk the bread into a bowl of it, like big croutons. And after cooking calamari enough so that it's really tender like this, the texture won't suffer at all from reheating from the fridge.
Just so you know, The Talisman Italian Cook Book was totally a rummage sale find; I'm not an archivist nor cookbook historian, as much as that title might appeal. I truly just found it in someone's crates of other crap sitting out on their stoop one day. I find a lot of good stuff that way, too. By paging through its vast number of recipes — which have no photography to speak of — I feel that I've taken in so much about Italian cooking. And from that, how easy it is to pick and choose your dinner no matter what you may find in your locale. Small plug: If you're going to find yourself in a seasonal vegetable-overload soon by joining a CSA for the summer, I recommend this book which I wrote about recently at Edible Brooklyn. Hopefully by skimming through its pages, you can be inspired likewise to "deconstruct" a more complicated dish, or just imagine one up.
Stewed Calamari with White Wine, Tomatoes & Spinach
(makes about 4-6 servings)
1 lb cleaned squid
2 tablespoons extra-virgin olive oil
4 cloves garlic, minced
2 anchovy fillets, minced
1/4 teaspoon red chili flakes
1 cup dry white wine
28-oz can whole peeled plum tomatoes, roughly chopped or crushed by hand
1 large bunch spinach
salt and pepper to taste
Separate the tentacles from the squid and slice the bodies into about 1/2″ rings. Set aside.
Heat the oil in a large sauté pan over high heat and add the garlic, anchovies and chili flakes. Stir for about 30 seconds, or until bubbling and fragrant. Add the squid and cook, stirring occasionally, for about 5 minutes or until all the liquids released from the squid has mostly evaporated. Add the wine and cook, stirring occasionally, until the wine has mostly evaporated.
Add the tomatoes and spinach, and bring to a boil. Reduce heat to a simmer and cook, stirring occasionally, uncovered for 20-30 minutes. Taste for seasoning, adding salt and pepper as desired. Serve with crusty bread or with pasta.
Cost Calculator
(for 4-6 servings)
1 lb cleaned squid: $4.99
4 cloves garlic: $0.25
2 anchovy fillets: $0.50
1 cup dry white wine: $2.00
28 can tomatoes: $4.00
1 bunch spinach: $3.00
salt, pepper, 2 Tb olive oil, red chili flakes: $0.50
Total: $15.24
Health Factor







Five brownie points: Shellfish and cephalopods such as squid have long been shamed for having high cholesterol. But that comes along with healthy omega-3 fatty acids, as well as protein and vitamins and minerals. And you're not eating it deep-fried here. In fact, you're eating it with a lot of spinach, the super-green superfood, with plenty of antioxidants and Vitamin K.
Green Factor









Seven maple leaves: Squid is also an abundant and sustainable seafood. (You don't have to worry about mercury accumulation in them, either.) They're also inexpensive compared to fish fillets and always in season, so try em more often when you're feeling like seafood.