Gong xi fa cai! It's Chinese New Year, and for many — as in more than 25% of the world's population — that means cooking or just eating a huge amount of home-cooked foods to celebrate. I can't think of a better time to not eat out in New York. But the eve of the Year of the Monkey 2016 happened to coincide with another great tradition in the US (albeit less than a quarter of the world's population): the 50th Super Bowl.
So for Super Bowl Sunday / Chinese New Year's Eve, we did not just cook fiery hot sauce-drenched Buffalo Wings to nosh at during the game. We made dumplings, agent of good fortune to come traditionally noshed at for Chinese New Year.
Lo and behold someone else at me and my pals' Super Bowl party also made Buffalo Chicken Dip, the traditional interpretation of Buffalo Wings for those in the Midwest or who otherwise don't enjoy smearing their face with sauce and bony bits. And two others made Seven-Layer Dip, the Midwestern interpretation of Tex-Mex. I suppose "traditional" Super Bowl foods are often rooted in chips and heavy, Midwestern dips.
But that's getting aside from the two foods in question here — or rather, in combination. Buffalo Wings, the beloved cheap bar snack, was indeed born in Buffalo, New York. I can think of no other Upstate New York-based food of such fame, so that makes it special alone. Contested theories abound over how and why exactly it was invented to serve hungry bar patrons, but we know it was only in the late 1960s or 70s when it appeared. And it has since taken such hold on the bar-food scene as to be the namesake of one such national chain and staple menu item at most others, like Hooters.
But unlike Colonel Sanders' famously secret 11-spice recipe, Buffalo Wings are crazily transparent, and easy: the sauce is about equal parts butter and Frank's Red Hot sauce (yes, it should be that brand or one with a similarly transparent cayenne-white vinegar blend only). This is tossed in deep-fried wings straight out of the fryer. The result is a spicy, vinegary, yet pleasingly rich sluice for tender wing meat, cartilage and crispy fried skin. The complements to that are rich, tangy and subtly sweet blue cheese dressing to dip your wings in, and crisp celery stalks to cleanse your palate with.
Now onto the dumplings. These are traditionally eaten on Chinese New Year because the typical shape of these dumplings — or jiaozi, guotie, gyoza — resemble that of the ancient Chinese golden ingot, the ancient form of currency. As such, they're thought to usher in a year of good monetary fortunes, hopefully. No matter you steam or boil them (resulting in shui jiao and other names) or pan-fry them, resulting in "potstickers" (and yes, they do stick to the pan if you're not careful), they should appear as crescent-shaped half-moons from a bird's eye point of view, like that ancient ingot. So now you know why once-beloved-now-bemoaned Prosperity Dumpling in NYC is named as such.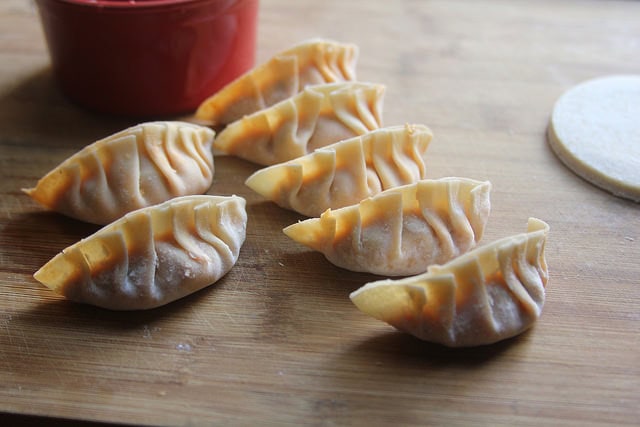 But combining jiaozi and Buffalo Wings poses one big question: Do you go with the raw, ground meat, as in dumpling tradition, or the cooked chicken meat of Buffalo Wings? I went with the latter. I roasted a whole chicken, and pulled apart the meat from the backs, breasts, wings, legs, and everywhere there was meat on the chicken. (This is really fun and easy task too if you start with a whole, cooked rotisserie chicken from your grocer.)
Then I poured on the hot sauce — a lot of it. I kept all the drippings and fat from the roasted chicken, and that was enough to substitute for the butter that Buffalo Wing sauce is typically served with in equal ratio to hot sauce. Plus, roasted chicken fat (or schmaltz) is very tasty, much like or even more so than butter. So why substitute it with butter when you've gotten it in the process of roasting chicken for a Buffalo Wing-themed dumpling?
I know that most people have never been in this scenario before, and I'm ashamed to admit that I hadn't myself, either. After all the dumpling parties that I've enjoyed, curious combinations that I've sought, and classes in dumpling-making that I've taught, I had never thought of Buffalo Wing-based Chinese dumplings before this fortuitous occasion.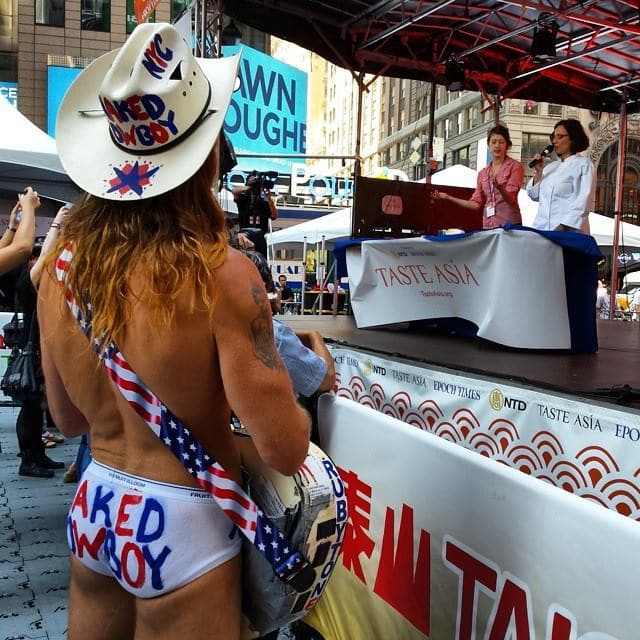 But that's the beauty of dumplings — those accessible, crowd-pleasing bites — as well as holidays of any occasion. You can always create traditions anew, while nodding to old standbys. And with pan-fried dumplings, no matter what you put inside them they'll probably still taste great. Invent your own at the next one!
Buffalo Chicken Dumplings
(makes about 35)
1 lb roasted chicken meat (about half a 3 – 3 1/2 lb bird), bones removed
2 tablespoons chicken fat/drippings (if available, otherwise substitute with softened unsalted butter)
12 oz. bottle Frank's Red Hot sauce
2 scallions, finely chopped
1 package round dumpling wrappers (about 35)
salt and black pepper to taste
2-3 tablespoons vegetable oil
for serving:
Blue cheese dressing (for dipping)
Celery sticks
Gently tear or shred the chicken to bite-size pieces by hand. Combine the boneless, shredded meat with the fat (or butter), hot sauce, scallions and a few pinches of salt and pepper. (Don't overmix the chicken to retain more texture.) Taste and add more salt or pepper as desired. Mixture can be covered and chilled up to 1 day ahead.
To fold the dumplings, place a spoonful of the filling onto the center of a dumpling wrapper. Dip your finger into a small bowl of water and trace the edge of the wrapper. Fold the wrapper in half and make a pinch at the top; next, bring a piece of the edge about half an inch to the right of the pinch over to the pinch. (This will cause the wrapper to fold diagonally on the right hand side of the dumpling.) Bring a piece of the edge half an inch to the left over to the pinch next. Pinch the pieces you brought to the center shut and continue to seal the edges to the left and right until the dumpling is fully sealed. From an aerial view, it should be shaped like a crescent.
Heat one tablespoon of the oil in a non-stick skillet that comes with a lid over medium-high heat. Arrange the dumplings in a circle around the edge of the pan. Fill the center with as many dumplings as will fit – do not squash them against one another too much (you will probably need to cook in 2-3 batches, depending on the size of your pan). Let cook uncovered 1-2 minutes, or until the bottoms of the dumplings are just beginning to lightly brown. Add about ½ cup of water to the pan and cover the pan immediately.
Let cook covered for about 4 minutes, or until the wrappers appear transparent rather than whitish at the edges. Uncover the pan and ensure that all the liquid has evaporated. Carefully loosen the potstickers from the pan with a spatula. To make a fancy plating, place a plate on top of the dumplings and invert the pan, to serve the dumplings crispy side-up. Otherwise, just transfer the dumplings to a serving plate with a spatula. Serve with the celery sticks and blue cheese dressing for dipping.
Cost Calculator
(for about 35 dumplings)
½ roast chicken and its fat/drippings: $8.00
1 bottle hot sauce: $2.50
2 scallions: $0.60
1 package dumpling wrappers: $2.00
salt, pepper, 3 tablespoons vegetable oil: $0.25
Total: $13.35
Health Factor








Seven brownie points: This variation on Buffalo Wings is much less greasy than the original, since the dumplings are pan-fried rather than deep-fried like wings. The use of cooked, shredded chicken meat may also be less fattening than typical potstickers, with its fattier, ground pork filling. Even still, it's no health food, but a fun snack to serve alongside lighter sides and vegetables.
Green Factor






Five maple leaves: You can find a good, organic chicken to roast, as I did the day before making these dumplings, any time of year. The rest of the ingredients are more or less pantry items: a vinegar-based hot sauce, some premade, frozen dumpling wrappers. Make a big batch and freeze some of these dumplings, to make most efficient use of your time; to make most efficient use of the chicken, if you're roasting one for this, be sure to save the carcass for making a tasty chicken stock.