Yeah, you heard right. We're throwing out the pastry books and heading to the bodega—why? Because it was my friend Karol's birthday last weekend. And—still—why? Because she requested specific foods for her potluck party menu, and one of them happened to be a mushroom tart. Another one was Cool Ranch Doritos.

There's nothing like a birthday wish from a dear friend to break you out of habit. Not that I'm in the business of making mushroom tarts the regular way every day—that, in itself, was all humble gesture Karol had been hoping for. And it's an easy-enough treat to pull off, if you don't mind balling up a basic pastry dough and throwing some sauteed mushrooms atop.
But my friends and I have a semi-tradition when it comes to people's birthdays, and I hope you might be tempted to try it out, too: it's called the "Magical Meal Committee." We typically make a list of said celebratory person's favorite foods, and put it on a spreadsheet to share. Then we fill in the blanks with who's bringing what. You can surprise the person by doing this on the sly, or you can let him or her manage the list (and enter their favorite foods) themselves. And then you have fun.
No hard and fast rules, right? So I made a mashup of two items on the list, for a Karol-esque twist. For her part, Karol made her own birthday cake, a twist on the Apple Pie Cake that Laena and I made for her wedding. She is a much better baker than I; so she naturally improved on it. And I hope she, you, I, and others all around might enjoy trying their hand at this Doritos-crusted mushroom tart concept, too. Here's how I did it:
It's about half-and-half "Doritos meal" (yes, that's a thing now, so I say), and flour. Then it's cut together with butter, a pinch of salt, and spread into a sheet of some sort. You crimp the edges a little.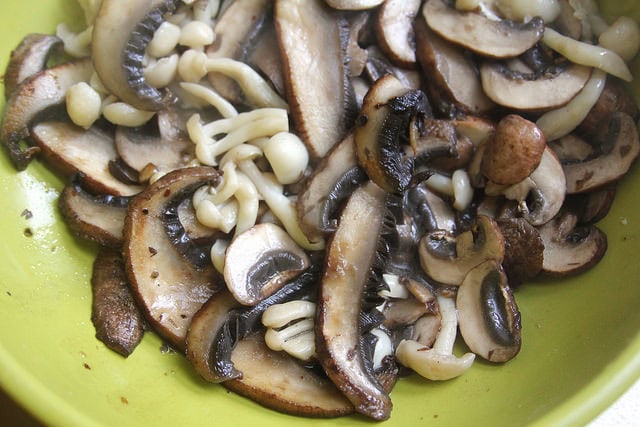 You buy some mushrooms: straw mushrooms, portobello, and baby portobello (aka crimini) here, because that's what they had at my bodega last weekend. (I made this during blizzard Jonas over the weekend, so I was extremely fortunate to have a bodega with mushrooms at all.) You can get any kind of crazy mushrooms—maitake, aka hen of the woods, oyster, king trumpet, or just cute ol' white button mushrooms because once they're sauteed in a bit of butter, they'll always taste great.
But I caramelized sliced rings of onion to add to the mushroom mixture, too. And splashed in some red wine vinegar for a little bit of something else. Sweet, tangy, and herbal thanks to some herbes de Provence and fresh, slivered scallion (use chives or some savory herbs like oregano instead) on top to finish, it's a nice little mushroomy medley that you don't even have to put on top of a tart. Scoop it up with crusty bread if you like.
Or, put it onto something special. A homemade Doritos crust. A fresh pasta or gnocchi that you just made yourself. A piece of toast. A pile of polenta. A creamy soup. It doesn't matter—a bare Cool Ranch Dorito chip, like it was a dip, perhaps. Damn, maybe that's what I should have done to spare myself the trouble.
Savory Mushroom Tart with a Cool Ranch Doritos Crust
(makes 1 roughly 8″ x 12″ tart, or 12 servings)
for the crust:
1/4 (1 stick) lb butter
4 1.75-oz bags Cool Ranch Doritos (yielding roughly 1 cup Doritos meal)
1 ½ cups all-purpose flour
1/2 teaspoon salt
2-3 tablespoons cold water
for the topping:
1 large onion
3 tablespoons butter
2 tablespoons red wine vinegar
2 lbs assorted mushrooms, trimmed and thinly sliced
1 teaspoon herbes de Provence
salt and pepper to taste
2 scallions (or half a bunch of chives), finely chopped
Place the Doritos in a food processor or blender and pulse several times until a coarse meal-like texture.
Cut the butter into small cubes and add to a bowl with the flour and salt. Using a pastry cutter or just your fingers, cut in the butter with the flour until the chunks are evenly distributed and no pieces of butter are larger than a pea. It should resemble crumbs. Add the Doritos meal and toss to combine. Add the water one tablespoon at a time and mix to combine, until the mixture just comes together to form a ball. Cover with plastic wrap and let chill 30 minutes, or up to overnight.
Slice the onion into thin, uniform rings. Add a tablespoon of the butter to a heavy-bottomed pan and heat a low flame. Once melted, add the sliced onion and a pinch of salt. Let cook, stirring occasionally, about 20 minutes or until the onions are translucent and slightly golden in color. Stir in the vinegar and herbs de Provence and cook another 1-2 minutes. Remove from pan and set aside.
Wipe pan clean of debris and add another tablespoon of butter. Heat over a high flame, and once the butter is sizzling, add about a quarter of the sliced mushrooms, along with a pinch of salt and pepper. Cook, stirring occasionally, until the mushrooms are lightly seared, about 3 minutes. Repeat with the remaining mushrooms and butter, working in batches to avoid overcrowding the pan. Combine the mushrooms with the onion mixture and stir to combine thoroughly. Taste for seasoning, adding salt and pepper as desired.
Preheat oven to 375 degrees. Roll the chilled pastry into a rectangular shape to fit on a sheet pan. Create a rim around the edges with your fingers. Spread the mushroom and onion mixture on top of the pastry, and bake for 35 minutes or until the crust just lightly golden brown. Let cool a few minutes, sprinkle the chopped scallions or chives on top, and serve immediately.
Cost Calculator
(for 12 servings)
4 small bags Doritos: $2.00
1 ½ cups flour: $0.50
1 stick plus 3 tablespoons butter (at $6/lb): $2.50
2 lb assorted mushrooms: $8.00
2 scallions: $0.50
2 tablespoons vinegar: $0.25
pinch of salt, pepper, ½ teaspoon dried herbs: $0.20
Total: $13.95
Health Factor









Seven brownie points: Clearly, we should not advocate the use of Doritos in pie pastries for its health benefits. The GMO, MSG and food additive-riddled snacks are also high in calories and fats, no surprises there. If you're going to eat Doritos, as we all may at times, adding some more natural stuff like fresh mushrooms and real butter can act as a sort of counterweight. But still.
Green Factor





There's a snarky debate going on about Doritos' use of unsustainably sourced palm oil, which is found in many processed snack foods. With a household name and longstanding popularity, Doritos could be a leader in easing food conglomerates off this practice, which is why it's being targeted. Keep in mind, you could also skip the Doritos in this recipe entirely and just replace it with some more flour (and all kinds of flour, too), so your mushroom tart will be free of the suspect chemicals and big-food practices and totally in line with wintery, seasonal eating.