There are things that are good, and things that are really good. And for a New Year's Eve party in the city, my friends and I have decided to go all-out really good with food. Dismayed that we didn't find a house to rent upstate with a fireplace and enough beds for everyone, we threw in the towel searching on Airbnb and turned our attentions to throwing a really good party at home. Which is where this splurge on lump crabmeat comes into play. Mind you, it might look complicated, but crabcakes are about as easy as they come, when you have a few fresh ingredients at hand.

With the money saved from not renting a house (sniff… ) we determined to order caviar and good champagne. Jumbo Gulf shrimp for cocktail platters and cold-smoked wild Alaskan sockeye salmon from our friends at Iliamna Fish Co for blinis. Forget the prix fixe New Year's Eve dinner at some restaurant; grab your friends and the finest finger foods around and you can have a really good time.
I think crab cakes are pretty hit-or-miss when you encounter them at restaurants. By design, they're a luxurious ingredient (crabmeat) stretched with a not-so-luxurious filler (breadcrumbs); some restaurants abuse this formula by stretching them way too thin with breadcrumbs. I've always seemed to have bad luck with crab cakes at a seafood shack or other restaurant, where they can be pretty pricey — the line was crossed into too many breadcrumbs to crabmeat.
So I wasn't going to do that for myself and my friends. I used the breadcrumbs mostly to roll the tasty crabmeat filling in before browning on each side. One other key to making the tastiest, crabbiest crab cakes around is to not overmix the mixture. It should be loose and chunky, not overworked and congealed, once they hit the oil in the pan. No matter if they break a little bit. Making them smaller and bite-size for party appetizers (rather than a main-course for a sandwich, perhaps) makes this task easier to maneuver.
One key to making that loose mixture happen more easily: mix up your wet ingredients and seasonings first, then gently fold in the crabmeat.
So why the celery? I was actually leaning towards making a tasty crabmeat salad to place atop little triangles of toast. But I didn't want to fill up too quickly on hors d'oeuvres all atop little crackers or toasts. So I decided to make the breadcrumb coating on these crabcakes the only "toasts" in question. Saves me money from having to buy bread or crackers, and room in my tummy for eating more. Finely chopped celery, which would have been more customary in a crab salad, was retained here anyway, giving the crabcakes refreshing texture.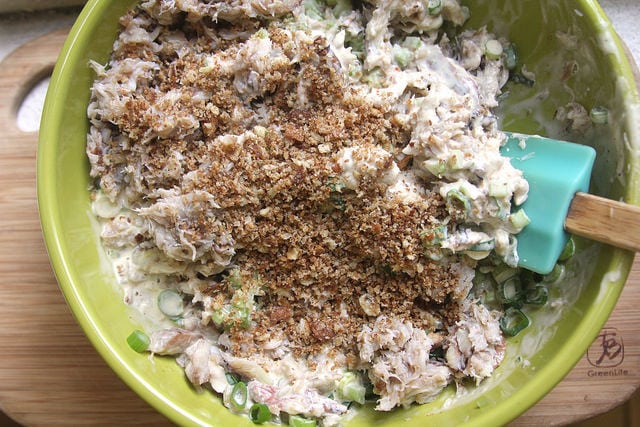 Just a quarter cup of fresh breadcrumbs were folded into the crab mixture to help it bind. The rest was used to pat across each "cake" of the stuff for surface texture. Plus, I don't like the idea of overcooking fresh crabmeat with direct contact on the pan. That will not ensure you a golden-brown crust either.
A good crabcake hardly needs a sauce to eat with it, but a creamy mayo accented with fresh dill and lemon juice (and a spot of Tabasco) was mixed up to dollop each bite. I have a lot of fresh dill leftover from something over the holidays; it makes a nice garnish but can be left out, too.
Crab Cakes with Dill Mayo
(makes about 24 bite-sized cakes)
1 lb lump crabmeat
1 egg, lightly beaten
1/2 cup mayonnaise
1 teaspoon Dijon mustard
1/4 teaspoon cayenne pepper
couple pinches each of salt and black pepper
1 rib celery, finely chopped
2 scallions, chopped
1 cup fresh breadcrumbs
2 teaspoons fresh lemon juice
2-3 splashes hot pepper sauce (such as Tabasco)
3-4 sprigs fresh dill, fronds finely chopped (use any remaining for garnish)
3-4 tablespoons olive oil or neutral oil (such as vegetable) for pan-frying
Combine the beaten egg, 1/4 cup of the mayonnaise, the mustard, cayenne pepper, salt and black pepper in a bowl and mix well. Fold in the crabmeat, celery and scallion. Fold in 1/4 cup of the breadcrumbs. Cover and chill for at least 30 minutes (or up to overnight).
Combine the remaining mayonnaise with the lemon juice, Tabasco and chopped dill and set aside.
Heat a tablespoon of the oil at a time on medium-high in a skillet or cast-iron pan. Take a small scoop of the crabmeat mixture with a spoon and roll it in a bowl of the remaining breadcrumbs. Place onto the pan, and continue, placing each small cake no closer than 1 inch apart on the pan. After about 1-2 minutes, or when the bottoms are golden-brown, flip each cake to brown the opposite sides (about another minute) and remove immediately once the undersides are browned. Continue with the rest of the mixture and the breadcrumbs.
Serve the crabcakes with a dollop of the dill mayonnaise immediately.
Cost Calculator
(for about 24 bite-sized cakes, or 12-24 servings)
1 lb lump crabmeat: $20
1 egg: $0.40
1/2 cup mayonnaise: $0.50
1 rib celery: $0.25
2 scallions: $0.50
1 teaspoon Dijon Mustard: $0.20
1 cup fresh breadcrumbs (from about 4 pieces bread): $0.75
1/2 lemon: $0.25
salt, black pepper, cayenne pepper, couple dashes Tabasco: $0.25
4 tablespoons olive oil: $0.50
Total: $24.10
Health Factor









Seven brownie points: Coddled in creamy mayo, these crab cakes are a rich little bite of seafood goodness. But unlike most, they're not overly starchy nor overly fried, as in deep-fried. Refreshing vegetal hints of celery and dill come in to balance the richness out, and you'll still get your omega-3 fatty acids from the crabmeat, as with most seafood.
Green Factor






Four brownie points: Blue crab is a seasonal catch from the Mid-Atlantic States, like Maryland, but my tin of lump crabmeat was apparently imported from Mexico (?). I don't see much crabmeat year-round except for these tins thanks to their regional and seasonal specificity, but Mexican blue crab is considered a "good alternative" according to Seafood Watch, and they do keep well preserved in such tins.