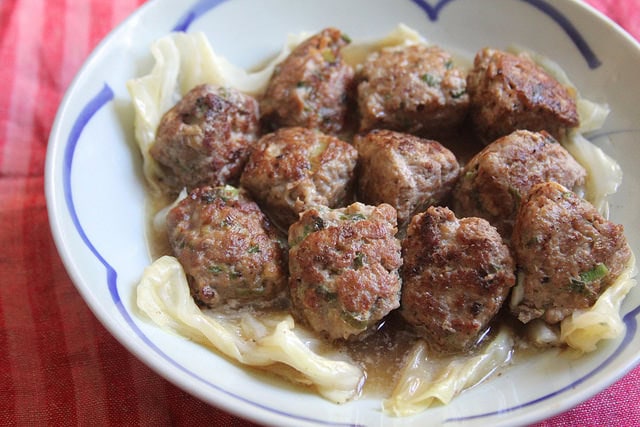 They're made of pork, but these meatballs are nicknamed "Lion's Head" in Shanghainese cuisine, because they're usually made in gigantic proportions. Larger than a baseball, that is. But I was going to a holiday party — and I had just been to a holiday party — where bite-sized morsels were precursory. So I shrank the homestyle comfort food to size. That doesn't mean they're any less delicious, though.

I was inspired by my friend Erik, who has for the past seven years been making Swedish meatballs as a holiday party snack from his heritage (can you guess from the name?). Well shoot, I thought. Everyone has some type of meatball in their family's culture. Whether it's a starch-bound meatloaf or a springy Vietnamese ball 'o beef, a congealed mixture of minced meat with seasonings is an ideal application for food anywhere. So I was reminded of the Chinese Lion's Head — which is essentially like a pork and chive dumpling without the skin.
This dish apparently skipped a generation in my family. I learned that it was something that my grandmother would always make for my mother when she came to visit her apartment growing up. If that sounds weird, it is; my grandparents were divorced, and my mom was mostly raised by my grandfather. Hence, my Chinese cooking repertoire stems from my Hunanese grandfather, by way of my mother (and her environment in Taiwan). My grandmother had lived in Shanghai for years, and Lion's Head Meatballs is a signature of the city. But my mom never learned to make it from her, so I didn't eat them growing up.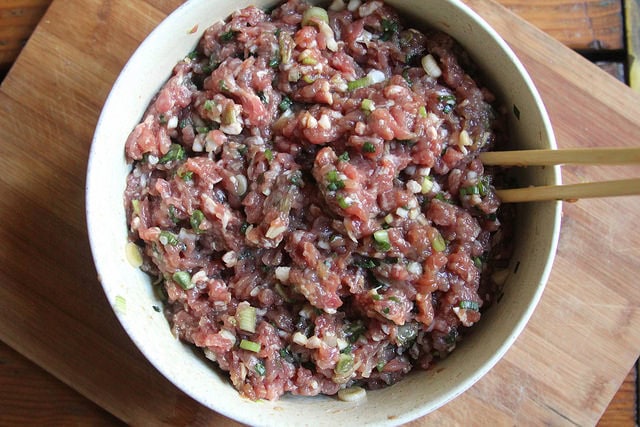 I have since learned there are a few ways of approaching the meatball: it varies in size and can be more starchy or springy from potato starches or more intensely flavored from a hongshao or soy sauce-based red braise. But quintessentially, it is served with flowy leaves of cabbage braised in its own, porky broth. The cabbage is sort of the best part of this dish, as my fellow party-goers attested to recently. They soak up all the flavors of the braise like a sweet sponge and leave you wanting more. Cabbage has that power often (corned beef pot roast, anyone?).
I'm taking a slight creative liberty with these meatballs not only by shrinking them but replacing a classic ingredient with another: these meatballs often incorporate chopped water chestnuts, adding crunchy bits of texture. Yet I could not find water chestnuts in my immediate vicinity. So I replaced them with chopped bits of the ribs of cabbage that were going to be discarded otherwise.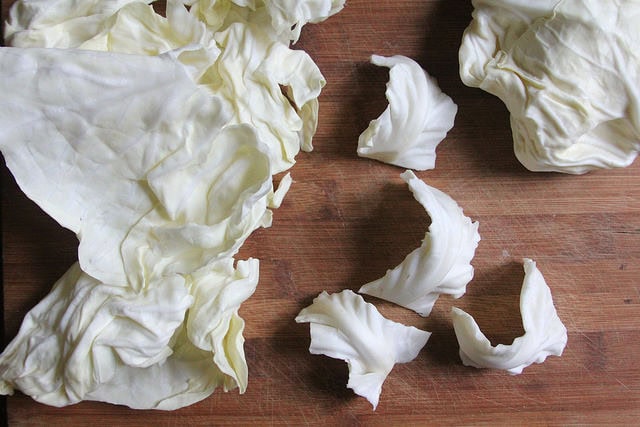 Would they be crunchy in the end? Well, they were not as crunchy as crisp water chestnuts, but they did add sweet bursts of texture throughout the meatballs. I pulled out some vintage Chinese cookbooks for reference, and noted that in one of their recipes for Lion's Head, it said that water chestnuts were optional, and may be replaced with chopped bamboo shoots instead. The thick ribs of cabbage didn't seem too far off from woody bamboo in my estimation. But more importantly, they were a byproduct of making the dish anyway — so let's use them.
I think the great thing about meatballs is that they can be adapted for almost any place or purpose. The inherent resourcefulness of using chopped or minced scraps of things bound together in a ball is perhaps why they exist in the first place. So have fun with these meatballs, however and whomever you're serving them to. Even if it's just a cozy winter treat for yourself.
Baby Lion's Head Meatballs with Braised Cabbage
(makes about 30 1-2″ balls, or about 6-8 servings)
2 lbs ground pork
2 bunches scallions, both white and green parts chopped
1 clove garlic, minced or grated
1-inch piece fresh ginger, peeled and minced or grated
1 tablespoon plus 1/4 cup Chinese rice wine for cooking (preferably Shaoxing, or substitute with a dry sake)
2 eggs, lightly beaten
1 teaspoon toasted sesame oil
1 tablespoon soy sauce
1 tablespoon cornstarch
1/2 teaspoon salt
1/4 teaspoon white pepper
8-10 whole leaves cabbage (preferably napa, savoy or Taiwan cabbage, but green cabbage may be substituted)
3-4 tablespoons neutral oil such as vegetable, peanut or canola
Combine all the ingredients besides the 1/4 cup rice wine and the cabbage in a large bowl and mix thoroughly to combine. (Mixture may be covered and chilled up to 2 days before use.)
Meanwhile, remove the toughest, thickest, whitest ribs from the celery leaves. Finely chop these pieces (you should have about 1/4-1/2 cup of them chopped) and fold them into the meatball mixture. Tear the remaining cabbage leaves into halves and set aside.
Heat a large, heavy-bottomed pan or wok over medium-high heat and add about a tablespoon of the oil to coat the pan. Scoop the meatball mixture with a large spoon or an ice cream scoop to create 1-2″ or so balls (or whatever size you like) and place them on the pan immediately. Continue scooping and placing the balls directly on the pan until the pan is filled with meatballs no closer than 1 inch apart. Gently brown each side as you turn the meatballs on another side so that they are just browned all around and are somewhat ball-shaped (they do not need to be cooked through). Set the browned meatballs aside and repeat the procedure with the rest of the mixture, adding more oil to the pan as necessary, until all the meatballs are browned.
Wipe the same pan with paper towels to remove any browned or blackened specks. Heat the pan over high heat and add the 1/4 cup rice wine. Bring to a boil and let bubble for about 1 minute. Add 2 cups water to the pan and the torn cabbage leaves. Bring to a boil, then reduce heat to a simmer. Place the meatballs on top of the cabbage leaves and add any juices from the meatballs to the pan. Add enough water to the pan to submerge the meatballs by about a quarter of their height and let cook on a low simmer for at least 20 minutes to cook the meatballs through or up to 1 hour. Taste the broth and add salt, white pepper, or soy sauce as desired. Serve the meatballs in its broth with the cabbage over rice or noodles.
Cost Calculator
(for 6-8 servings)
2 lbs ground pork (from Faicco's butcher shop): $12.00
2 bunches scallions: $2.00
1 clove garlic: $0.10
1-inch piece fresh ginger: $0.20
1 tablespoon plus 1/4 cup Chinese rice wine: $0.50
2 eggs, lightly beaten: $0.80
1 teaspoon toasted sesame oil: $0.20
1 tablespoon soy sauce: $0.20
1 tablespoon cornstarch: $0.10
salt and white pepper: $0.10
8-10 whole leaves cabbage: $0.50
3-4 tablespoons neutral oil: $0.25
Total: $16.95
Health Factor








Six brownie leaves: It's not quite as bad as it looks. "Meatballs" have never really smacked of health food, and especially not so when you're using fatty ground pork like this dish is often made with (and I wouldn't fault you for swapping in lean ground beef or turkey as a substitute). But when it's served with plenty of cabbage and enjoyed in moderate portions, it can make for a really well-rounded meal. Add some rice and spoon the plentiful broth all over it, and you're in for a real savory treat that gives you plenty of vitamins, protein and energy.
Green Factor







Five maple leaves: Given its meaty disposition, this dish already has plenty of points against it. But its use of long-lasting, winter produce like cabbage in multiple ways (even using the thick ribs which are often discarded) is a virtue that you can take lesson from with whatever you make next.