We get all worked up about winter squashes when fall comes around. I get it: they're shiny and new. But actually, you should be more excited about brassicas in the fall; winter squashes will be here to stay for a while, stored easily all winter long. But fall weather also brings us brassicas—broccoli, cauliflower, cabbages, kale, Brussels sprouts and those spiky romanesco things—and we will not be seeing them for very long after this. It's our last dance with them for the year.

Oh save the last dance for me, please, broccoli. I love those little buggers like a kid in a candy store. I dunno why. I blame broccoli's unglamorous reputation mostly on George Bush Senior, who made it okay to hate the vegetable for some reason. (Whilst a short while later, his successor President Clinton made it okay to love White Castle hamburgers.) In the nineties, it was somehow expected that we should dislike broccoli. Maybe it was just for green-vegetable necessity's sake that kale took ascension in its decline?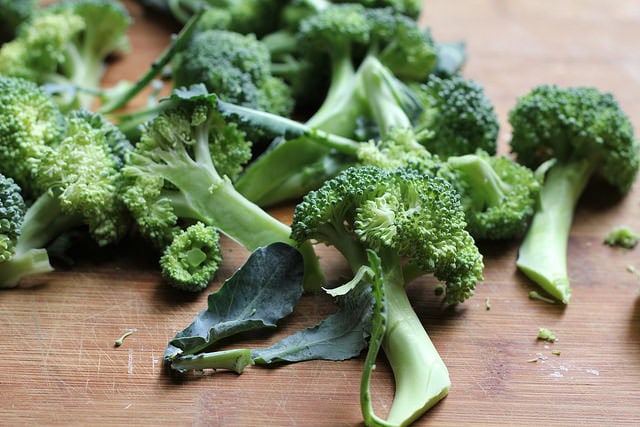 No matter. I've loved broccoli through thick and thin, from calling them "little trees" when I was little to encountering them at the cheapest Chinese take-out place smothered in brown, tangy-sweet "garlic sauce," they never seem to disappoint. I was inspired by both these occurrences when I set about making a stir-fry one night with my latest, proud head of Greenmarket broccoli fresh from the field.

Only, I didn't make a stir-fry. I wanted something herbal and "freshy," although raw broccoli is a big no-no in my book. This would be cooked broccoli, but with a tangy, lip-smacking dressing of some sorts. So instead of choosing soft, soupy curds of silken tofu, I went with the firmest tofu I could possibly find. I wanted these little cubes of plant-based protein to cook to a crispy, golden exterior, to toss about with similarly crispy, roasted broccoli florets.
I got what I wanted. Even if it was nothing that I've wanted—nor attempted to make—before. The simple trick is whisking in some sesame oil to a vinegary solution until it thickens naturally, creating a gel-like dressing that swathes the whole thing. I think it's not very dissimilar to a balsamic dressing, in both flavor and appearance. And I think that tangy, acidic dressings are just such a great contrast for roasted vegetables—and tofu, in this case, too.
Give it a go with your broccoli and toss in some chopped carrots, cauliflower, turnips and other veggies on the baking sheet, too. Alright—I suppose you could go with winter squashes here, too.
Roasted Broccoli and Crispy Tofu Salad
(makes 3-4 servings)
1 14 oz package extra-firm tofu
1 medium-sized head of broccoli, sectioned to florets of about the same size (halve or quarter them as necessary)
2 tablespoons vegetable oil
salt and pepper
for the dressing:
1 tablespoon rice vinegar
½ teaspoon soy sauce
¼ teaspoon sugar (optional)
2 tablespoons sesame oil
1-2 teaspoons toasted sesame seeds (optional)
2 scallions, sliced thinly on a bias (optional, for garnish)
1 red mildly hot chili, sliced thinly on a bias (optional, for garnish)
Preheat oven to 400 degrees. Toss the broccoli florets with 1 tablespoon of the vegetable oil and a pinch of salt and pepper. Arrange on a baking sheet and roast for about 5 minutes, or until crispy and charred in parts. Remove from oven and set aside; reduce oven heat to 350 degrees.
Meanwhile, heat the remaining tablespoon of oil in a large, heavy-bottomed pan. Add the tofu and sprinkle with salt and pepper and spread out until all pieces have direct contact with the pan and are sufficiently coated with oil. Let cook about one minute without stirring to slightly brown one side. Gently flip all the pieces over. Transfer to the oven and let roast at 350 degrees for about 8-10 minutes, or until gently browned (flipping the pieces over once midway optional).
To make the dressing, combine the rice vinegar, soy sauce and optional sugar in a bowl. Stir well, and while whisking rapidly, drizzle in the sesame oil. Continue whisking until mixture has thickened and lightened in color. Stir in the optional sesame seeds.
Toss the roasted broccoli and tofu with the dressing, scallions and chilis and serve immediately.
Cost Calculator
(for 3-4 servings)
1 package tofu: $2.99
1 head broccoli: $3.00
2 scallions: $0.40
1 red chili: $0.20
2 tablespoons sesame oil: $0.50
1 tablespoon rice vinegar: $0.20
sesame seeds: $0.25
2 tablespoons vegetable oil: $0.25
½ teaspoon soy sauce, ¼ teaspoon sugar, salt, pepper: $0.25
Total: $8.04
Health Factor






Four brownie points: You are looking fabulous. Eating plenty of protein, getting all your greens, and not having to spend much, either. If only this thing ate like a whole meal—which it could, as a light lunch, perhaps—then you'd really give yourself a pat on the back. As it stands, you can feel great about the all plant-based nutrition and minimal fats. Minimal anything bad, really.
Green Factor










Eight maple leaves: If you ate like this more often—vegan, low carbon-footprint-causing—it would really give a hand to our long-suffering land. Claiming vegetables when in-season locally, like broccoli, and having minimal fuss with the pantry seasonings. Broccoli is also one of the less water-intensive greens you can get. It, and tofu, are also easy to find organically produced.