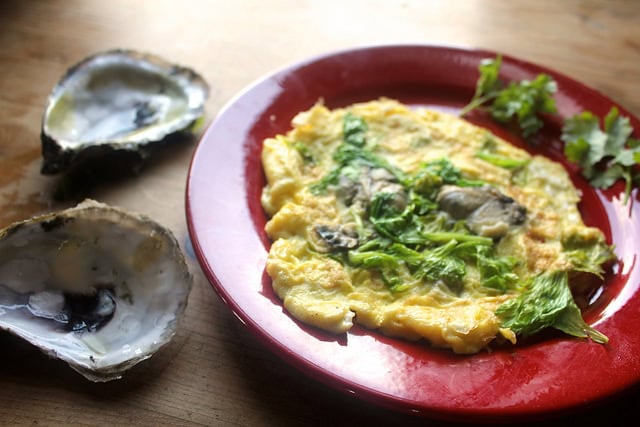 There's something uniquely appealing about this omelet—so much so, that it's quite the phenomenal street food in Taiwan. It's a singular kind of dish that's uniquely appreciated there (if they were to have a "uniquely popular" map on the topic, I'd put money down that this dish would be the one to beat in Taiwan). But I don't think I could call this version, which I made at a sleepy Connecticut shore town with family, a "Taiwanese oyster omelet." That's because I missed a couple key ingredients that make it so distinctly beloved on Taiwan.

These would be the starchy slurry that's poured onto the pan along with beaten eggs, and the sweet, tomato-based sauce that's poured over the whole omelet once it's on the plate. (I was in a sleepy beach town with few things in my pantry.) But you know what? I think oysters and eggs need to tango a lot more often than we let them, especially when those flavors are freshened with a touch of herbal celery leaves—which I fortunately did have access to last weekend.
An oyster omelet might be recalled in certain American food lore as the "hangtown fry," a mixture of eggs, oysters and bacon. I have no idea why it's not as adored in the States these days as Taiwanese oyster omelets are in Taiwan. But let's question it no more; and just cook oyster omelets more often in any way, shape or form.
That requires some oysters. Yes. I agree these can be difficult to come by and also difficult to pry open if—when you do find them—they are still inside their hard shells. Challenge overcome, it's all too easy to just eat oysters fresh and raw on the half-shell; maybe with a squeeze of lemon or not even that. I'm a raw oyster aficionado and opt for this more often than not, which runs quite counter to Taiwanese oyster appreciation, where the bivalves are always cooked.
But I think it's my taste for raw, unspoiled oysters that makes me appreciate a pared-down, simple version of this Taiwanese oyster omelet all the more. That salty brine really makes its presence into every bite of the omelet, thanks to running all over the pan just before adding the eggs. I'll admit that without the gelatinous starch to help bind the oysters with the eggs, it's a little more difficult to flip the whole omelet over intact. But not impossible, and certainly worth the effort (and if it falls apart, an oyster scramble tastes just as good).
In short, I don't believe it's always necessary to appreciate a traditional dish in all the specific, traditional nuances that it's known for. People cling to traditional dishes too much. You made beef burgundy, but you didn't add mushrooms?! This happens too much. The wonderful thing about boeuf bourguignon is that it utilizes some of the Burgundy region's best products: beef, and wine. Screw all the rest. And especially screw them if you're not in Burgundy right then.
So when not in Taiwan, or when without bacon with which to enjoy a proper hangtown fry, here's one good omelet with oysters. Maybe the next one will have a local twist all its own.
Oyster Omelet with Celery Leaves
(makes 1 serving)
2 eggs
pinch of salt and white pepper
3 large oysters, shucked
small handful fresh celery leaves
1 tablespoon vegetable oil
Beat the eggs with the salt and white pepper. Heat a small frying pan with the oil over high heat, and once hot, add the oysters. Cook about 30 seconds, shaking pan occasionally, and pour in the beaten eggs. Using a spatula, push the eggs from the edges towards the middle of the pan as they begin to firm up, and shape into a fluffy, small round shape. Sprinkle the celery leaves in the center of the omelet. Make sure the omelet is loose by shaking the pan and loosening the sides of the omelet with a spatula. Once the omelet is sure not to stick, and the underside is lightly browned, quickly flip the omelet over with the spatula. Let cook on the opposite side about 30 seconds or until just lightly browned. Turn onto a serving plate, and enjoy immediately.
Cost Calculator
(for 1 serving)
2 eggs (at $5/dozen): $0.83
3 oysters (foraged from the shore recently, but usually about $1/each): $3.00
handful celery leaves from a bunch of celery: $0.30
tablespoon oil: $0.20
Total: $4.33
Health Factor







Five brownie points: In the States, it's odd to think of such a rare delicacy as oysters for its nutritional content, but in places where they're eaten more readily (think Taiwan), it's easy to see why. Oysters, like many shellfish, are big on omega-3 fatty acids, good for balancing your cholesterol levels, and they're a source of protein as well. Their high mineral content such as calcium, iron and copper, is good for your bone health, blood circulation, and more. Eggs are another good source of protein and while scant, the celery leaves add a little hint of antioxidant vitamins to this simple side dish or snack.
Green Factor








Seven maple leaves: Oysters are a very sustainable seafood to farm; they help clean waters and support aquamarine life around them. When looking for a little luxury in your meal, you can lean on this bivalve as a healthy choice all around. Extra point for using a commonly wasted part of a plant: celery leaves.