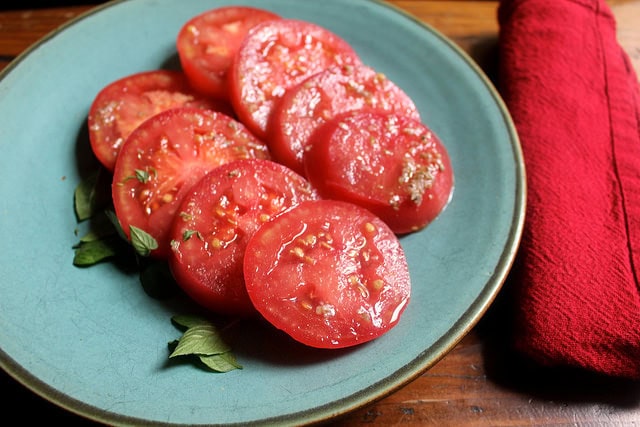 Having juicy, red tomatoes at the peak of summer ripeness is a question of integrity (yours, not theirs, which is pristine): Do we adulterate these fine specimen by adding other flavors and ingredients, which may make them seem less-than or tagalong, or do we seize upon the day to celebrate only the virtues of a very good thing while we still can? I wonder if people indicted in the #AshleyMadison hack are pondering their initial choices when they decided to vacation from their spouses for a gutsy adventure with something new.

Why mess with a good thing? Well, if you're the founder of the cheating website, it's because "Life is short." End of story. Or, more realistically, because you serve to profit from that margin who ascribe to this suggestion.
I think we can all agree that life is short, and that fun can and (unless you're a pilgrim) should be had. Therefore, I think it comes down to a choice between the places within which you'd like to have "fun" and those in which you'd feel better sticking to the values that got you there in the first place. I think that tomatoes—even the best ones, available only for a short window of time to each in the summer—are okay to have a little illicit fun with because you can always look forward to next year's crop. And they don't have feelings, besides.
But this should never be done without a severe (almost pilgrim-ish) reverence to the amazing qualities of a fresh, summer-ripe tomato.
This recipe really reminds me of my paternal grandfather's tomatoes during the summers in his backyard garden in Upstate New York. Whenever I visited, I got to watch Grandpa Erway trimming the weeds surrounding his little vegetable patch in his mobile lawnmower, a complicated-looking vehicle to my more urban eyes. He seemed to speak a different language when things like "crop rotation" or "harvest" were said. Even into his eighties he was harvesting tomatoes and corn from that garden to serve with dinners. I regret that I didn't take up the greenthumb he passionately did as a retiree initially, nor did my parents. (But I did later on in life, and still grow some tomatoes on my fire escape this summer.)
His ripe garden tomatoes were only served one way: sliced in rounds along their length, and sprinkled liberally with salt. They were often served with a similarly juicy, red steak entree.
This restraint was due to the specialness of the tomatoes, our reverence for them. Homegrown tomatoes are a rarity and they were sublime—flavorful down to the last sploshes of seed pocket on the plate. But as great as lush, ripe tomatoes are, I wanted to diverge from the simplicity of just tomatoes and salt. So I smashed up a clove of garlic with pungent anchovies. Then—feeling the pull of guilt as I reached to the cupboard—splashed the pastelike mixture with some red wine vinegar and whisked in olive oil.
I'd like to think this was a classy substitution for mundane specks of salt, enhancing the savory qualities of tomatoes in kindred theory. But once I tasted it, I knew that it was more assertive than any mere dalliance. And it was wonderful. I felt that I'd made the right decision, for right now, at least.
Does this rationale sound like I wouldn't mind to have a threesome, or bonafide orgy? Well, for frog's sake, maybe I do not—in cooking, that is. It's all about getting good in the kitchen, if you know what I mean. So get good at it, and enjoy the results.
Tomatoes with Anchovy Dressing
(makes 3-4 side servings)
4 medium-sized ripe tomatoes, sliced to 1/4-1/2″ rounds
1 clove garlic
2-3 anchovy fillets
2 teaspoons red wine vinegar
2 tablespoons extra-virgin olive oil
Mince the garlic and smash with the side of a chef's knife. Continue smashing and scraping against the cutting board, alternating sides of the knife, until the garlic resembles a pulp. Mince the anchovies and combine with the garlic; continue smashing and scraping the mixture against the cutting board until a paste-like mixture is formed.
Transfer to a small bowl and stir in the vinegar. Whisk in the olive oil slowly. Gently toss the dressing with the tomato rounds and arrange on a serving dish. Enjoy immediately.
Cost Calculator:
4 tomatoes (from CSA): $5.00
1 clove garlic: $0.10
3 anchovy fillets: $0.50
2 teaspoons vinegar: $0.10
2 tablespoons olive oil: $0.40
Total: $6.10
Health Factor




Three brownie points: Eating tomatoes along with oils helps the absorption of its phytonutrients, so there's another reason for going out of the box with just-tomatoes on a plate. You'll get your share of lycopene with this side dish thanks to the summer fruits as well. Anchovies are a great source of omega-3 fatty acids to help balance out bad fats, and fresh garlic helps your immune system steer away summer colds.
Green Factor







Six maple leaves: Anyone who's grown them will know that tomatoes are a relatively thirsty plant, consuming a lot of water to produce, so all the better to get them from your local farmers market if you're not in the drought-stricken West Coast this summer. This recipe makes use of imported olive oil and anchovies, but the latter are one of the most sustainable (and healthiest) seafoods you can buy, and are often used in small doses such as in this dressing.