The season of summer CSAs has begun! This recipe's title might sound slightly ridiculous, but then if you've just begun a summer CSA too, you will probably be able to relate. You've got greens coming out of your ears, and you need to find a use for them, quick.

My friend Wen-Jay Ying, founder of Local Roots CSA once again put me up to the challenge: to cook everything in the kickoff batch for the season, in one dish somehow. Well, I did my best. The beet roots were the only thing I didn't use in this pasta, but I'm sure they'll do great for a side salad to eat along with it if you choose.
There's nothing wrong with shopping for just those ingredients that you need for the week. And everywhere I turn, there's a new food startup delivering those things to you in bundles, instead of the purely seasonal assortment that you're bound to see in a CSA. But if you like creating and inventing with what life—or rather, a local farm—throws at you, then it's pretty fun to join a CSA. Also, you don't have to use everything from a week's bundle in the same dish. I just like to try to do so because people tend to think it's impossible (and if you also like a challenge, then you know where I'm at).
The kickoff batch for Local Roots' summer CSA was this: lacinato kale, rainbow Swiss chard, chioggia beets (with plenty of their fresh green tops), and crookneck squash. I was really excited to see the latter, because fresh, squeaky-skinned summer squash of many stripes is just about one of the best things about summer—and you don't find those in many stores just at their peak.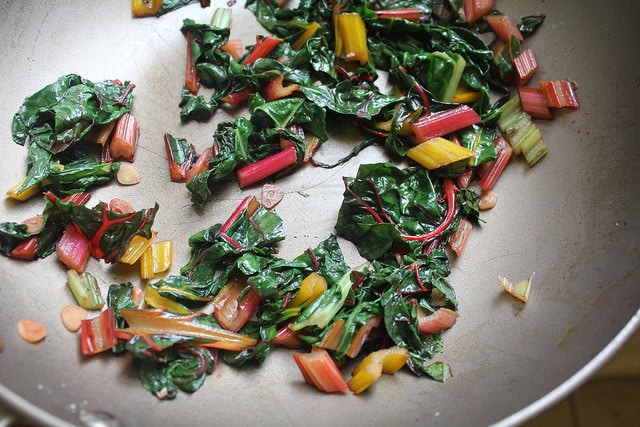 Otherwise, I was pretty stricken by the amount of leafy greens I was taking home. So I decided to turn much of them into a cocktail of tasty nutrition—a savory green smoothie, if you will. It's a pesto, sort of. It could also be fashioned as a salsa verde, chimichurri, a green gazpacho or another crazy green soup. But I went with pesto, because I was craving pasta anyway.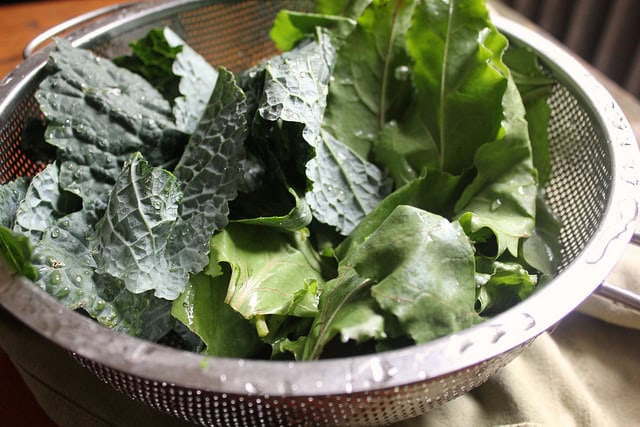 Whether they're fresh herbs or fresh leafy greens, you can always rely on this formula to make a satisfying blend. I used the leaves from the beets (beet greens, which are very similar botanically and in taste and texture to Swiss chard) for the brunt of my pesto, and used about half the bunch of kale for this as well. Then, since they were so bright and colorful, I decided to simply sautee the rainbow Swiss chard leaves (and crisp stalks!) to toss together with my pesto-laden pasta, too. The more superfoods, the merrier.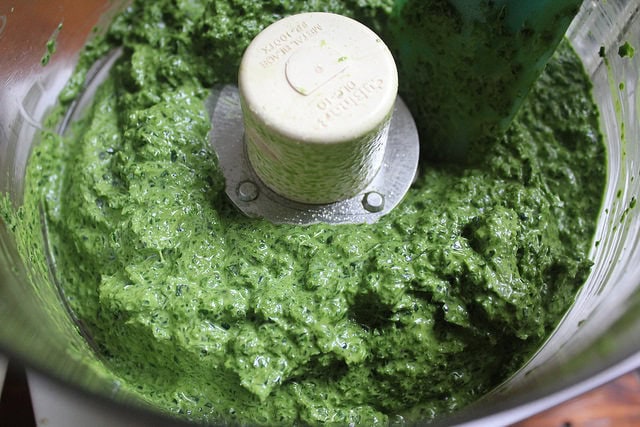 And the less waste, the happier the planet as well as your body—well, at least when it comes to such nutritious "byproducts" such as leafy beet greens and fibrous Swiss chard stems.
So don't dismay when getting too many bunches of—not another!—leafy green vegetable in your CSA. You can condense them to nearly nothing in one pasta dish like this. To reward myself for eating so many detoxifying leaflets of Vitamin K, I paired this pasta with savory slices of sweet Italian sausage, along with chunks of the summer squash. Plenty of garlic, as well.
There's hardly room for the pasta in a dish like this. And that's a real sign of having just entered the realms of a summer CSA, too.
Kale and Beet Greens Pesto Pasta with Summer Squash, Sausage and Swiss Chard
(makes about 2-3 servings)
to make the pesto:
1/2 bunch kale (tough stalks stripped by pulling from the base of the stem, yielding about 1 cup packed)
healthy-looking greens from 1 bunch beets (about 1 cup packed)
1 clove garlic
4 tablespoons extra-virgin olive oil
grated parmiggiano-reggiano cheese to taste
salt and pepper to taste
1/2 lb pasta (any shape)
2 tablespoons extra-virgin olive oil
1 link sweet or spicy Italian sausage, cut to 1/4-1/2″ slices
1 medium-sized summer squash (such as zucchini or yellow squash), dowel-cut to irregular 1/2-1″ chunks (see photos)
2-3 cloves garlic, minced
1 bunch Swiss chard, both stems and leaves cut to about 1/4″ slivers
Combine the beet greens, kale and garlic in a food processor. Pulse several times, stopping to scrape down the sides one or two times. Continue to pulse and slowly drizzle in the olive oil. Continue pulsing (stopping to scrape down the sides as needed) until the mixture combines fully and becomes a uniform texture. Stir in the grated cheese, salt and pepper to taste.
Bring a pot of salted water to a boil, and cook the pasta to al dente. Drain and set aside.
In a large pan, heat one tablespoon of the olive oil over high heat. Add the sausage and cook, stirring frequently, for 1 minute. Add the squash pieces and half the minced garlic, following by a pinch of salt and pepper and cook, stirring occasionally, for another 2-3 minutes or until the squash is lightly browned and the sausage is no longer pinkish. Transfer to a bowl and set aside.
In the same pan, heat the remaining tablespoon of olive oil and the remaining minced garlic. Add the Swiss chard and a pinch each of salt and pepper. Cook, stirring frequently, until wilted, about 2 minutes.
Combine the drained pasta and cooked summer squash and sausage in the same pan, and stir in as much of the pesto as desired. Toss to distribute evenly, taste, and serve immediately.
Cost Calculator
(for 2-3 servings)
1/2 bunch kale: $2.00
greens from 1 bunch beets: $1.00
1 bunch Swiss chard: $4.00
1 summer squash: $0.50
1 Italian sausage: $1.25
1/2 lb pasta: $2.00
6 tablespoons olive oil: $0.75
3 cloves garlic: $0.20
2 tablespoons grated parmiggiano-reggiano: $0.50
Total: $11.70
Health Factor







Five brownie points: A well-rounded meal, with plenty of vitamins and minerals from all that veg. A good green pesto is a great alternative to tomato-based sauces from a health perspective as well as a cleaning-up-the-fridge one, too. From it you'll get plenty of Vitamin K and antioxidants to clean up your system while replenishing it with minerals. Try it with a whole-grain salad for even more fiber.
Green Factor










Eight maple leaves: We've taken care of a good chunk of one CSA batch in two meals. That's good news for your health and your local food system, when it's the brink of summer harvest season.