I've done some horrible plating in my time. That is, most of the time. Like many of you, I don't have the space nor the patience to bother with appliances that are used only to improve the appearance of my food, like a piping bag, or one of those ring molds that you watch the Iron Chefs layer parfaits of crisp greens, juicy meat medallions and sauce with. But if you read between the lines, I really wish I did.
Then I received an email from fellow cooking-in aficionado Jessica Freeman-Slade, asking for advice on plating for dummies (or urban-dwelling budgeters, as it were). After I drew a blank, she graciously took it upon herself to fill that void. Today, she's guest-blogging (a first for NEOINY!) on how to do-up your table, just in time for that romantic summer meal on the patio (that is, roof).
Lessons of Plating: An elegant self-made dinner in New York
Major thanks to Cathy for letting me share the results of this challenge in plating (or lack thereof) with all you super-savvy readers. I've been following this site since I upgraded from an UWS galley kitchen to a place with countertops in Brooklyn, and I've always been pretty passionate about cooking, so naturally the first place I thought of was Not Eating Out in New York…
First, back-story: on my last birthday, my boyfriend presented me a challenge to make a restaurant-caliber meal. The challenge was to present tasty, good-looking food. This was just weird enough of a request to make it: I can make fairly good pasta, but can I make it in the shape of the Pantheon? And is my kitchen ready for it? The fanciest equipment I own is a scrub brush shaped like a porcupine. So everything I might present would be done with fingertips, drips from eyedroppers and carefully balanced spoons, and creative slicing…here's what I learned.

first step: scrub off any remnants of yesterday's meal
Lesson #1: Color is key.
In initially preparing the menu, I thought solely about ingredients, looking for complex flavors and odd combinations. But for this meal, I had to think like a 30-something New York bachelor: it's what's on the outside that counts.
For the first course, I planned on a crunchy salad with lots of color variation, with shreds of bacon and pecans, goat cheese, and edible flowers around a crunchy circle of baked cornbread. However, due to the great Edible Flower debacle (see Lesson #4), at the last minute I swapped nasturtiums for frozen strawberries, which thawed out beautifully at the last minute.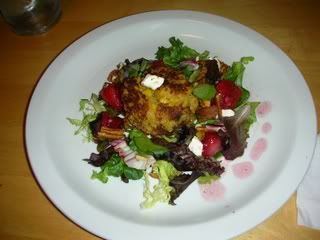 The result: smoky brown, golden yellow, ruby red, and luscious purples. I'm starting to wonder about the virtues of the "green."
Lesson #2: Less is more. No, seriously.
As I laid out the salad, every ingredient meant less blank canvas (a.k.a. the plate). It's harder to focus your eye on what you're eating when there's too much to look at. To quote Clueless, my dish was a full-on Monet: from far away it's okay, but up close it's a big ole mess.
So I stripped away about half of the leaves, and whittled it down from a full plate to the size of a bird's nest. Once you remove the extra leaves, you see more white, and so the plate looks cleaner, more organized. Much better. (Even better: I had lots of leftovers from my second dish for breakfast.)
Lesson #3: Sauces and paper towels go hand-in-hand.
While prepping, dressings and sauces spread faster than I'd expected. I kept a roll of paper towels handy, to keep as much white space as possible on each plate. (Wrap a corner of the towel over your finger to create a sharper, paintbrush-size wiping tool.)
For my second dish, I made roasted duck over a hash of sage, pears, potatoes, and onions, drizzled with fig balsamic vinegar. It tasted spectacular, better than I'd expected for my first try at duck. However, take a look at this picture below.
As you can see, I'd already broken rules #1 and #2, and the fig sauce is already starting to bleed . . . by the time I served it, it can only be known as what my boyfriend called a "delicious swastika."
Should you be plating sauces, make sure that it is either thick enough (add flour or cornstarch as necessary) or cold enough to hold its shape. Like when whipping egg whites, you'll know it's ready when you can dangle a drop off a fork or spoon and it takes at least 5 seconds to fall. When in doubt: paper towels.
Lesson #4: "Everything you see is eatable. Edible. I mean, you can eat almost everything." – Willy Wonka and the Chocolate Factory
I'd planned this meal with a particular ingredient in mind: edible flowers, a birthday present of chrysanthemums, nasturtiums, and marigolds from the fresh market. However, as a week had passed between my birthday and the meal, I discovered that all these beautiful petals had wilted and browned—no longer pretty or edible.
A quick switch for the first dish was easy, but the final dish, pannacotta with ginger-blackberry sauce, proved more difficult. I was depending on the flowers to cover up the missing chunks—without something to cover the missing spots, it'd be pretty obvious that the dish hadn't been completed the way I wanted.
So desperate times… on the way home from a fruitless supermarket run, I reached through the back fence of my local garden store and grabbed a handful of chrysanthemum blossoms. Chrysanthemums can be eaten anywhere at any time—they may taste like lettuce, but the novelty of eating blossoms can't be denied. The hole in the pannacotta was fixed, and all was eaten with gusto.
All in all, I'd say I did pretty well for little experience and several accidents along the way—and if anything, the food tasted amazing. Maybe what's inside does count for something…

the Brooklyn kitchen that could

Jessica's Dinner Menu
Appetizer course: Strawberry and pecan salad with a bacon and goat cheese corncake
Main course: Muscovy duck roasted in white wine served over a hash of green pears, fresh sage, Yukon potatoes, and Vidalia onions, served with a fig-balsamic vinegar sauce.
Dessert: Buttermilk pannacotta (topped with orange chrysanthemum blossoms) in ginger-blackberry syrup
Jessica Freeman-Slade is an editorial assistant at Random House and cooks at home in Brooklyn, mostly successfully.